The Harlem Local Vendor Program is designed to provide local Harlem vendors with the opportunity to exhibit their products for Whole Foods Market foragers/buyers, Columbia University procurement representatives and other program retail partners.
The objective of the program is to provide a platform for local Harlem vendors seeking professional guidance regarding best practices and guidelines for vendor suppliers. Vendors are also provided the opportunity to pitch their products for consideration as a supplier to program retail and institutional partners.
To date, the HLVP program has assisted with securing supplier partnerships for twenty (20+) Harlem based vendors with retail and institutional partners including Whole Foods Market, Macy's and Columbia University Dining Program.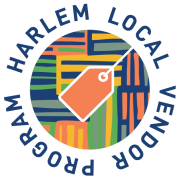 HLVP is run in partnership with Columbia-Harlem SBDC, Harlem Park to Park, Whole Foods Market, Harlem Community Development Corporation, and Hot Bread Kitchen Incubates.