In addition to classes covering business and strategy with Columbia Business School's world-class professors, all entrepreneurs will undertake two capstone projects that are conceived, implemented, and quantified under the guidance of a faculty advisor. The first project will be a Growth and Strategy Project in which companies follow a framework to conquer their core businesses and develop strategic plans for growth and expansion. This is followed by a Process Improvement project, which challenges companies to identify inefficient internal processes. Working on these projects exposes leaders to the measurable impact of process improvement methodologies and helps to embed a company culture of continuous improvement.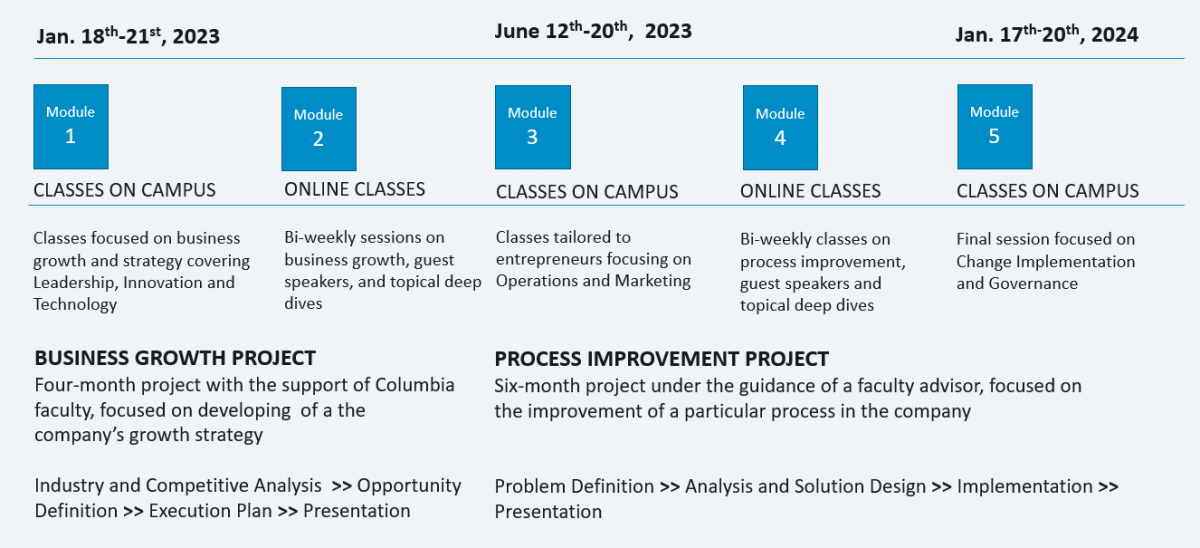 You will take core classes that MBA students at Columbia Business School take as part of the rigorous curriculum. Classes are taught by the Columbia Business School faculty with occasional guest lectures by faculty from other universities.
In Module I, classes will focus on Business Growth and Strategy, covering Leadership, Innovation, and Technology
In Module III, classes will focus on Operations, Strategy, Process Improvement, and Marketing
In Module V, classes will focus on Scale and Change Implementation
The online Modules II and IV will build upon the foundation laid during the in-person modules and will feature in-depth classes on relevant subjects which will also be customized according to the needs of the class. These online modules will also feature guest speakers and topic-specific deep dives with industry leaders.
All project work will be done in company teams. Each team must consist of 2-3 top decision makers in the company. You should expect to devote 5 hours per week throughout the program to the online sessions, advisory sessions, and project work.
- Faculty Advisor: Your company will be paired with a faculty advisor for the duration of each of the two projects you will undertake over the course of the program (process improvement and growth). Each advisor is paired with a company based on their unique problem definition and project scope and according to their expertise. Faculty advisors are there to help define the problem, design the project and guide the company, offering strategic feedback, and referring them to existing research and relevant work.
- Industry Mentor: The group of industry mentors are available to help provide guidance on the technical aspects of your projects as needed. This group of faculty spans the academic disciplines, including operations, supply chain, marketing, strategy, data analytics, and more. The EC-America leadership team will connect you with a mentor whose expertise will be the most useful for your project.