The EC-Africa Program will start in November and over the course of eleven months, participants are involved in a combination of classroom training at Columbia Business School and Africa Business School, biweekly online learning sessions, and a practical project in their companies aided by MBA student consultants and a CBS faculty member.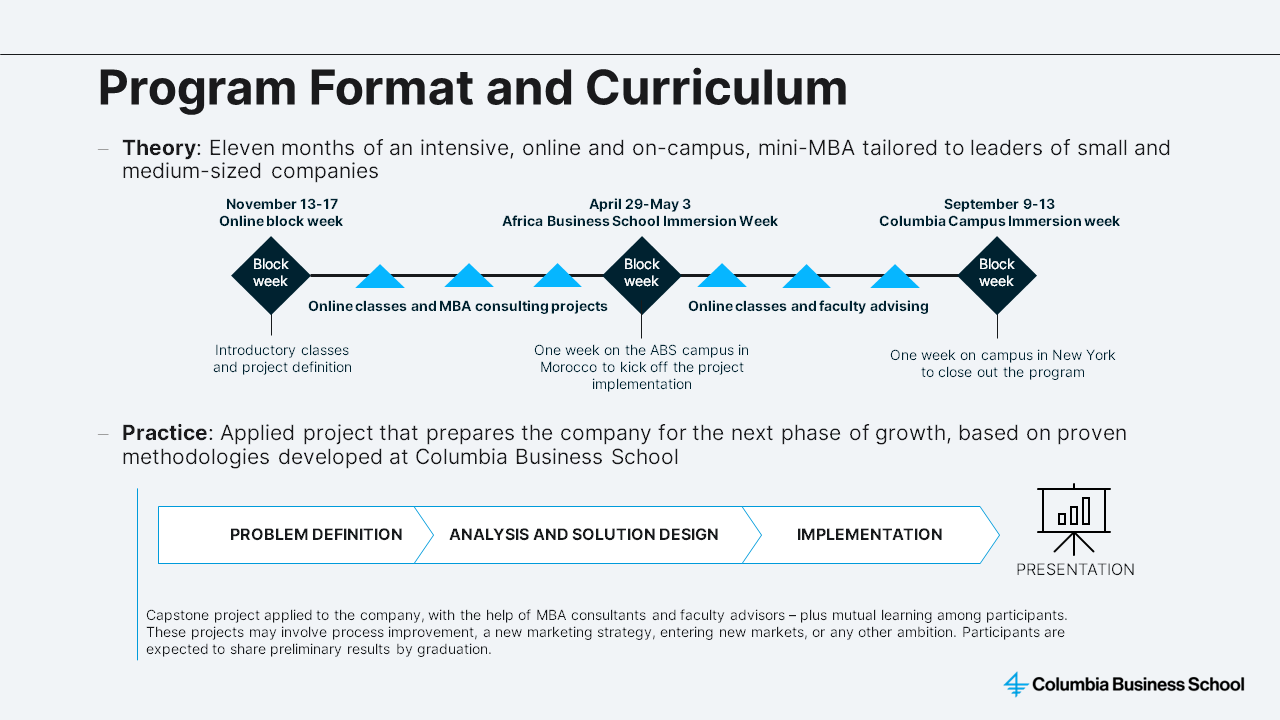 Schedule
In the first online module in November, you will focus on building connections within the group and learning proven methodologies on identifying, prioritizing, and defining problems within the company.
From December to April, you will take a range of live online classes taught by Columbia Business School faculty from the core MBA curriculum, including operations, strategy, marketing, business analytics, accounting, and more. These are classes which have been identified as most beneficial for entrepreneurs and senior executives.
In late April, the group will meet in-person for the first time in Morocco. Hosted by the Africa Business School campus in Rabat, you will have classes on project methodologies, local company visits, and plenty of networking opportunities.
From May to August, you will take a range of live online classes in areas such as leadership, negotiations, change management, and growth.
In September, the program concludes in NYC at the Columbia Business School campus with a week of project presentations, classes, and local company visits.
MBA Student Consultants: In conjunction with the Management Consulting Lab, EC-Africa pairs participating companies with a team of 2-3 MBA student consultants. These students will work with the company to conduct the analyses and research necessary to identify a solution for the problem(s) defined early on in the program. These students work with the company as part of their enrollment in a course in which they learn about the life and work of a consultant, and they are paired based on their experience and interest. Companies will work with student consultants from January until April.
Faculty Advisor: The group of faculty advisors are available to help provide guidance on the technical aspects of your projects as needed. This group of faculty spans the academic disciplines, including operations, supply chain, marketing, strategy, data analytics, and more. The EC-Africa leadership team will connect you with a faculty advisor whose expertise will be the most useful for your project. Companies will work with faculty advisors from May until September.