One of the largest sectors driving the domestic and global economies has also been one of the slowest industries to embrace technology.
This is a fact that Tomasz Piskorski, the Edward S. Gordon Professor of Real Estate at Columbia Business School, likes to point out when he talks about his course, Proptech and Real Estate Disruption, which shows how new technology is shaking up an old industry.
"The value of real estate in the U.S. right now is something like $60 trillion, and globally it's $350 trillion," says Piskorski. "Real estate accounts globally for two-thirds of real assets in the world, and historically, this sector has not experienced significant technological innovation."
Commercial real estate has traditionally operated without automation, with most transactions handled within an old-school network that negotiates in person and completes deals on paper. "There's enormous potential here for innovation," says Piskorski. "Proptech is an aspect of real estate that uses technology to improve the way we construct, manage, and buy and sell real estate assets."
So, why has real estate entered the digital world so much later than other industries?
Piskorski says it comes down to the industry's longtime reliance on a wealth of established technologies. Now, critical mass and big data collection make it possible to digitize the real estate industry. People with capital are also now more willing to invest in technical innovations that digitize information on assets, location, performance, transaction history, tenants, and more, he says.
According to a December 2020 Forbes report, "The fast-track of property technology in the real estate industry has grown by 1,072 percent from 2015 to 2019, and in 2018, venture capital firms invested$8.3 billion in proptech companies around the world."
Fintech and Proptech, the Disruptors of Real Estate
In the course, Piskorski covers the property technology companies that are innovating within this space and fintech companies — firms that modify, enhance, or automate financial services — that overlap with them. For example, commercial real estate information and analytics company CoStar was one of the first companies to digitize and aggregate commercial real estate property data. "CoStar is an important part of the data evolution, and a lot of other companies and startups are trying to compete with CoStar or provide additional data," says Piskorski.
Proptech companies have simplified what was once a lengthy process for selling and leasing commercial properties. "They give you a lot of data that facilitates quick decisions for writing these deals and managing tenants and so on," says Piskorski.
Students also learn about differing online residential real estate companies like Zillow and Redfin. Redfin is a tech-enabled brokerage with its own agents, while Zillow is a marketplace where consumers browse listings and can connect with agents who advertise on the site. Also aiding homeowners are fintech companies like Quicken Loans, which can provide a quote in milliseconds for refinancing a mortgage because the company owns the necessary data to do that, says Piskorski. "They can give you the rate at which you can refinance your mortgage at 3 a.m. on a Sunday without you having to talk with a human."
SquareFoot, a tech-enabled commercial real estate brokerage, is pushing toward leasing properties with a simple keyboard click. Piskorski says one of his former students, Jonathan Wasserstrum, is co-founder of the startup. "It's essentially an operating system for managing all the leasing business for companies. As a byproduct of that, the co-founders hope to launch a market for leasing with the click of a mouse."
Students' futures are promising, says Piskorski, because they learn to become tech savvy in the industry. Graduates will be able to lead a company toward better digital solutions either through a third-party proptech or fintech company or by initiating an internal project led by the company's own technical experts.
Those who want to work in private equity or venture capital will find a ripe investment environment for proptech and fintech. "These businesses are pulling billions of dollars into the space," says Piskorski, and New York is where all the biggest players in the real estate market are based. In the city where Columbia students thrive, office real estate and wealth are booming.
About the Researcher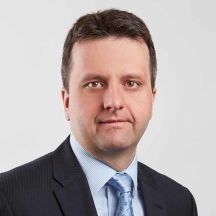 Edward S. Gordon Professor of Real Estate, Finance Division; The Paul Milstein Center for Real Estate