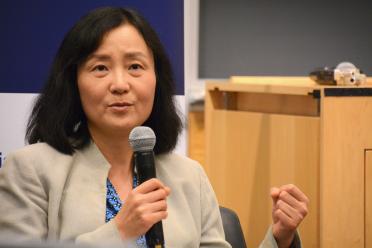 "Shareholder primacy" has long been at the center of corporate governance, standing for the proposition that the primary responsibility of corporations is to increase value for the company and its shareholders. In August 2019, the Business Roundtable (BRT)—an association of leading US CEOs—released a declaration that suggested a different corporate purpose, framed in terms of the need to deliver value to all stakeholders and to drive sustainable growth, a move away from shareholder primacy.
On October 30, 2019, the Richard Paul Richman Center for Business, Law, and Public Policy and the Ira M. Millstein Center for Global Markets and Corporate Ownership convened a panel to examine the BRT's message through ideological, historical, and political lenses, as well as to discuss the implications of the statement on the operation and governance of US companies. Jeffrey N. Gordon (Richard Paul Richman Professor of Law at Columbia Law School; Co-Director of the Richard Paul Richman Center for Business, Law, and Public Policy) and Edward Rock (Martin Lipton Professor of Law at NYU; Director of the Institute for Corporate Governance and Finance) contributed to a discussion moderated by Wei Jiang (Arthur F. Burns Professor of Free and Competitive Enterprise at Columbia Business School).
To kick off the discussion, Jiang asked the panel to opine on the legal consequences of the statement—namely, whether it is a reinterpretation of existing law, or will lead to legal changes. Gordon and Rock agreed that the statement has limited legal ramifications, but a significant impact on the nature of ownership and decision-making. The panelists also discussed social prosperity, noting that although the BRT statement explicitly mentions the importance of economic opportunity, addressing socio-economic insecurity remains outside of the purview of corporate governance.
Gordon, Jiang, and Rock also discussed the influence of large corporations on corporate values, as well as the role of the federal government in shaping the future of shareholder primacy. Overall, it seemed safe to conclude—shareholder primacy isn't going anywhere quite yet.
Audience Q&A concluded the evening, with attendees inquiring about the motivations of the BRT in issuing the statement, as well as the prospect of a UK-style Stewardship Code for American firms.