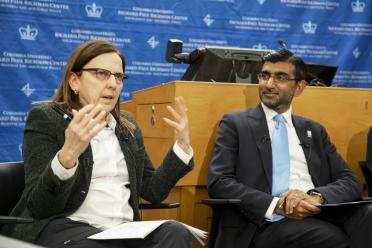 Private equity funds—managed by general partners, or GPs—take stakes in companies, exercise control, and actively seek to improve the performance of their portfolio companies. They do so in pursuit of financial returns for their investors (limited partners, or LPs) higher than the returns available in public markets. Private equity has become a key engine of investment markets, seeking absolute return while driving performance and efficiency in portfolio companies. Private equity is by definition private, and its activities are generally opaque. But what about the public aspects of private equity?
On November 19, 2019, the Richard Paul Richman Center for Business, Law, and Public Policy and the Ira M. Millstein Center for Global Markets and Corporate Ownership, in partnership with the Private Equity Program, hosted a panel to explore the public aspects of private equity. Moderated by Aamir A. Rehman (Senior Fellow at the Richard Paul Richman Center for Business, Law, and Public Policy), the panel featured Chris Cozzone (Principal at Bain Capital Double Impact), Donna Hitscherich (Senior Lecturer in the Discipline of Business and Director of the Private Equity Program at Columbia Business School), and Emily Mendell (Managing Director at the Institutional Limited Partners Association).
Rehman asked the panelists to share their understanding of the public aspects of private equity, and particularly the role of ESG (environmental, social, and governance) considerations. Representing the LP perspective, Mendell explained how LPs approach ESG factors, noting that variations in approach are often based on an LP's size, type, and location. According to Mendell, current ESG approaches differentiate LPs on a range from leaders, such as public pension funds and mission-driven organizations that are at the forefront of ESG investing, to what she called "aware, don't care" entities.
Cozzone spoke about Bain Capital Double Impact's approach to investing, describing a dual mandate of driving financial returns and achieving positive social and environmental impact. "Every time we look at a business, we look at its ecosystem of stakeholders," Cozzone said, explaining that Double Impact aims to maximize positive externalities and reduce negative externalities for stakeholders.
Relying on her extensive academic and professional experience, Hitscherich provided a bird's eye view of the private equity industry, how it has evolved in recent years, and how it is likely to change in the future. Speaking about ESG in private equity, Hitscherich confidently concluded, "It's here to stay." But she cautioned against treating ESG considerations as a discrete area within private equity, and also noted that significant ambiguity remains in the definitions and measures of public impact.
The panel also discussed diversity and inclusion (D&I) in the private equity industry. Mendell noted that there is increased interest from LPs and GPs in D&I strategies in the workplace, and that questions about D&I are becoming a more common part of due diligence processes. Hitscherich emphasized the importance of academic research on D&I and of educating professionals in order to achieve change in the workplace. 
Fielding questions from the audience, the panelists addressed retention and promotion in the industry, the relationship between a company's ESG profile and its stock prices, and the impact of a potential recession on private equity, among other questions.
At the conclusion of the event, Rehman prompted the panelists to share their perspectives on the future of the private equity industry and the role of ESG therein. Cozzone, Hitscherich, and Mendell were united in an optimistic outlook. Advanced technology, informational resources, and a focus on societal well-being are changing the way that private equity decisions are made. As Cozzone said, "There's a lot of work to do, but the tide is shifting."