On Monday, April 9, the Richard Paul Richman Center for Business, Law, and Public Policy, in collaboration with Columbia Women in Business (CWiB), hosted a fireside chat with Andrea Jung, president and CEO of Grameen America. In conversation with CWiB Co-Presidents Ariel Gold and Eileen Ng, Jung discussed her career path and the many lessons she has learned about values, hard work, and leadership.
Since 2014, Jung has been at the helm of Grameen America, the microfinance nonprofit founded by social entrepreneur Muhammad Yunus. The organization—mirrored after Yunus's Grameen Bank of Bangladesh, which along with its founder earned a Nobel Peace Prize in 2006—provides microloans, financial training, and support to low-income women entrepreneurs around the United States. Since its founding in the midst of the financial crisis in 2008, Grameen America has given more than $820 million in microfinance loans and achieved an astounding 99% repayment rate.
The secret to their success? A mix of education, community, and consistency. First and foremost, Grameen staff provide basic financial training to peer groups of potential loan applicants. Once applicants receive a loan, they are required to take part in what Jung termed the "weekly glue"—weekly community meetings during which lendees repay loans, share their experiences, and give support to one another. Jung's mission, above all else, is to scale these efforts.
Jung arrived at Grameen after heading Avon Products Inc., a publicly traded Fortune 500 company, as its first female CEO and chairwoman. Starting in marketing and rising up the ranks, Jung took over in 1999, at the start of a major corporate transformation. (The company's slogan, for one, changed from "Ding Dong, Avon Calling!" to "Avon: The Company for Women.") When Jung first joined Avon, the CEO and chairman at the time, Jim Preston, kept a plaque in his office titled the "Evolution of Leadership," showing a barefoot ape, a barefoot man, a wingtip shoe, and a high-heeled pump in succession. To many, Jung's rise to the top signaled Avon's ultimate step in its leadership evolution.
Asked about the lessons she has learned during her career, Jung offered a mix of value-driven examples. Chief among them was a piece of advice she received from a mentor when initially passed over for the CEO role at Avon in 1998: "Follow your compass, not your clock." In that particular instance of disappointment, this meant sticking with a company that she believed in—a company that was "in the business of changing lives, not just selling lipstick," as Jung told the audience.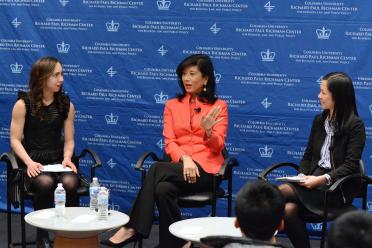 Overall, this mantra has meant a career philosophy based on passion and values. "You have to have passion for the work," Jung said. "All other things being equal, if it's a job or if it's even a career, for it to be sustainable and for you to really put all that comes into it, you have to love what you do." This attitude helped Jung shape a mission-driven career, rather than one focused on the corner office. And in 2014, it led her to the leadership of Grameen America.
Though she made a shift from the for-profit to the nonprofit sector, Jung noted that she saw continuity in her work. "The personal satisfaction over the 20 years [at Avon] was really the social good that we did in terms of empowering families," Jung told the audience. At Grameen, she found a very different organization with a very similar socio-economic focus.
The career shift also entailed a relatively smooth transfer of skills. "A nonprofit business is still a business," said Jung, noting that focusing on returns for the philanthropic dollar has helped keep Grameen successful. Speaking of her efforts to scale the organization, Jung stressed the need for the philanthropic community to clear the negative reputation of "overhead," and emphasized the importance of investing in people and infrastructure. "If we believe that the NGO world can help solve some of our world's biggest issues, we can't under-resource it from a human capital point of view."
Ending the discussion with a view to the future, Jung delivered an encouraging message to young professionals with aspirations to business leadership. She herself entered the workforce in the late 1970s, and strove for hard-to-reach opportunities at a time when very few women—let alone women of Chinese heritage—held leading roles in business. While this left her with few role models and paths to follow, Jung found fuel for growth within her family's values, discipline, and ambition.
These days, Jung is confident that doors will continue opening for women and individuals of diverse backgrounds. "I think we have reached a very, very important inflection point from a diversity point of view for leadership. I look at the next 10 years, and I really do believe that this generation is going to face a hugely different set of opportunities," she concluded.