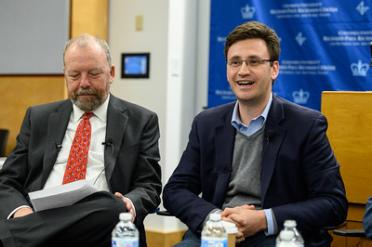 Fintech companies still have not cracked the code when it comes to banking. The fintech charter experiment conducted by the Office of the Comptroller of the Currency has gone nowhere, and banking regulators still seem unwilling to embrace the tech-based business models that consumers love. Can innovative fintech companies gain access to consumer deposits and payments, or will traditional banks retain their hold over the system? These were the questions at the center of a Richman Center Public Lecture on November 12, 2019—Fintech Banking at the Crossroads.
Todd H. Baker, a senior fellow at the Richman Center, led a discussion with panelists Andrei Cherny, the co-founder and CEO of Aspiration; H. Rodgin Cohen, senior chairman of Sullivan & Cromwell; and Hans Morris, managing partner of Nyca Partners. Each representing a unique part of the fintech space, the panelists offered their perspectives on the present and future of the field.
At the beginning of the discussion, Baker outlined a central tension within the relationship between technology and banking in the United States—in his words, the paradox that "no one can be a fintech bank, but everyone can be a fintech bank." US regulations regarding bank ownership and charters make it nearly impossible for fintech companies to become traditional banks, but many fintech companies are nevertheless providing insured consumer banking services by creating "synthetic" banks. Moreover, with a sharp focus on user experience and needs, these companies are rapidly transforming the delivery of banking services and proving to be serious competition for traditional banks.
Representing venture capital, entrepreneurship, and law, the panelists provided perspectives on the challenge of innovation in the regulated banking word. Morris offered insights about how venture capital firms—like Nyca Partners, which focuses on financial services—approach the fintech banking space. Cherny, who founded and now leads the online bank Aspiration, offered an entrepreneurial view, speaking about his company's approach of offering a socially conscious, sustainable bank to customers. Cohen, relying on his extensive legal experience with financial institutions, addressed the legal and regulatory challenges facing fintech banks in the United States—including the need to comply with different sets of regulations in each of the country's 50 states.
The panelists also addressed recent fintech ventures by tech giants, as well as differences between fintech in the United States and China. Q&A with the audience concluded the evening, with panelists answering questions about the future of the American financial services industry, socially conscious banking, and the impact of a possible recession on fintech companies, among other topics.