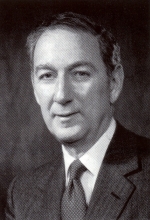 The KPMG Peat Marwick / Stanley R. Klion Forum was established in memory of the late Stanley Ring Klion (1923–1994), an executive-in-residence at Columbia Business School from 1986 to 1994. Mr. Klion was a retired executive vice chairman and chief operating partner of Peat Marwick International, one of the world's largest accounting and management consulting firms.
Mr. Klion graduated Phi Beta Kappa from Rutgers University in 1942, where he won Best Company Award in ROTC. He later achieved the rank of second lieutenant in the US Army—at the age of 22, he was the Army's youngest major and had served in the Philippines and Japan.
Following his military service, Mr. Klion took a job at Sears, Roebuck & Co. in Philadelphia, where he began his career as a methods engineer. He later moved to New York City and joined Peat Marwick International in 1955. During his 31 years at the firm, he oversaw numerous consulting assignments. These ranged from problem solving for small companies to providing solutions for major financial institutions and government agencies.
Mr. Klion's activities at Columbia Business School included counseling students, participating in seminars, guest lecturing on ethics, and advising the dean's office and faculty members. "He was a great help to students seeking a career in management consulting," said Robert W. Lear, a close friend and fellow executive-in-residence at the School. Mr. Klion's contributions to the executives-in-residence program, particularly in the field of ethics, are part of his legacy at Columbia.
At the time of his death, Mr. Klion was chairman of the Wilson Council, a national organization that provides support to the Woodrow Wilson International Center for Scholars in Washington DC; vice chairman of the business committee of the Metropolitan Museum of Art; and a trustee and treasurer of the Greenwich Library in Connecticut, where he lived.
Mr. Klion's family established the Klion Memorial Ethics Fund to carry forward his ideals and values, and former students, colleagues, the KPMG Peat Marwick Foundation, and his many friends at the firm contributed to the fund in his memory. The fund ensures that the KPMG Peat Marwick / Stanley R. Klion Forum remains a regular feature of the School's academic calendar, and serves as an annual reminder of Mr. Klion's ethical leadership at Columbia Business School.