As the World Economic Forum Annual Meeting gets underway in Davos, we asked Columbia Business School faculty to weigh in on the topics and issues they'd like to see discussed at this year's gathering of minds in the Swiss Alps.
Here's what they told us:
Q: What issue would you like to see at the top of the WEF Agenda? Why?
"Climate risks and uncertainties are once again front and center on the WEF agenda, as they should be. There are plenty of negative tipping points about which to worry. There are also positive technical, economic and political ones." 
--Gernot Wagner, Climate Economist, Columbia Business School
"I would push for more follow-up work on whether all the great ideas expressed at WEF are implemented." 
--Shivaram Rajgopal, Roy Bernard Kester and T.W. Byrnes Professor of Accounting and Auditing
"[The climate crisis] is an issue that we know is only becoming more and more problematic and pressing, and which needs to be addressed at a large scale, by a combination of different types of organizations and disciplines — something the WEF is well poised to provide." 
--Vanessa Burbano, Sidney Taurel Associate Professor of Business Management
Q: In past forums, we have seen executives emphasize their support for embracing stakeholder value or commitment to ESG. What can shareholders take away from these WEF pronouncements? How much should they be believed?
"Many of the claims made at WEF are rarely backed by evidence. I would urge the WEF to set up an 'evidence' based lab to track whether folks walk the talk. Otherwise, the forum loses credibility as a gabfest without much by way of action and implementation."
--Shivaram Rajgopal
"Commitments to ESG are good. They alone are not enough. Businesses must make the clean energy transition part of their core business strategy."
--Gernot Wagner
"Claiming or emphasizing a commitment to ESG or stakeholder value is one part of the process — and often a necessary one to get things moving at a larger scale — but in the end what shareholders and stakeholders will want to see is whether actions and behavior by these companies are consistent with what they are claiming, or if it's just talk. This is particularly the case as more and more companies claim commitment to ESG and the broader notion of stakeholder value, stakeholders will be placing increased scrutiny on whether actions are consistent with claims."
--Vanessa Burbano
Q: With the Fed raising interest rates to combat inflation, do you expect long-term issues like climate change will be overshadowed?
"I don't think so. Higher interest rates were somewhat overdue. Yes, the news cycle today is dominated by interest rates, but climate change is a problem that will stay with us for decades."
--Shivaram Rajgopal
"It is precisely the interplay between business and policy, between techno-fix and broader societal transformation, that is needed. Rich Lesser, global chair of Boston Consulting Group, spoke at a Columbia Business School business and climate conference recently about how climate leaders gain competitive advantage, and how he spends 60 to 70 percent of his time on climate issues. Leaders do gain from this, and so he should. One core assumption underlying an analysis BCG undertook with the World Economic Forum to support this point: an explicit or implicit price per ton of CO₂ of roughly €75 by 2030."
--Gernot Wagner
"It's possible — the immediate issues, in the short term, often take precedence over longer-term issues."
--Vanessa Burbano
About the Researchers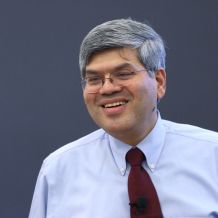 Roy Bernard Kester and T.W. Byrnes Professor of Accounting and Auditing, Accounting Division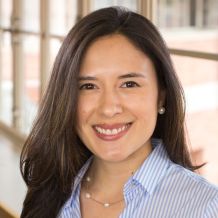 Sidney Taurel Associate Professor of Business, Management Division