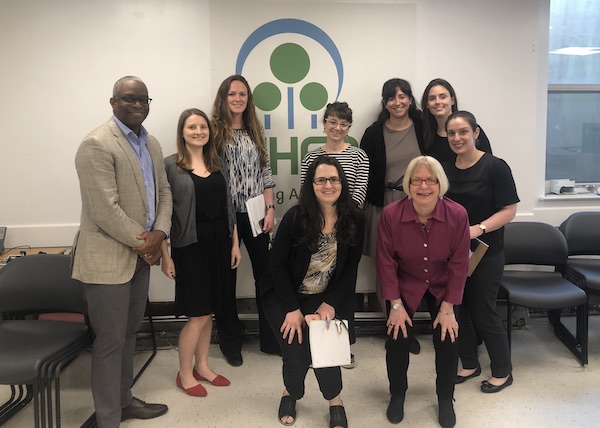 Current Columbia MBA and EMBA students apply during the fall semester to participate in the Nonprofit Board Leadership Program, which runs throughout the academic year. Information about this program is circulated at student clubs association day, at an information session in September, and via email.
Questions? Contact [email protected].
Student applications for the 2023-24 cohort of NBLP fellows are now open! To learn more and get involved this year, please register to attend the NBLP Info Session (or to receive the recording, if unable to attend in person).
Register for the Info Session on Tuesday, Sep 19
Frequently asked questions:
Can I find my own nonprofit to bring to the program?
No, but if you have a suggestion of an organization to work with, you can pass it along to [email protected] so that we can determine if the organization fits the program's criteria.
Is NBLP its own club with dues?
No, but it is part of the Social Enterprise Club. Students who participate in NBLP must join the Social Enterprise Club and pay that club's dues. Refunds will be available should the student not participate in NBLP that school year.
Do I get to choose which nonprofit I work with?
Students are able to list their top three organization preferences based on the current year's project descriptions. We do our best to match students to their preferences, but there is no guarantee.
Is the program only for second-year students?
First- and second-year MBA and EMBA students are welcome to apply. Only first-year students are eligible to apply as AVPs.
Can I participate in the program as a first and second year?
Many first-years find their match so interesting and successful that they continue to work informally with the nonprofit during their second year. However, priority for NBLP applicants will be given to students who have not previously participated as a fellow. Anyone selected for an AVP position is expected to participate as a VP in their second year, but has discretion over whether they choose to do a nonprofit project.
Can I apply as a second year if I am not accepted in my first year?
Students who are not accepted as first-years are strongly encouraged to apply again.  In their applications, the students should emphasize what they have learned in the past year that makes them a stronger candidate. Unfortunately, the program cannot match all deserving students, but makes every attempt to do so.
What resources are available to me once I become part of the program?
Students involved in the program have the opportunity to participate in a variety of workshops, panels, and networking events designed to provide additional assistance to students as they complete their projects. Popular past topics likely be repeated annually include fundraising, board governance and structure, how to join a nonprofit board, and more. Students will also have the opportunity to take advantage of the professional expertise of the Nonprofit Board Leadership Program Professional Network, a group of accomplished business leaders who have volunteered to make themselves available for student questions.
Here are other nonprofit board and volunteering links.
"NBLP gave me the amazing opportunity to apply my coursework right away, as well as help a leading organization that is confronting one of society's hardest problems today — assisting those experiencing homelessness. I recommend NBLP to anyone looking to get further exposure to the nonprofit world!"