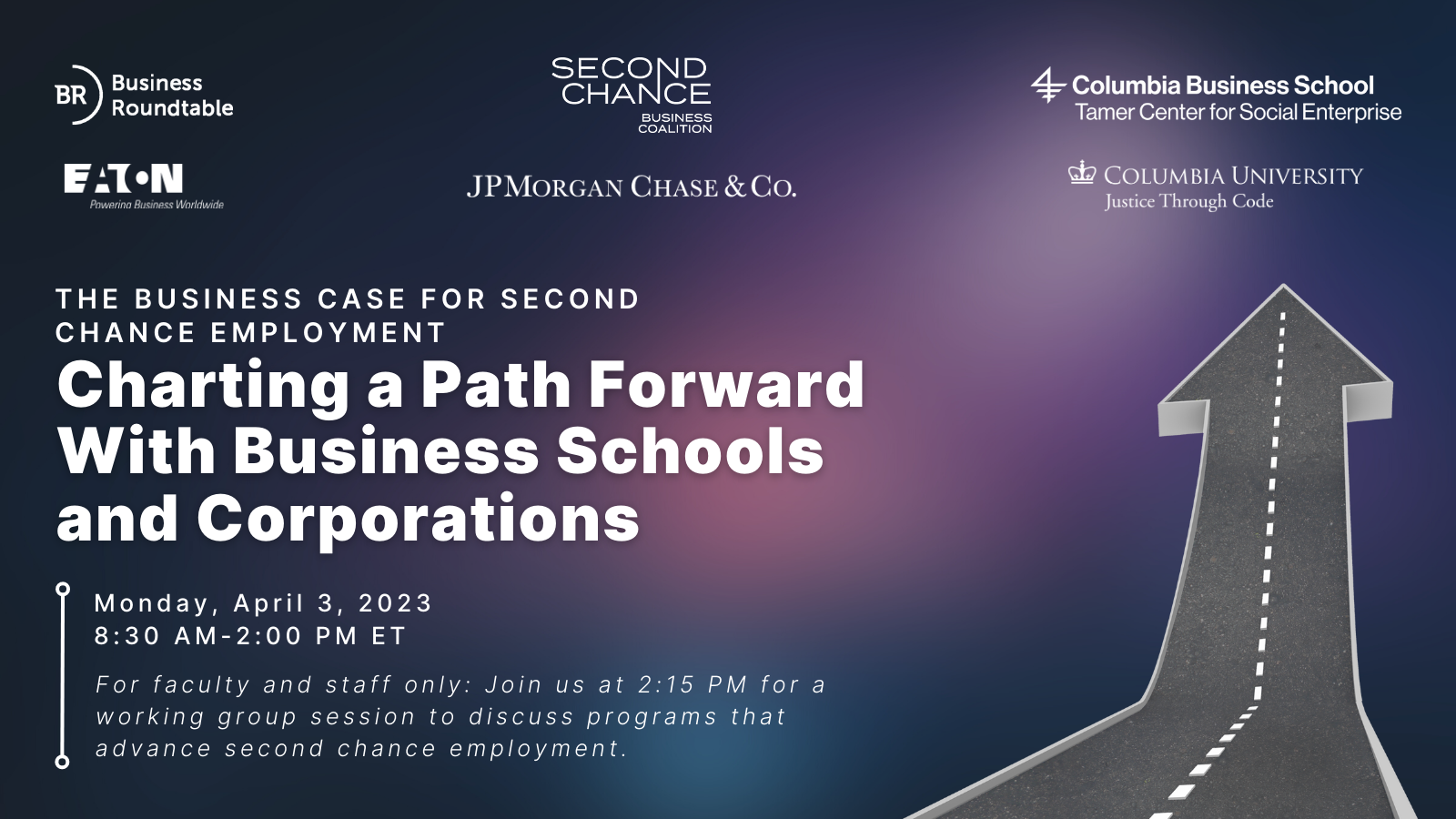 Charting a Path Forward With Business Schools and Corporations
Monday, April 3, 2023
8:30 AM–2:00 PM ET
Our country's largest corporations and leading business schools are increasingly engaged in addressing society's biggest challenges. Among those challenges is the need for second chance employment programs. Unemployment and poverty are among the biggest predictors of lifetime incarceration and recidivism, and mass incarceration has disproportionately impacted communities of color. Yet, labor market discrimination and structural restrictions prevent a substantial number of the 80 million Americans with criminal records from securing gainful employment.
"Charting a Path Forward," organized by the Business Roundtable; Tamer Center for Social Enterprise at Columbia Business School; Justice Through Code at Columbia University; and Second Chance Business Coalition, co-chaired by JPMorgan Chase and Eaton Corporation, will explore labor market trends and the role that corporations and business schools can play in educating the business community and future leaders on the benefits of second chance employment. The conference will bring together business leaders, faculty, administrators, and scholars from business schools, and directly impacted individuals. Participants will hear from leading CEOs on the business motivation for second chance hiring and the practical steps chief human resources officers (CHRO) have taken to develop and implement second chance employment programs. Together, panelists will highlight leading examples of the work of state governors and business schools in providing individuals with a criminal record with pathways to sustainable employment.  
Are you interested in attending? Please register for the in-person event below. If you can't attend but would like to receive the recording, please register here. If you'll be traveling from out of town, Columbia University has negotiated hotel rates throughout Manhattan that can be found at the bottom of this page.*
Agenda
8:30–9:00 AM
Registration Opens
Coffee and continental breakfast in the Alumni Suite.
9:00–9:15 AM
Welcome & Introductions
9:15-9:55 AM
The Business Case for Second Chance Employment
9:55–10:10 AM
Break
10:10–10:50 AM
Developing and Implementing Second Chance Employment Programs
Michelle Kuranty
Executive Director, New Joiner Experience at JPMorgan Chase
Hoai Scott 
Senior Vice President, Human Resources for Universal Filmed Entertainment Group at NBCUniversal
Erich Wilson
Chief Human Resources Officer at Schnitzer Steel
Moderator: Dane Linn, Senior Vice President of Corporate Initiatives at Business Roundtable
10:50–11:00 AM
Break
11:00–11:45 AM
The Role of Business Schools in Addressing Second Chance Employment
Makeda Davis
Software Engineer at Checkr;
Alumnus of Justice Through Code
Tyler Lynch
Principal Solutions Architect at Amazon Web Services;
Technical Mentor at Justice Through Code
Maria Martinez
Associate Software Engineer at The Walt Disney Company;
Alumnus of Justice Through Code
Austin Smith '22
Co-founder & Managing Partner at Alley
 Moderator: Aedan Macdonald '24
 Founder & Executive Director, Justice Through Code
11:45 AM–12:30 PM
The Role of State Leaders in Supporting Second Chance Employment
12:30–1:15 PM
Lunch
1:15–2:00 PM
Developing Business Practices to Support Second Chance Employment 
Kerry Casey
Global Head of University Recruiting, Talent Branding and Diversity Recruiting at PayPal
Matt Joyce
Partner at Envoy
Patrick O. Peters
Principal and Office Litigation Manager at Jackson Lewis P.C.
Moderator: Stanley Ball, Vice President and Chief Litigation Counsel at Eaton Corporation
2:00–2:15 PM
Break
2:15–3:45 PM
Developing Programs to Engage Business Schools and Individuals With Records
This working group session is for business school faculty and staff only. This session will be an opportunity to collectively learn from each other and discuss programs that engage faculty, researchers, students and alumni, and local community partners to advance second chance employment.
Tanique Dunkley
Associate Vice President of Human Resources at the Faculty of Arts and Sciences at Columbia University
Tierney Fairchild
Co-founder & Executive Director of Resilience Education
Alyssa Lovegrove
Teaching Professor and Executive Director at Georgetown Pivot Program
Aedan Macdonald '24
Founder & Executive Director of Justice Through Code
Sandra Navalli OAM '03
Managing Director & Adjunct Assistant Professor at the Tamer Center for Social Enterprise at Columbia Business School
Damon Phillips
Robert Steinberg Professor at the Wharton School
 
About the Event Organizers

Business Roundtable is an association of chief executive officers (CEOs) of America's leading companies who are working to promote a thriving US economy and expanded opportunity for all Americans through sound public policy.
As major employers in every state, Business Roundtable CEOs lead companies that support 37 million American jobs and nearly a quarter of US GDP. Additionally, Business Roundtable member companies support wages that are 37 percent higher than the national average.
With the country facing new challenges, Business Roundtable CEOs remain focused on spurring job creation, improving US competitiveness, and strengthening our economy.

The Tamer Center for Social Enterprise at Columbia Business School educates leaders to use business knowledge, entrepreneurial skills, and management tools to address social and environmental challenges.

Justice Through Code is a free full stack web development intensive that provides opportunities for formerly incarcerated individuals to begin to grow and develop into the technology leaders of tomorrow. It is jointly ​offered by Columbia University and the Tamer Center for Social Enterprise at Columbia Business School.​
Eaton is an intelligent power management company dedicated to improving the quality of life and protecting the environment for people everywhere. We are guided by our commitment to do business right, to operate sustainably and to help our customers manage power ─ today and well into the future. By capitalizing on the global growth trends of electrification and digitalization, we're accelerating the planet's transition to renewable energy, helping to solve the world's most urgent power management challenges, and doing what's best for our stakeholders and all of society.
Founded in 1911, Eaton is marking its 100th anniversary of being listed on the New York Stock Exchange. We reported revenues of $20.8 billion in 2022 and serve customers in more than 170 countries. For more information, visit www.eaton.com. Follow us on Twitter and LinkedIn.

One in three Americans has an arrest or conviction record, creating significant barriers to employment and economic opportunity for a substantial number of working-age adults. That's why JPMorgan Chase has expanded its commitment to giving people with criminal backgrounds across the United States a second chance by supporting their reentry into the workforce, community, and local economies.
This is part of the company's efforts to create greater economic opportunity for more people by using its business resources and expertise — including data, research, talent, and philanthropic investments — as well as through collaboration with policy, business, and community leaders.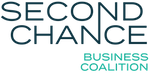 The Second Chance Business Coalition (SCBC), co-chaired by JPMorgan Chase and Eaton Corporation, is a cross-sector coalition of 45 large, private-sector firms committed to expanding second chance hiring and advancement practices within their companies. Leveraging the support and expertise of its four partner organizations – Business Roundtable, the Society for Human Resource Management, Stand Together and the Georgetown University McDonough School of Business Pivot Program – the SCBC equips coalition member companies with best practices, technical assistance, and support to increase the number of people with criminal records they hire and put them on a path to greater upward mobility.
*Hotel Rates
Columbia University has negotiated discounted room rates with specific hotels throughout Manhattan that offer competitive pricing and value-added amenities. 
*These hotels include complimentary breakfast in Columbia negotiated rates.
The rates negotiated by the University can be obtained only by booking through the Columbia University Travel Portal or contacting the hotel directly by telephone and requesting the Columbia rate. There is no guarantee that you will receive the CU negotiated rate through the hotel website.