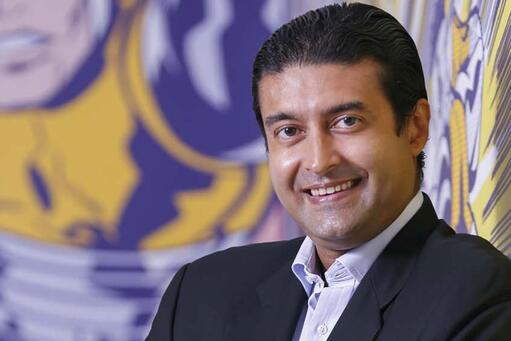 Sharad Devarajan is a media entrepreneur, producer and creator. His most recent company, Graphic India, is the culmination of his lifelong dream to launch superheroes and genre stories that tap into the unique creativity and culture of India but appeal to audiences worldwide. In the same way the West has created superheroes or Japan launched anime, Graphic India is transforming the perception of India in character entertainment from being an 'outsourcer" to being 'the source.' The Company is one of India's largest graphic novel producers and developes and produces multi-platform IP for live action film and televison, animation, podcasts, gaming and publishing.
Devarajan has created over 200 animated TV/digital episodes and either published, edited or created over 300 comics and graphic novels. Some of his work includes the award winning animated series, "Astra Force" which premiered as a top rated show on Disney Channel India which he created with Indian icon, Amitabh Bachchan; He was also the Co-Creator and a Showrunner/Executive Producer, with S.S. Rajamouli and Arka Mediaworks, on the series "Baahubali: The Lost Legends," which premiered on Amazon Prime Video in India and is currently on its fifth season after 71 episodes. 
Most recently Devarajan was Co-Creator and a Showrunner/Executive Producer of the first original animated series to premiere on Disney+Hotstar, "The Legend of Hanuman" which became the top binged and top watched show across all streaming platforms in India upon launch (as per Ormax Media/ChromeOTT).
Devarajan also produced, "Chakra The Invincible,' an Indian superhero he created with legendary icon, Stan Lee (co-creator of Spider-Man, Iron Man, X-Men, Hulk, The Avengers) which premiered on Cartoon Network India and also launched worldwide through the 'Angry Birds' game. The animated episodes received over 100 million views from audiences around the world, and Devarajan is now producing the property as a live action theatrical film. He also collaborated with Stan Lee to co-create, "Monkey Master" a new Chinese-Indian superhero, in development as a live-action project with filmmaker, John Woo.
In addition to Graphic India, Devarajan is the Co-Founder & Executive Chairman of Liquid Comics, a digital entertainment company that uses the medium of graphic novel storytelling to develop original content with high profile creators to later adapt into various media platforms.  At Liquid, he oversaw the creation of a number of original projects and graphic novels that are being developed as live-action Hollywood films and TV projects, including: 'Dominion: Dinosaurs Versus Aliens' with Barry Sonnenfeld; 'The Gamekeeper' with Guy Ritchie; 'Coming of Rage' with Wes Craven; and '7 Brothers' with John Woo.
Prior to Graphic India, Devarajan was the Co-Founder, CEO & Publisher of Virgin Comics LLC and Virgin Animation Pvt. Ltd, a set of companies he co-founded, with Sir Richard Branson.
In 2004, Mr. Devarajan worked with Marvel to create a new reinvention of Spider-Man as an Indian boy growing up in Mumbai, transforming "Peter Parker" into "Pavitr Prabhakar". Unlike traditional translations of western characters into foreign markets, the new series, "Spider-Man: India" was heralded as one of the industry's first "trans-creations."
For his activities, Mr. Devarajan was featured as CNNfn's 'Maverick in The Morning' and covered in numerous media including The Wall Street Journal, Businessweek, Time, Newsweek, The New York Times, Fox News, CNN, Bloomberg and NPR's Fresh Air and has been an avid speaker on media and globalization at Fortune's Global Summit; The Paley Center International Summit; The Wall Street Journal's, WSJD Live Laguna Conference; INK Talks; RISE; TEDX; Harvard Business School; and more.
He holds a BFA from Syracuse University and an MBA from Columbia University where he has served for over a decade as an Adjunct Professor at Columbia Business School, teaching numerous classes on entrepreneurship, technology, media and storytelling.