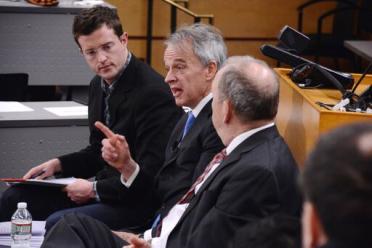 China is home to the world's largest fintech ecosystem today, dominated by giants like Ant and Tencent but also with a host of startups rising to fill gaps in underserved markets. What has contributed to the meteoric rise of fintech in China, and where will the sector head in the future?
At a recent public lecture organized by the Richard Paul Richman Center for Business, Law, and Public Policy at Columbia University, John Mahoney of Goldman Sachs talked about these and other questions pertaining to the growth of fintech in China, discussing the current landscape, driving factors, and the future of the sector. Currently co-chair of Goldman's global financial institutions group (FIG) and founder of its fintech investment banking business, Mahoney had a front-row seat to the rapid development of the Chinese fintech space while heading the firm's Asian FIG practice in 2014–2018.
Following his presentation, Mahoney joined a discussion with Todd H. Baker, Senior Fellow at the Richman Center, and Bo Cowgill, Assistant Professor at Columbia Business School.
To view John Mahoney's presentation, click here.
What drives fintech growth in China?
To explain Chinese fintech companies' rapid growth and dominance, Mahoney pointed to demographic change, mobile centricity, and low levels of banking penetration. The explosive growth of China's middle class in recent decades has led to growing demand for financial services, from payments and credit to wealth management and insurance. However, the country's incumbent financial institutions—mainly state-owned banks used to serving large corporate entities—are not equipped to serve the flood of new customers.
Fintech companies have, in many ways, risen to serve demand in a new market. And here, Mahoney noted, is an important distinction between China and the United States. The rise of Chinese fintech "is not a disruption story, like it may be in the United States, but is a story of mobile and online models being created to serve an unmet need." Next to low banking penetration and major demographic shifts, the high level of smartphone penetration in China has been a major contributing factor to the fintech boom, allowing tech companies to provide financial services without physical infrastructure.
China's fintech landscape—internet giants, startups, and traditional institutions
The country's fintech sector, existing within an already very active tech sector, is home to numerous subsegments and players. Mahoney named four primary business areas: payments, credit and lending, wealth management, and insurance. As for the players, Mahoney divided them into three groups: internet giants, startups, and incumbent financial institutions.
The internet giants, which include Baidu, Ant, Tencent, Ping An, and JD Finance, play the largest and most successful role in the financial services sector. Their greatest natural advantage is the existence of large customer bases and datasets—something that startups, for example, do not have from day one.
Mahoney emphasized the role of payments in fintech evolution, noting that companies have used payments as a way of acquiring customers. As customers make payments, each transaction generates data that is then used to broaden offered services—a "virtuous cycle in the business model," according to Mahoney.
Take Ant, the highest-valued fintech company in the world. "Ant started as Alipay, which was formed to facilitate payments to conduct commerce on Alibaba's platforms. And over time, that accumulated lots and lots of transaction data regarding both the merchants as well as consumers," Mahoney explained. Today, Ant operates the world's largest mobile and online payments platform, the largest money market fund in the world, a credit rating agency, a wealth management platform, and insurance services, among other businesses. Ant and Tencent, which also relies on payments as a starter seed, are aggressively competing for customers in payments, making it very difficult for entrants to carve any schemes that do not involve the two giants.
Startups, meanwhile, are mainly gaining a foothold in peer-to-peer and tech-enabled lending, although they are rapidly growing in other areas as well. As for incumbent financial institutions, Mahoney noted that an easy entry into the fintech space is to provide financial services to fintech businesses. Some banks, for example, have started funding peer-to-peer lenders. But in the future, Mahoney envisions traditional institutions playing a more complex role by spinning off their own fintech or even purely tech-enabled businesses.
The future of Chinese fintech
Where these companies land in the future will largely depend on regulation. During China's fintech boom, regulators have largely been playing catch-up. While a lack of rules has facilitated growth, it has also meant fraud and problematic standards. As regulators finalize frameworks and dive into implementation, Mahoney stressed the importance of a soft landing—that is, regulating effectively without dampening consumer confidence in the sector.
While regulatory bodies are catching up, some internet giants are actively minimizing their regulatory footprint. This includes redefining business models. Mahoney explained, "As fintech matures, I think you are going to see models move either in a tech direction, or a fin direction… Some companies will evolve to be much more tech-focused and will do tech enablement, and others will embrace actually being a financial institution."
Mahoney also stressed that despite the internet giants' tremendous success, China's fintech ecosystem does not necessarily spell winner-take-all success for them. There are numerous growth tracks available to startups and traditional institutions, especially as regulation stabilizes and customers develop preferences.
Q&A with Todd H. Baker and Bo Cowgill
In conversation with Mahoney, Baker and Cowgill both inquired about data access. Chinese fintech companies have greatly benefited from open access to consumer data. As they move outside of this environment, Mahoney noted that companies will "have to be very good citizens" and adapt to higher standards, especially if expanding into the United States or Europe. Expanding through acquisitions will ease some of these frictions, allowing Chinese companies to inherit local talent, knowledge, and regulatory relationships.
Within China, the panelists noted that data access will continue to play a pivotal role in underdeveloped financial areas, particularly credit. Because of the low presence of credit bureau agencies, most customers lack lengthy credit histories, leaving lenders to find the right balance between transactional, social, and traditional financial data points in their evaluation models.
The panel also focused on comparisons between Chinese and US fintech spaces, though Mahoney warned that regulatory and user experience differences mean that American tech giants are unlikely to emulate the trajectories of their Chinese counterparts. Ant, Tencent, and their peers are already thinking globally, however, and are pursuing investments in Latin America and Europe, if not yet the United States.
An audience Q&A session concluded the evening, with participants inquiring about credit ratings, acquisitions by foreign banks in China, and anti–money laundering regulations, among other topics.