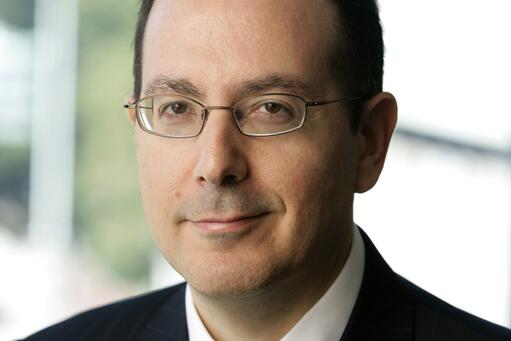 David M. Schizer served as a dean of the Law School from 2004 to 2014 and is one of the nation's leading tax scholars. His research also focuses on nonprofits, energy law, and corporate governance. He is a founder and co-director of the Richard Paul Richman Center for Business, Law, and Public Policy, a founder and co-chair of the Center for Israeli Legal Studies, and a founder and co-chair of the Charles Evans Gerber Transactional Studies Center.
At 35, Schizer was the youngest dean in the Law School's history, and the longest serving dean since 1971. During his tenure as dean, Schizer recruited 43 new faculty members, doubled the school's annual fundraising, led a $353 million capital campaign, helped the Law School navigate the financial crisis, oversaw the construction of Jerome Greene Hall's ninth floor, significantly reduced the school's student-faculty ratio, and forged a close relationship with the Columbia Business School by introducing an accelerated J.D./MBA program and establishing the Richman Center. He launched centers and programs on national security, intellectual property, climate change, global legal transformation, Israeli law, and other cutting edge issues; fostered innovation in the upper-year curriculum; and increased support for students choosing careers in government and public interest organizations. In addition, Schizer developed partnerships, known as "Global Alliances," with the University of Oxford, the University of Amsterdam, Sciences Po, and Paris I.
Schizer has won the Willis Reese Prize for Excellence in Teaching, and has served as a visiting professor at Yale, Harvard, and Georgetown. He also has taught at Tokyo University, Hebrew University, the Interdisciplinary Center in Herziliya, and Ono Academic College.
Before joining the Law School faculty in 1998, Schizer was a law clerk for Judge Alex Kozinski on the U.S. Court of Appeals for the 9th Circuit and for Justice Ruth Bader Ginsburg '59 on the U.S. Supreme Court. Schizer began his career in the tax department of Davis, Polk & Wardwell.
While on a three-year leave from the Law School from 2017 to 2019, Schizer served as executive vice president and CEO of the American Jewish Joint Distribution Committee (JDC), a century-old international humanitarian organization. Schizer redesigned JDC's planning process to allocate its $360 million annual budget more strategically, lightened JDC's infrastructure, relied more on data and on other insights from the business world, increased and diversified JDC's philanthropic support, and raised the organization's public profile. In 2017, he presented at the AEI on corporate tax reform.
Schizer serves on the board of Seacor Holdings Inc., an NYSE-listed company, on the board of Feil Properties, and on the legal advisory council of LegalZoom. He also serves on the board of the Columbia Law Review, the Ramaz School, and Yale Hillel.