Professor

Economics Division
Professor

Heilbrunn Center for Graham and Dodd Investing
Executive Director and Co-founder

Initiative for Policy Dialogue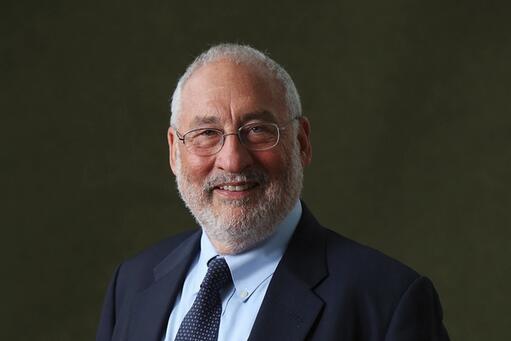 Areas of Expertise

Globalization, Microeconomics
Contact

Office: 543 Kravis
Phone: (212) 8540671
E-mail:

[email protected]
Professor Stiglitz accepted a joint appointment to a chaired professorship at Columbia Business School, the Graduate School of Arts and Sciences (in the Department of Economics) and the School of International and Public Affairs in the spring of 2001. He was the first Joel M. Stern Faculty Scholar at Columbia Business School from Fall 1999 until Spring 2001. From 1997 to 2000, he served as the World Bank's Chief Economist and Senior Vice President, Development Economics. Prior to that, he served on President Clinton's economic team as a member of the U.S. Council of Economic Advisors from 1993 to 1995 and as its Chairman from 1995 to 1997.

Stiglitz is a renowned scholar and teacher of a new branch of economics that he created, the "Economics of Information." He also helped pioneer such pivotal concepts as theories of adverse selection and moral hazard, which have now become standard tools of policy analysts, as well as economic theorists. Recognized around the world as a leading economic educator, he has written textbooks that have been translated into several dozen languages.

Stiglitz was a Fulbright Scholar and a Tapp Junior Research Fellow at Cambridge University in 1970. He became a fellow of the Econometric Society at the age of 29 and is a member of the National Academy of Science. He is also the recipient of the prestigious John Bates Clark Medal, awarded every two years to the American economist under the age of 40 who has made the most significant contributions to the subject. In 2001, he was awarded the Nobel Prize in Economics for the analysis of markets with asymmetric information.
Education

BA Amherst College, 1964; PhD, Massachusetts Institute of Technology, 1966
Joined CBS

2001
. The Transition from Communism: A Diagrammatic Exposition of Obstacles to the Demand for the Rule of Law. January 01, 2005.
. Price Neutral Tax Reform with an Informal Economy. January 01, 2004.
. After the Big Bang? Obstacles to the Emergence of the Rule of Law in Post-Communist Societies. December 01, 2002.
This faculty member has no associated courses currently. Please check back next semester.
Corothers, Thomas
, John Cavanagh
, Michael Doyle
, Sakiko Fukuda-Parr
, Andrew Kruper
, Adam Przeworski
, Mary Robinson
, and Joseph Stiglitz
. Multilateral Strategies to Promote Democracy.
New York, NY
:
Carnegie Council on Ethics and International Affairs
, 2004.