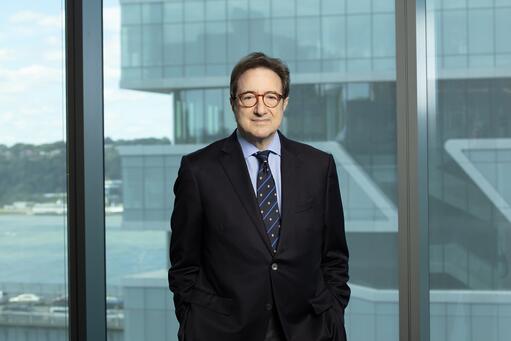 Director of Retail Studies

Marketing Division

Adjunct Professor of Business

Marketing Division

Areas of Expertise

Brand and Product Management
Consumer Behavior
Entrepreneurship & Innovation
Leadership & Organizational Behavior
Marketing
Marketplace Design

Contact

Office:

692 Geffen

Phone:

(212) 8540630

E-mail:
Fax:

(212) 8547647

Links
Mark A. Cohen has been in the retail business since his graduation from Columbia University in 1971. (MBA '71, BS Electrical Engineering '69) He has over 20 years experience in president/chairman, chief executive officer level positions. Most recently he was Chairman/CEO of Sears Canada Inc, Chief Marketing Officer and President of Softlines of Sears Roebuck & Co., Chairman/CEO of Bradlees Inc., and Chairman/CEO of Lazarus Department Stores. He has also held positions with Abraham & Strauss, The Gap, Lord Taylor, Mervyn's and Goldsmith's Department Stores. He has been a Professor at Columbia University's Graduate School of Business since 2006 teaching courses in Retailing Leadership, Retail Fundamentals, and a Master Class in Creating a Retail Enterprise. He is currently Director of Retail Studies. He also serves as an independent consultant to both the retail and consumer products industry.
B8652: Retail Fundamentals
B8698: Creation of a Retail Enterprise (Master Class)
B8653: Retailing Leadership
5 Challenges Awaiting Amazon's New CEO
A $2 Trillion Boost from Congress Is a Good Start. Expect More
A Look at Why Retailers May Be Closing So Many Stores
Amazon to Hire 100,000 Warehouse and Delivery Workers Amid Coronavirus Shutdowns
Amazon Warehouse Workers Reject Union Bid in Alabama
Amazon Workers in NYC Vote to Unionize in Historic Labor Win
Amid Inflation Woes, Off-Price Retailers Like Dick's Going Going Gone Fare Well
An Inside Look at the Vicious Cycle That Fuels the Fashion Industry, Where Rich White People Determine Beauty Standards and Who Gets Access in the First Place
Apparel and Accessories Suffer a Catastrophic 52% Sales Decline in March
April Retail Sales Plunge a Record 16.4% Amid Coronavirus Pandemic
As COVID-19 Cases Spike, Retail Enters a New Normal
As Department Stores Struggle, Nordstrom Makes a Play in New York City
Bose Closing Of Brick-And-Mortar Stores Is Expected To Boost Profits
Columbia's Cohen: Macy's Future Uncertain
Consumers Are - Mostly - Putting Spending on Hold While They Wait for Election Results
Consumers Are Pulling Back on Spending. They're Also Tapping Savings and Taking on Debt.
Consumers Dialed Back Their Spending in May, Thanks to Rising Prices and Interest Rates
Coronavirus and Luxury Retail: Shopping for Used Hermes, Cartier in Covid Era
Coronavirus Safety at 'Essential' Supermarkets, Food Retail Evolving as Supply Chain Strains
Coronavirus Will Probably Not Force the US to Run out of Food
Death by a Thousand Emojis': All 254 Papyrus Stores Closing
Despite Higher Prices, McDonald's, Kraft Heinz and Coca-Cola Post Solid Earnings.
Do You Really Need to Do Holiday Shopping Early?
Experts Say 'Elastic Waist' Clothing Is Trending - Here Are 30 Comfortable Options
Fairway Is So Crowded! How Can It Be in Bankruptcy?
Flush from Reddit Rally, GameStop Plots Store Revival
Forever 21 Bankruptcy Signals a Shift in Consumer Tastes
Forever 21's Business Model Was Way Out of Fashion
Former Zappos Chief Tony Hsieh Exalted Customer Service, Set High Bar for Rivals
Furloughs at Macy's, Gannett and Gap Signal Mounting Economic Distress
H&M, Staples, and Primark Are Refusing to Pay Rent, and It's Setting a Dangerous Precedent That Could Squeeze Retail Landlords Globally
Hard-Hit Retailers Projected to Shutter as Many as 25,000 Stores This Year, Mostly in Malls
How Amazon Plans to Fix Its Massive Returns Problem
How Brookfield Avoided Slamming into a Brick-and-Mortar Wall - with a Little Help from Its Frenemies
How to Prove You're Vaccinated as More Venues Make It Mandatory
How Will Walmart Keep Its Sales Growth Going?
Huge Discounts on Spring Wardrobes Are Coming
In Buying Forever 21, Mall Owners Buy Themselves Some Time
Inflation Puts Pressure on America's Fast-Expanding Dollar Stores
Is It Time to Ditch the Sweatpants? Consumers Eyeing Dressier Fashion Styles Again
It's 2022. What Does Life Look Like?
It's Not Just Shipping: A Wide Range of Supply Issues Are Plaguing Startups This Holiday Season
J. Crew Declared Bankruptcy. Three Other Famous Stores May Follow It
J. Crew Files for Bankruptcy, the First National Retail Casualty of the Coronavirus Pandemic
JCPenney Could Be Doomed, Even as Malls Race to Save It
Join the Club, Save Some Money
Lord & Taylor Returns to New York - Sort of!
Macy's Is Furloughing Most of Its 125,000 Employees Amid Prolonged Coronavirus Shutdown
Macy's May Need a Miracle on 34th Street
Madewell IPO May Be in Limbo as Talks with Lenders Break Down
Major Retailers Face Bankruptcy and Uncertain Futures Due to COVID-19 Financial Crisis
Malls Are Dying. The Thriving Ones Are Spending Millions to Reinvent Themselves.
Malls Are Reopening, with Masks, Social Distancing and Hand Sanitizer-Spritzing Doormen
Malls at Risk of Losing Their Anchor Stores as Big Chains like JCPenney and Neiman Marcus File for Bankruptcy and Nordstrom Plans to Shut 16 Stores
Mike Gould and Mark Cohen Discuss the Need for Strong Retail Leadership Today
Neiman Marcus Files for Bankruptcy
Neiman Marcus Says It Has a Plan
New CDC Mask Guidance Throws Stores' Policies into Flux
New York City's Shops Cautiously Reopen after Months on Lockdown
No PPP Funding? 5 Ways for Small Businesses to Survive
No New Bankruptcy Filings, but Darkness Intensifies for Department Stores
Numbers, Psychology and Dillard's Bull Run
Old Clothes, New Customers: Nordstrom Becomes Latest Big Retailer to Sell Secondhand Items
One Family Built Forever 21, and Fueled Its Collapse
'People Are Grumpy' Amid Pandemic, 2020 Election Fallout, Inflation, Vaccines Debate: Columbia Business School Professor
Phone Data Show Consumers Avoiding Stores, Restaurants as COVID Surges
Plywood Runs Low as Retailers Board up Storefronts Ahead of Election Day
Report: COVID-19 delays Amazon Prime Day until September
Retail Sales Plunge 'Just the Beginning'
Retail Stores Create the New Normal as Businesses Begin to Open Up
Retailers Surrender to Unprecedented Costs on Online Returns
Retailers, Desperate for Seasonal Workers, Are Offering 'Unheard of' Perks like Signing Bonuses
Rude Shoppers Are Fueling America's Crippling Labor Shortage
Saving Emerging Fashion Brands
Shoppers. Shoppers. Shoppers. Wall Street Is Watching You
Shrinking the Gap: How the Clothing Brand Lost Its Way
Shopping Under the Influence
Silicon Valley Takes on Amazon's Cashierless 'Go' Stores
Small Business Owners Are Still Concerned about the Economy
Social Media and E-Commerce Hurting Paper Greeting Card Sales, Critics Say
Something's Afoot on Madison Avenue
Target's New Hourly Wage Will Soon Be as Much as $24
Technology Is Integral to the New Normal in Retail
Thanksgiving Won't Launch Black Friday Shopping at Some of the Biggest Retailers
The Changing Face of Malls: The Rise, Fall and Future.
The Companies That Feed America Brace for Labor Shortages and Worry about Restocking Stores as Coronavirus Pandemic Intensifies
The Death of the Department Store and the American Middle Class
The Death of the Department Store: 'Very Few Are Likely to Survive'
The Department Store of the 21st Century Isn't Macy's
The Pre-Order Model: Why It's Working
The Retail Apocalypse Is in Full View This Holiday Season: Former Sears Canada CEO
The Return of One-to-One Commerce
There Is Plenty of Food in the Country'
This Black Friday, Shoppers Are Back in Malls
This Is How a Piece of Clothing Goes Viral
Thousands of Retailers May Open Their Doors, but Won't Survive Pandemic, Says Former Sears Canada CEO
Tight Election Race Could Dampen Consumer Spending during a Fraught Holiday Season
Trump says He Will Block Coronavirus Aid for U.S. Postal Service if It Doesn't Hike Prices Immediately
U.S. Retail Rose 7.5% in June as Stores Reopened
UPS Says It's Processing a Record Number of Returns as 1 in 4 Americans Plan to Ship Stuff Back to Sellers after the Holidays
US Retailers Teeter on the Brink as 630,000 Outlets Close
Voters Should Request Ballots 2 Weeks Early, but Mail Isn't Intentionally Slow
Walmart Expands Last-Mile Delivery Service to Outside Businesses, Opening New Battlefront with Amazon
What Happened to Nordstrom Rack?
What the Heck Happened to the Gap?
What Will COVID-19 Do to Shopping Malls?
Why JCPenney Isn't Going out of Business -- Yet