Philip H. Geier Jr., Professor of Marketing

Marketing Division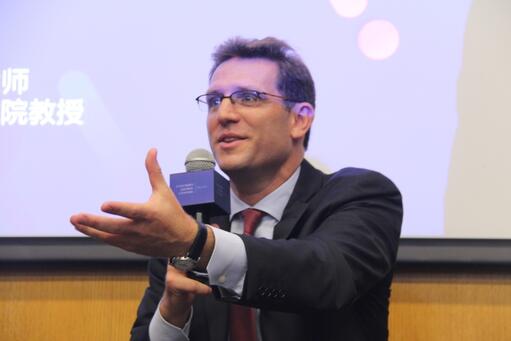 Areas of Expertise

Consumer Behavior, Decision Making & Negotiations, Marketing
Contact

Office: 745 Kravis
Phone: (212) 8544555
E-mail:

[email protected]
Links
Professor Ran Kivetz is a tenured professor at Columbia University Business School, where he holds the Philip H. Geier endowed chair.  Professor Kivetz is a leading expert in the areas of behavioral economics, decision-making, marketing, customer behavior, incentives, and innovation.  His experience in these fields includes over twenty years of research, management, consulting, and teaching.  His latest research explores political science and political psychology through the lens of behavioral economics and decision research.
Professor Kivetz's research has won many prestigious awards, including multiple "Best Paper" awards, being a recipient of the New York Times annual "Best Idea" award, and being ranked as the third most prolific scholar in his field during 1982–2006.  Professor Kivetz's research has been covered by major print and broadcast media (e.g., ABC, The Atlantic, BBC, Bloomberg Businessweek, CNN, Chicago Tribune, FOX News, The New York Times, SmartMoney, Time, U.S. News & World Report, & WSJ).
Professor Kivetz's teaching has won the Columbia Business School Dean's Award for Innovation in the Curriculum.  Some of the courses that Professor Kivetz has developed and taught include High-Technology Entrepreneurship, Marketing of Nation, and Bridging Behavioral Economics and Marketing Science. 
Professor Kivetz has advised Fortune 500 companies, government agencies, and entrepreneurial ventures from a variety of industries.  He has worked with organizations on strategy, decision-making, marketing, innovation, branding, customer behavior, incentive systems, marketing research, and intellectual property.
Professor Kivetz earned a Ph.D. in business and an M.A. in psychology from Stanford University and a B.A. in economics and psychology from Tel Aviv University.
Education

BA, Tel Aviv University, 1995; MA, PhD, Stanford, 2000
Joined CBS

2000
Type

Newspaper/Magazine Article
. "When Virtue Is a Vice."
Harvard Business Review
. July 01, 2008.
Trademark and Deceptive Advertising Surveys: Law, Science, and Design
, edited by
Diamond
and S. S. & J. Swann
,
Chicago
:
American Bar Association
, 2012.
International Encyclopedia of the Social Sciences
, edited by
,
New York
:
MacMillan Publishing Company
, 2007.