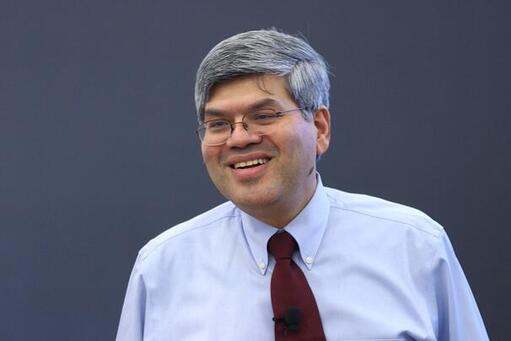 Roy Bernard Kester and T.W. Byrnes Professor of Accounting and Auditing; Accounting Division Chair

Accounting Division

Chartered Accountancy, 1987

Areas of Expertise

Climate
Corporate Finance
Corporate Governance
Financial Accounting & Auditing
Fundamental Investment Analysis
Managerial Accounting

Contact

Office:

1111 Kravis

E-mail:
Fax:

(212) 3169219

Links
Shiva Rajgopal is the Kester and Byrnes Professor of Accounting and Auditing at Columbia Business School. He has also been a faculty member at the Duke University, Emory University and the University of Washington. Professor Rajgopal's research interests span financial reporting, earnings quality, fraud, executive compensation and corporate culture.  His research is frequently cited in the popular press, including The Wall Street Journal, The New York Times, Bloomberg, Fortune, Forbes, Financial Times, Business Week, and the Economist. He teaches fundamental analysis of financial statements for investors, managers and entrepreneurs and a PhD seminar on accounting regulation.
Key awards include 2006 and 2016 American Accounting Association (AAA) Notable Contribution to the Literature award, 2006 and 2016 Graham and Dodd Scroll Prize given by the Financial Analysts Journal, and the 2008, 2012 and 2015 Glen McLaughlin Award for Research in Accounting Ethics.  
He is the Departmental Editor of the Accounting track of Management Science.  He is also an Associate Editor at the Journal of Accounting and Economics and an ex-editor at Contemporary Accounting Research.  He was on the editorial board of The Accounting Review from 2003-2011. 
Education

BCom, University of Bombay, 1988; Chartered Accountancy 1987, PhD, 1998, University of Iowa
Type

Newspaper/Magazine Article
The Accounting Review
. January 01, 2015.
B9020: Research on Investing with Fundamental Analysis
B8010: Fundamental Analysis for Investors, Managers and Entrepreneurs
B7010: Fundamental Analysis for Investors, Managers and Entrepreneurs
B8028: Measuring and Managing Climate Risk
B9022: Research On Regulation And Accounting Institutions
B8024: Sovereign Risk Assessments
B9019: Topics in Accounting Research
A Key Reason Behind USPS' Woes: Employee Compensation
A year after the Business Roundtable 'stakeholder capitalism' letter, Europe's record proves the strategy doesn't deliver
A Year Ago, CEOs Pledged to Serve Stakeholders. About That Promise ...
Aerospace Giant's Convict CEO Could Pose Threat to Firm's IPO Plans
Amazon Pharmacy Empowers Consumers
An Open Letter to the Business Roundtable 181
Can We Agree on Something? Legislative Reforms to Get Us Back on Track
Carving Up the American Pie: Compared with 60 Years Ago, Workers Are Getting Less and Shareholders Are Getting More-sometimes a Lot More
CEOs' Plans to Reset Capitalism Bump into Reality of Pandemic
Cloudy M&A Disclosure, Not Goodwill Impairments, Is The Real Issue
Coronavirus Puts a Premium on Cash, Even for Biggest U.S. Companies
Corporate Profit Is at a Level Well Beyond What We Have Ever Seen, and It's Expected to Keep Growing
Does Financial Reporting Misconduct Pay Off?
False Dichotomy Between Stakeholder and Shareholder Capitalism: The Cautionary Tale of Unilever and the Netherlands
Has European Corporatism Delivered?
Holding Firms Accountable To ESG Goals Is Tricky
How Is ESG Performing in the Covid-19 Crisis
How Should Billionaires Be Taxed?
How To Maintain A PEAK Culture During Rapid Growth
Is Coca Cola's Shareholder Value Negative?
Is There Real Virtue Behind the Business Roundtable's Signaling?
It's Not All Bad for Banks
Materiality, Scope 3 Emissions Elicit Debate in SEC Climate Rule Comments
Rated "S" : Corporate Handouts Should Be Part of the ESG Scorecard
Rated "S" : Corporate Handouts Should Be Part of the ESG Scorecard (Shivaram Rajgopal)
Some Hospitals Could Lose Out on Federal Relief Dollars
Spac Share Prices Slump as Enthusiasm Wanes
The $500 Billion in Corporate Aid Will Be a Corrupt Cash Grab if We Don't Ask the Right Questions
The Dubious Appeal of ESG Investing Is for Dupes Only
The PPE Supply Chain Is a Black Box-That Needs to Change
The Road to Energy Transition Is Paved with Good Intentions- Part 1
The Secret Behind New Zealand's Victory Over Covid-19: Its Balance Sheet
The SEC's Attempt to Write Generally Accepted Climate Principles, Part I
UAW Bolsters Financial Controls after Embezzlement Scandal
US Regulators Step up Battle with Spoofing
Wall Street Eyes More Job Cuts After Headcount Swells in 2020
What Happens When Firms Have to Stump up for Good Causes
What if BlackRock Appointed the Auditor?
What the Sacking of Danone's Faber Tells Us about Stakeholderism
What's Behind The Label: Quality, ESG, Value, Growth…?
What's The Future Of ESG Investing?