Arthur J. Samberg Professor Emeritus of Professional Practice

Accounting Division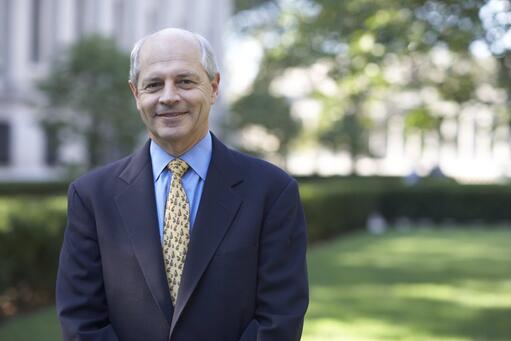 Areas of Expertise

Financial Accounting & Auditing
Contact

Office: 333 Kravis
Phone: (212) 8511802
E-mail:

[email protected]
Professor Harris' research and practical experience has covered most areas of the use of accounting information for valuation, investment and management decisions, with a particular focus on global aspects and financial institutions.
He originally joined the Columbia Business School faculty in 1983, and was the Jerome A. Chazen Professor of International Business, Director of the Chazen Institute of International Business and Chair of the Accounting Department, prior to joining Morgan Stanley as a Managing Director and Head of the Global Valuation and Accounting Team in 2000.  He rejoined the faculty of Columbia Business School in July 2008 and was appointed as The Arthur J. Samberg Professor of Professional Practice. He was co-Director of Columbia's Center for Excellence in Accounting and Security Analysis, which he founded.
He has taught core and elective courses and created three new courses at the business school. He was a President's Teaching Award Finalist in 1997, 2011 and 2013, the recipient of the Margaret Chandler Award for Commitment to Excellence in teaching EMBA class of 1998, 2001, 2011, 2019 and 2020, the Dean's Award for Innovation in the Curriculum in 2011, the Chazen Institute Prize for Innovation in Teaching, 1996, and the Singhvi Prize for Excellence in Teaching, 1985. He also was a visiting associate Professor at University of Chicago in 1987-88. He has published widely on valuation and accounting issues, in both academic and practitioner journals, and has written many cases for classroom use.
Through September 2008, Professor Harris was a Managing Director and Vice Chairman at Morgan Stanley, working on special projects for Firm Management in all business areas. He was a Senior Advisor to Morgan Stanley from 2008 - 2010. In his time in Equity Research he was the primary author of the Apples-to-Apples research series focusing on global sector valuations and earnings quality issues, and led the creation and initial development of Morgan Stanley's ModelWare project and its Risk-Reward valuation application, that is still used in its published research and has become common practice in sell side research across Wall Street. He wrote extensively on earnings quality, company-specific investment ideas and global pension and retiree benefit issues.
In 2002 he was named to Institutional Investor's All American Research Team and in 2003 to Wall Street Journal's SmartMoney Power 30 (the most influential people on Wall Street). He also worked with corporate and investor clients on disclosure and valuation issues, and capital raising situations. Working with senior management, he was responsible for developing strategic solutions including running global strategy offsites, and enhancing the management information systems of the firm. He also co-led a team that developed an innovative personal planning tool for retail clients.
He was a member of the Investors Advisory Committee and of the Users' Advisory Council to the Financial Accounting Standards Board. He has also served on the Office of Financial Research's Research Advisory Committee, on the Standards Advisory Council to the International Accounting Standards Board, and as a member of the International Capital Markets Advisory Committee at the New York Stock Exchange until its dissolution. He is a board member of a FDIC registered U.S. bank and several early-stage companies and served on the board of a NASDAQ listed medical device company and on the investment committee of a charity's foundation. 
Professor Harris has also provided advice on equity research, international accounting (including foreign exchange impacts), controllership, performance measurement, valuation and investor relations issues to many large banks, international corporations, organizations and senior executives.
Education

BComm (Hons.), University of Cape Town, 1976; MComm, 1980; PhD, University of Washington, 1983.
Joined CBS

1983
. Matching Currency Footprints: An Alternative Perspective. January 01, 2009.
. Conflicts of Interest in the Financial Services Industry: What Should We Do About Them?? January 01, 2004.
. Conflicts of Interest in the Financial Services Industry: What Should We Do About Them?
London
:
Centre for Economic Policy Research
, 2004.
Cincinnati, Ohio
:
South-Western
, 1995.
This faculty member has no associated courses currently. Please check back next semester.