2023 Conference: Governing for the Future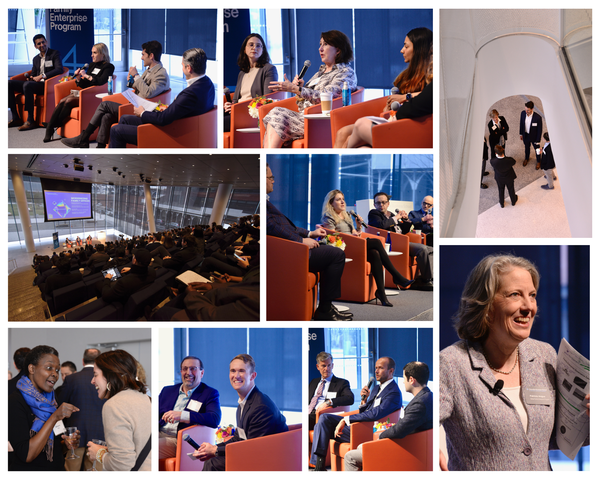 On Friday, March 24th, 200 students, alumni, family members, and members of our global community gathered for the annual Family Enterprise Conference: Governing for the Future. Speakers shared their experience with governance in family councils, family offices, as a recent graduate, as a female leader, and as an entrepreneur, all though the lens of family enterprise. 
The audience spanned 21 different grad years, 17 countries, and 31 different industries.
Keynote Speaker
Andrew D. Pitcairn, Family Council Chair / Director, Pitcairn
Academic Presentation
Professor Patricia Angus, Adjunct Professor of Business, Managing Director, Global Family Enterprise Program
Panel Topics
Modernizing Family Offices
Young Alumni
Women in Family Business
Family Business Entrepreneurs
2022 Conference: Reinvention & Resilience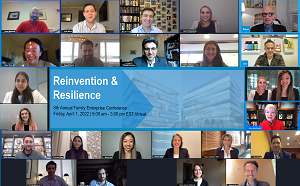 April 1, 2022 | Virtual
How will companies adapt to a post-pandemic world? Reinvention. How do families thrive generation to generation? Resilience. Those are the keywords for the 8th Annual Family Enterprise Conference. With over 20 speakers and over 100 attendees from 16 countries, the day-long program covered a range of topics from the post-pandemic world to family office.
Read the recap: Keynote Fireside Chat with Jon Sebastiani '12
Read the recap: Academic Presentation with Professor Rita McGrath
Read the recap: Navigating the Post-Pandemic World
Read the recap: Family Enterprise in an Interconnected World
Read the recap: Young Alumni: Governance from the Ground Up
2021 Conference: Future Forward!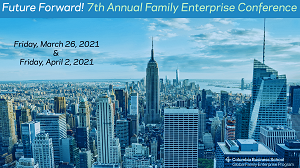 March 26, 2021 & April 2, 2021 | Virtual
Over the course of two richly packed days, Future Forward welcomed nearly two dozen speakers, intimate networking opportunities, and actionable insights about new ways to govern family enterprise.
Day 1 opened with Patricia Angus, Adjunct Professor of Management and Managing Director, Family Business Program and Faculty Director, Enterprising Families, and Steen Thomsen, Novo Nordisk Foundation Professor of Enterprise Foundations and Founding Chairman of the Center for Corporate Governance, Copenhagen Business School, looking at the future of ownership, sustainability and stakeholders. Next, panelists discussed what it takes to be a change agent and how family enterprise can make an impact beyond the business. We capped off Friday afternoon with a mixology event led by our very own Family Business Club students!
On Day 2, Daria Illy, Board of Directors and Coffee Culture Director, Illy Coffee, and Stephen Zagor, Adjunct Assistant Professor, Columbia Business School, explored the role of branding and education in family enterprise. Other highlights included conversation surrounding new models of family offices and wealth management. Four lucky raffle winners went home with swag bags, filled with an assortment of gifts and goodies generously offered by Global Family Enterprise Program supporters.
Future Forward was a testament to the relevance of family enterprise in today's society and the power of community in generating new ideas and partnerships. We look forward to continuing the discussion at our upcoming events and to the 8th Annual Family Enterprise Conference!
2019 Conference: Entrepreneurship & Family Business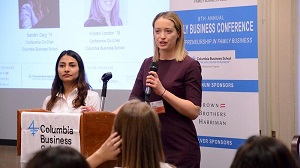 March 1, 2019 | Faculty House
Featured Speakers
Pramodita Sharma, Professor of Family Business, University of Vermont
Jon Sebastiani '12, Founder, Sonoma Brands
Panel Topics
Entrepreneurship in Family Business
Estate / Conflict Planning
Private Equity / Venture Capital 
2018 Conference: Transformation & Disruption: The Evolution of Family Business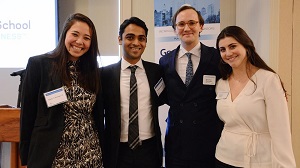 February 9, 2018 | Faculty House
Keynote Speakers
Margot Edelman, Vice President, Edelman
Peter Wallenberg Jr., Chairman, Wallenberg Foundations
Francisco Jose Riberas, Executive Chairman, Gestamp Automotive
Nicholas Logothetis, Board Member, Libra Group & Co-Founder and Chairman, Concordia
Panel Topics
Real Estate
Family Office
2017 Conference: From Family Business to Family Enterprise: Successfully Climbing the Growth Ladder
When it comes to growth, family businesses face challenges that are distinct from those of non-family enterprises. After all, family businesses have shareholders with the utmost at stake: their families. Add to that the potential tensions of household dynamics, as well as the challenges of competing in an ever-changing world, and one has to wonder: as a family business, how do you grow?
This is the question that the Fourth Annual Family Business Conference, organized by Columbia Business School's student-led Family Business Club with support from the School's Global Family Enterprise Program, tackled. "From Family Business to Family Enterprise: Successfully Climbing the Growth Ladder" brought together more than 150 attendees on February 17, 2017 to listen to family business leaders, consultants, experts, and investors talk about the paths to growth through four critical channels, each with its own discussion panel: internationalization, digitalization, financing and ownership structure, and advisors and governance. The conference also included a keynote speech from Paul Fribourg, CEO and chairman of Continental Grain Company, an agricultural business founded in 1813 by his ancestor, Simon Fribourg, that is today one of the largest privately held companies in the world.
Keynote Speaker
Paul Fribourg, CEO and Chairman, Continental Grain Company
Panel Topics
Growth Through Internationalization
Growth Through Digitalization
Financing and Ownership Structure to Support Growth
The Role Played by Advisors and Governance to Support Growth
2016 Conference: The Competitive Advantages of Family Business
Keynote Speakers
Adriana Cisneros CC '02, CEO and Vice Chairman, Cisneros
James Chao '74, Chairman of the Board, Westlake Chemical Corporation
Panel Topics 
Developing a Competitive Advantage
Women in Family Business
The New Generation Leveraging the Family Business to Pursue Other Passions
2015 Conference: Family Business in Transition
The 2015 Conference focused on the unique set of challenges facing family businesses in transition, especially regarding family succession and its impacts on the family business. The conference featured several distinguished speakers and panelists, including: Richard Edelman President & CEO, Edelman. Richard's father, Mr. Daniel Edelman, founded Edelman in 1952. Richard took over as CEO in 1996, and has since grown Edelman into the world's largest Public Relations firm. Edelman is currently ranked by Forbes as the 7th best company to work for. Andrew Taylor Executive Chairman, Enterprise Holdings. Andy Taylor is Executive Chairman of Enterprise Holdings, founded in 1957 by his father, Jack Taylor. Still owned and operated by the Taylor family, Enterprise Holdings is the largest car rental company in the world today, and is consistently ranked by Forbes as one of America's Largest Private Companies.
Keynote Speakers
Richard Edelman, President & Chief Executive Officer, Edelman PR
 Andrew Taylor, Executive Chairman, Enterprise Holdings
Panel Topics
Fathers, Sons, and Family Business
The New Generation Reflects
Breakout Sessions
Family Advisors and their Views on the New Generation
Legal Concerns Relevant to the New Generation 
2014 Conference
The first annual conference was held Saturday, April 5, 2014 at Columbia Business School.
Topics
How Families Invest
Creating a Family office / Next Gen Entrepreneurship in Family Business
Successful Generational Transitions
A Value Approach to Wealth Management
Trends in Family Foundations
Philanthropy & Family Enterprise: The Role of the Next Generation
Featured Speakers
Monica Mandelli, Head of Goldman Sachs Family Office
Angelo Robles, Founder & CEO, Family Office Association
Maya Roadle, Rodale, Inc.
Professor Bruce Greenwald, Director, Heilbrunn Center for Graham & Dodd Investing, Columbia Business School
Melissa Berman, President & EO, Rockefeller Philanthropy Advisors, Inc. 
Maryann Fernandez, Founder & President, Philanthropy Indaba