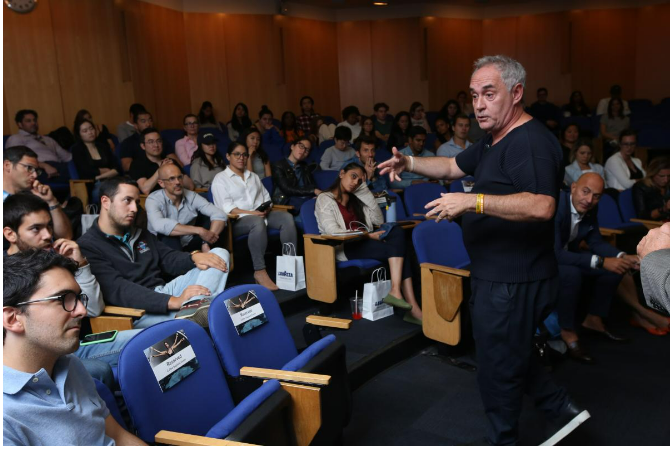 Lang Talks invites highly-accomplished industry professionals to speak with current students and alumni who are interested in topics within the entrepreneurial ecosystem. The formats range from roundtable discussions to somewhat larger settings. Participating students are expected to arrive prepared with questions and topics for discussion for fireside chats. Certain Talks are open to the CBS or the Columbia communities-at-large.

Please note: Space for the Lang Talks is limited and registration is on a first-come, first-served basis. Attendees will be required to cancel their reservation by emailing [email protected] at least 48 hours in advance of the event. Students who are registered but fail to attend will be unable to sign up for future events during that semester. Columbia Business School students and other invited guests may RSVP in via listed event invitation link.

Questions? Contact [email protected].
2021-2022 Lang Center Talks
Thursday, November 17, 2022
David Kim '17, Co-Founder and General Partner, Regal Healthcare Capital Partners
Mattan Griffel, Co-Founder, President, and COO of Ophelia
Professor Carri Chan, Faculty Director Healthcare and Pharmaceutical Management Program of Columbia Business School
Best Practices for Reforming the Healthcare Industry
Wednesday, November 16, 2022 
Jon Stein '09, Founder, Betterment
Fireside Chat
Wednesday, November 16, 2022 
Elliott Robinson '12, Partner Bessemer Venture Partners
Diversity & Investing

Monday, November 14, 2022
Carly Bigi '17, Founder & CEO, Laws of Motion
Carolyn Butler '18, Co-founder & CEO, Manymoons
Constanza Gomez '22, Co-founder, Sortile
Aileen Lee '23, Founder, Infinite Goods
Entrepreneurship, Sustainability, and the Fashion Industry
Friday, November 04, 2022 
Professors Oded Netzer, Christopher Frank, and Paul Magnone, Columbia University 
Leading in a Data-driven World: Developing Quantitative Intuition
Thursday, October 06, 2022 
Scott Smedresman, Brown Rudnick
Fundraising Legal 
Friday, June 17, 2022 
Kenneth Ebie, Executive Director & Chief Development Officer, Black Entrepreneurs NYC
The Future of Entrepreneurship is Inclusion
Friday, April 15, 2022
Ron Gonen '04, CEO & Founder, Closed Loop Partners
Raising Capital
Tuesday, April 12, 2022
Laurence Coman '20, COO & Co-Founder, AvoMD
A Student-Founder's Journey Through CBS
Tuesday, April 05, 2022
Randy Garutti, CEO & Co-Founder, Shake Shack
Friday, March 18, 2022
Millard Chan '99, Co-Founder, Chief Executive Officer, and Board Director, Sequlite
From Investment Banking to Two Exits: My Startup Journey
Friday, February 18, 2022
Carly Chase,Director, MIT delta v accelerator
Becoming an Entrepreneur: A Framework for Success 
Friday, January 28, 2022
David Bell, Co-Founder and President, Idea Farm Ventures
Building a Consumer Startup: Four Pillars for Winning in the Digital Economy
Friday, December 17, 2021
Kunal Lunawat, Co-Founder & Managing Partner, Agya Ventures
Building and Investing in Proptech: The Top Trends for 2022
Friday, November 12, 2021 
Brian Berger '03, Founder and CEO, Mack Weldon
Wednesday, October 27, 2021
Jackie Kopcho '19, Managing Partner, Big Branch Capital
Patrick Briggs '20, Principal & Operating Partner, Broadtree Partners
Buying Your Way Into Entrepreneurship: A Panel Discussion on Entrepreneurship Through Acquisition (ETA)
Tuesday, September 28, 2021
Sarah Ribner '16, CEO and Co-Founder, PiperWai
Fireside Chat
Friday, September 24, 2021
Tobias Citron,Senior Associate, Primary Venture Partners
How to Make the Leap to Full-Time Entrepreneur
Friday, July 23, 2021
Philipp Humm '18, CEO & Founder, Power of Storytelling
Storytelling for Entrepreneurs
Friday, June 25, 2021
R. Adam  Smith '98, Founder, RAS Capital Partners
The Entrepreneur and Financing: Family Offices as a Long-Term Capital Partner
2020-2021 Lang Center Talks
Friday, May 28, 2021
Austin Cohen '16, CEO & Founder, Flexit Fitness
Entrepreneurial Selling
Friday, April 30, 2021
Matthew Cantwell '11, Senior Director, EY-Parthenon
Approaching Corporates for Partnerships or Strategic Investments
Friday, February 26, 2021
Sylvana Sinha JD '04, Founder, Chair, & CEO, Praava Health
Fundraising on the Frontier: When Traditional Capital is Not Available
Friday, February 5, 2021
Ju Rhyu '08, CEO & Co-Founder, Hero Cosmetics
Lang Talk: Fireside Chat
Friday, December 18, 2020
Jessica Ochoa Hendrix '09, CEO & Co-Founder, Killer Snails LLC
SBIR Grants: The $3.3 billion Funding Source for Startups
Friday, November 6, 2020
Jake Mendel, Senior Vice President, Startup Banking, Silicon Valley Bank
Raising VC Capital: How to Optimize Your Process
Friday, November 6, 2020
Greg Henley '84, Fractional Chief Financial Officer, AR4Transit
What it Takes to Be a Startup Founder (Webinar)
Thursday, October 8, 2020
Liz Wilkes '07, CEO & Founder, Exubrancy
Fireside Chat 
Thursday, September 24, 2020
Fatima Dicko CC '12, Founder, Sugar Living (Formerly Jetpack)
Lang Talk: Fireside Chat
Thursday, April 9, 2020
Becca Brown '07, Co-founder, Solemates
Virtual Innovation Talk Series 
Friday, March 6, 2020
Connor Wilson '15, Co-founder, Thursday Boots
Innovation Talk Series: Happy Hour 
Thursday, February 20, 2020
KJ Singh '11, Managing Director, Techstars
How to Raise Capital 
Fall 2019 Lang Talks
Monday, December 2, 2019
Ron Gonan '04, Founder, Closed Loop Partners
While completing his Columbia MBA in 2004, he successfully launched Recyclebank, one of the first and most successful Lang Fund investments. After his career with the Bloomberg administration, Ron founded Closed Loop Partners, a fund dedicated to building recycling technologies and infrastructure.
Wednesday, November 13, 2019
Sarah Ribner '16, Co-Founder, PiperWai
Sarah is the co-founder of Piperwai, which was featured on Shark Tank in 2015. She was named a member of the Forbes 2018 30 Under 30 Class, and EY's Entrepreneurial Winning Woman of 2017.
Wednesday, October 23, 2019
Brian Berger '03, Founder, Mack Weldon
Brian launched Mack Weldon in 2012 to reinvent men's underwear through technical innovation and smart design, and simplify the experience of shopping for it. Since then, Mack Weldon has become a leader within the men's apparel industry, having expanded its product offering from sweats and t-shirts to activewear and accessories.
Fall 2019 Inaugural Event
For its inaugural Lang Talk, the Lang Center hosted world-renowned innovator Ferran Adrià, chef, author, and founder of the elBullifoundation on Wednesday, September 25, 2019. He presented Sapiens–Innovation through Understanding and took us through how to thoroughly understand the subject matter to spur imagination and innovation.
Ferran Adrià joined the staff of elBulli in 1984 and rapidly progressed to become head chef. Famous for his pioneering culinary techniques, he has been applauded and imitated around the world, and won three Michelin stars for elBulli, along with many other accolades. 
With his elBullifoundation, opened in 2013, Adrià has created a center for research into gastronomic innovation whose mission is to study and catalogue the entire body of world culinary knowledge.
Adrià was in New York to mark the publication of Coffee Sapiens (Phaidon), a multimedia project created by Lavazza and the elBullifoundation with the aim of promoting experimentation and innovation in the gastronomic field. This opera omnia on coffee is one of the first pillars of what will be the most complete database of the Occidental fine dining restaurant industry, Bullipedia.
Spring 2019 Lang Talks
Monday, April 29, 2019
Jenny Friedman '17, Co-Founder, Supernode Ventures
Jenny is co-founder and managing partner of Supernode Ventures. Previously, Jenny worked for Eniac Ventures, where she focused primarily on early-stage investments in mobile-first technology.
Wednesday, March 27, 2019
Zachary Prell '05, Founder, ZACHARY PRELL
Over 10 years ago, Zachary Prell made the unconventional leap from  finance to fashion and founded his eponymous brand, ZACHARY PRELL while he was a student at Columbia Business School. His menswear brand has evolved from a sports shirt business into a lifestyle collection.
Wednesday, February 27, 2019
Rachel ten Brink '01, Co-Founder, Scentbird
Rachel co-founded Scentbird, the online fragrance sampling platform, in 2014 and scaled it to over 250,000 monthly paying subscribers, leading marketing, business development, and product development.
Fall 2018 Lang Talks
Wednesday, November 7, 2018
Sarah Ribner '16, Co-Founder, PiperWai
Sarah is the co-founder of Piperwai, which was featured on Shark Tank in 2015. She was named a member of the Forbes 2018 30 Under 30 Class, and EY's Entrepreneurial Winning Woman of 2017.
Tuesday, November 13, 2018
Jason Ojalvo '98, CEO, Tushy
Jason is the CEO of Tushy. Previously he built and ran several businesses for Amazon for over ten years and has deep experience in entertainment and disruptive innovation.
Thursday, December 6, 2018
Erica Duignan Minnihan '04, Managing Partner, 1000 Angels
Erica is founder and managing partner of both 1000 Angels and Reign Ventures. She has 20 years of experience in finance and venture capital, specializing in early-stage venture funds which are focused on Seed and Series A investment rounds.