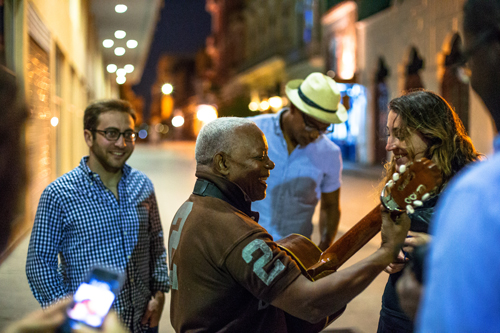 Global Immersion Program (GIP) classes bridge classroom lessons and business practices in another country. These 3-credit classes meet for half a term in New York prior to a one-week visit to the country of focus.  Students may secure spots in GIP classes through Course Match.
During the immersion week, students meet with business executives and government officials while working on team projects. Upon returning from the travel portion of the class, students have at least one wrap-up meeting at Columbia Business School
Program Fee
The 2023-2024 Global Immersion Program fee for most classes is $1950 and provides students with double occupancy lodging, ground transportation and some meals.  Global Immersion program fees do not cover round trip international airfare. Additional loan funds are available to cover the costs of airfare and the program fee: Contact [email protected] with questions on how to apply.
Attendance
Attendance and regular participation in all class sessions, both in New York and in the destination country, is mandatory. Students who miss the first class meeting may be removed from the course. No program fee refunds will be given after the add/drop period has closed/or earlier deadline which will be communicated with the class. Only current, full-time Columbia Business School students are allowed to participate.
Fall 2023 Global Immersion Classes 
B8721 - Global Immersion: Innovation in India
B8725 – Global Immersion: The UAE - Economic Growth, Business Dynamism and Global Relevance
Spring 2024 Global Immersion Classes 
B8707 – Global Immersion: Business and Entrepreneurship in Tunisia (travel takes place January 14-20, 2024) Additional detail about travel for this class here. 
B8716 - Global Immersion: Nordic Family Enterprise (travel to Denmark and Sweden)
B8729 - Global Immersion Israel: Culture Politics and Leading Innovation (no travel to Israel)
B8772 - Global Immersion: Lessons from Rwanda on Conflict, Leadership and Business Opportunities 
B8777 - Global Immersion: Philippines - Asia's Rising Tiger
B8778 - Global Immersion: South Africa's Ongoing Transformation
B8779 – Global Immersion: Africa's Consumer Market - The Case of Ghana
B8781 - Global Immersion: Foundations of VC in Japan (new this year)
Spring 2023 Global Immersion Classes
B8714 – Global Immersion: Doing Business in Brazil – Challenges & Opportunities
B8721 - Global Immersion: Innovation in India
B8729 - Global Immersion Israel: Culture Politics and Leading Innovation
B8716 - Global Immersion: Nordic Family Enterprise (travel to Denmark and Sweden)
B8772 - Global Immersion: Lessons from Rwanda on Conflict, Leadership Change and Business Opportunities
B8707 – Global Immersion: Business and Entrepreneurship in Tunisia
B8725 – Global Immersion: The UAE - Economic Growth, Business Dynamism and Global Relevance
Fall 2022 Global Immersion Classes 
B8779 – Global Immersion: Africa's Consumer Market - The Case of Ghana
B8780 - Business and Entrepreneurship in Egypt
**Fall classes will travel the week of December 11th 
Spring 2022 Global Immersion Classes 
B8779-001 – Global Immersion: Africa's Consumer Market: The Case of Ghana
B8725-001 – Global Immersion: Economic Growth in the UAE
B8714-001 – Global Immersion: Doing Business in Brazil – Challenges & Opportunities
B8707-001 – Global Immersion: Business and Entrepreneurship in Tunisia
2019-2020
2018-2019

Fall 2018:
Leadership Expedition to Patagonia with NOLS - January 6-19, 2019
Doing Business in North Africa: Tunisia - January 12-19, 2019
Myanmar: Economy in Transition - January 19-26, 2019
New Growth and Business Opportunities in East Africa: Kenya and Rwanda - January 12-19, 2019
NEW! Philippines: Asia's Rising Tiger - January 12-19, 2019

Spring 2019:
Is Cuba the Next Transition Economy?
Economic Growth in the UAE
Israel: Culture, Politics, and Leading Edge Innovation
NEW! Africa's consumer market: The case of Ghana
NEW! South Africa: Business & Culture in the Rainbow Nation
Doing Business in Brazil: Challenges & Opportunities
2017-2018
2016-2017

Fall 2016:
Leadership Expedition to Patagonia with NOLS - January 10-19, 2017
Doing Business in North Africa (travel to Tunisia) - January 14-21, 2017
The Business Environment in Vietnam - January 7-14, 2017
Is Cuba the Next Transition Economy? - January 6-13, 2017

Spring 2017:
Exploring the Business Environment in Cuba
Economic Growth in the UAE
Leading from the Inside Out (travel to India)
Doing Business in Brazil—Challenges & Opportunities
Myanmar's Economy in Transition
Nordic Family Enterprise (travel to Denmark and Sweden)
2015-2016

Fall 2015:
Leadership Expedition to Patagonia with NOLS - January 10-19, 2016
Doing Business in North Africa (travel to Tunisia) - January 16-23, 2016
The Brazilian Growth Model - January 17-23, 2016
Is Cuba the Next Transition Economy? - January 8-15, 2016

Spring 2016:
Exploring the Business Environment in Cuba
Economic Growth in the UAE
Leading from the Inside Out (travel to India)
2014-2015

Fall 2014:
Leadership Expedition to Patagonia with NOLS
Doing Business in North Africa (travel to Tunisia)
Exploring Turkey's Start-up Culture
Is Cuba the Next Transition Economy?

Spring 2015:
The Brazilian Growth Model
Exploring the Business Environment in Cuba
Doing Business in Myanmar (new this year)
Economic Growth in the UAE (new this year)
Leading Others from the Inside Out (travel to India; new this year)
2013-2014
2013-2014
2012-2013
2011-2012

Fall 2011:

Economic Growth and Financial Stability in Turkey (view 

sample agenda

)

Spring 2012: 

Growth and Sustainability in Brazil

Growth and Challenges in the Chinese Economy (view 

sample agenda

)

Traditional Family Business in Europe--class travels to Austria (view 

sample agenda

)
2010-2011

Fall 2010:

What's Next for South Africa? (view 

sample agenda

)

Spring 2011:

Growth and Sustainability in Brazil

Growth and Challenges in the Chinese Economy

Globalization, the Case of Costa Rica
2009-2010

Fall 2009:

Global Immersion: Innovation in India

Spring 2010:

Growth and Sustainability in Brazil (view 

sample agenda

)

Growth and Challenges in the Chinese Economy (view 

sample agenda

)
2008-2009

Fall 2008:
Innovation in India

Spring 2009:
Growth and Sustainability in Brazil
Investing in China