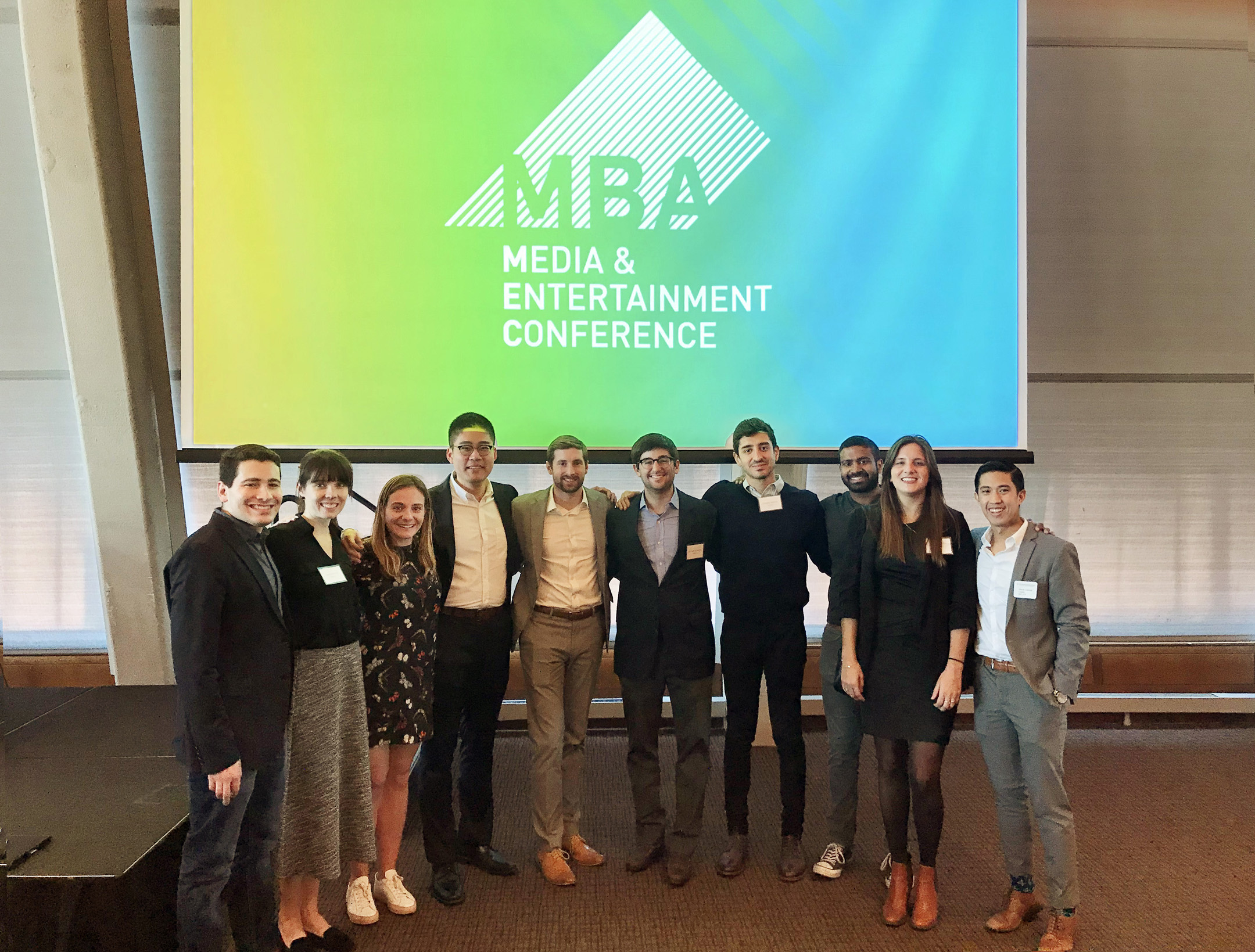 MMA members attending the 2018 MEC
The MBA Media, Entertainment & Sports Conference is an annual event, alternately hosted by Columbia Business School and NYU Stern. The conference provides an educational and informative forum for discussions around the present state of media and entertainment and its future. Organizing the conference is a joint effort of the MBA programs at Columbia, Duke Fuqua, MIT Sloan, NYU Stern and Wharton.
The conference attracts hundreds of MBAs and media professionals from across the country for its networking opportunities, keynote speakers and panels. 
The 2023 MBA Media, Entertainment & Sports Conference will be held March 3, 2023 at NYU Stern with keynote speakers 
Evan Shapiro (CEO, ESHAP) and

 Matt Schnaars (President, Content Distribution, NBCUniversal)

 

Past Keynote Speakers:

2022
Brent Weinstein, Chief Development Officer, Candle Media
Cathy Engelbert, Commissioner of the WNBA
Chris McCarthy, President and CEO, MTV Entertainment Group, Viacom CBS

2021
Richard Plepler, Founder & CEO of Eden Productions
Richard Tofel, President, ProPublica

2019
Bob Bakish '89, President & CEO of Viacom and
Meredith Kopit Levien, Executive Vice President & COO of The New York Times

2018
David Beck, Chief Strategy & Ventures Officer at Turner Broadcasting System, Inc.
Jon Steinberg, Founder and CEO of Cheddar

2017
Pascal Desroches, EVP and CFO, Turner
Kathleen Grace, CEO, New Form

2016
Ben Sherwood, Co-chair, Disney Media Networks and President, Disney|ABC Television Group
Mark Shapiro, Chief Content Officer, WME

2015
Greg Coleman, President, BuzzFeed
Josh Sapan, President & CEO, AMC Networks

2014
Jimmy Maymann, CEO, The Huffington Post
Steven R. Swartz, President & CEO, Hearst Corporation

2013
Tim Armstrong, Chairman & CEO of AOL
Eric Kessler, President & COO of HBO

2012
Reed Hastings, CEO of Netflix
Peter Liguori, former COO of Discovery Networks

2011
Leslie Moonves, President & CEO of CBS
Arthur Minson, CFO of AOL and John Martin, CFO of TimeWarner

2010
Philippe Dauman, President and CEO of Viacom
Janet Robinson, President and CEO of The New York Times Company

2009
Jeff Zucker, CEO of NBC Universal
Joe Uva, CEO of Univision Communications, Inc.

2008
Randy Falco, Chairman & CEO of AOL
David Clark, EVP Advertising of Joost

2007
Jeremy Philips, EVP of News Corporation

2006
Richard Harrington, President & CEO of The Thomson Corporation
James Schamus, CEO of Focus Features
Robert Bakish, EVP Operations of Viacom

2005
Michael Wolf, Director and Leader of McKinsey's Media Practice
Don Logan, Chairman of Time Warner's Media & Communications Group
Leo Hindery, Chairman of InterMedia Advisors & former Chairman of YES Network
Mike Ficklas, EVP & General Counsel of Viacom

2004
Don Graham, Chairman & CEO, The Washington Post Company
Jack Valenti, former President & CEO, Motion Picture Association of America