Hermes Society
The Hermes Society is a growing group of leadership supporters of Columbia Business School that is the driving force behind the growth of the Columbia Business School Annual Fund.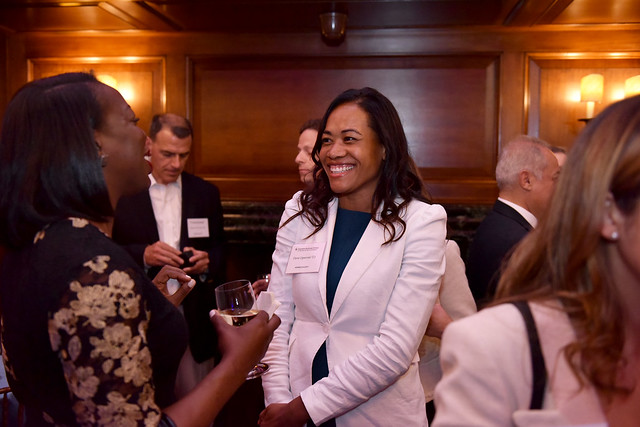 Impact
Last year, alumni and friends contributed more than $7.8 million to the School's annual fund, with 1,000 Hermes Society members contributing more than $6.1 million of the total funds raised. It would take more than $110 million in endowment gifts to provide the same amount of annual support.
Alumni and friends who support the School at this significant level enable the School to compete in a global marketplace and seize vital opportunities as they arise. These funds also have a direct and critical impact - providing financial aid, promoting thought leadership, driving programmatic advancements, and strengthening the School's global network.
You can join the Hermes Society at the following levels:
| Level | Amount |
| --- | --- |
| Student Investors* | $500 and above |
| Investors** | $1,000-$2,499 |
| Associates | $2,500-$4,999 |
| Partners | $5,000-$9,999 |
| Courtney Brown Fellows | $10,000-$24,999 |
| Leadership Group | $25,000-$49,999 |
| Dean's Roundtable | $50,000 and above |
| Second Century Circle | $100,000 and above |
* Current students including MBA, Executive MBA, MS, PhD, and Certificate
** For those who have graduated within the last five years
For recent alumni (five or fewer years out) membership in the Hermes Society begins at $1,000.
If you have questions, you can contact Charon Darris at [email protected] or 212-854-0719.
Recognition
Hermes Society donors are recognized and celebrated throughout the year. The School hosts a range of events for Hermes Society members, including an annual Hermes reception in the fall and spring dinner for Partners-level members and above. Special regional events -- including partnerships with the CBS Women's Circle -- are produced frequently throughout the year. Additionally, as unique opportunities arise throughout the year, the School typically looks to this group of leadership supporters for purposes of outreach and engagement.
Leadership
Hermes Society Council members serve as ambassadors for the School and enjoy opportunities to help lead our outreach and engagement efforts.