Investing in the Second Century of Excellence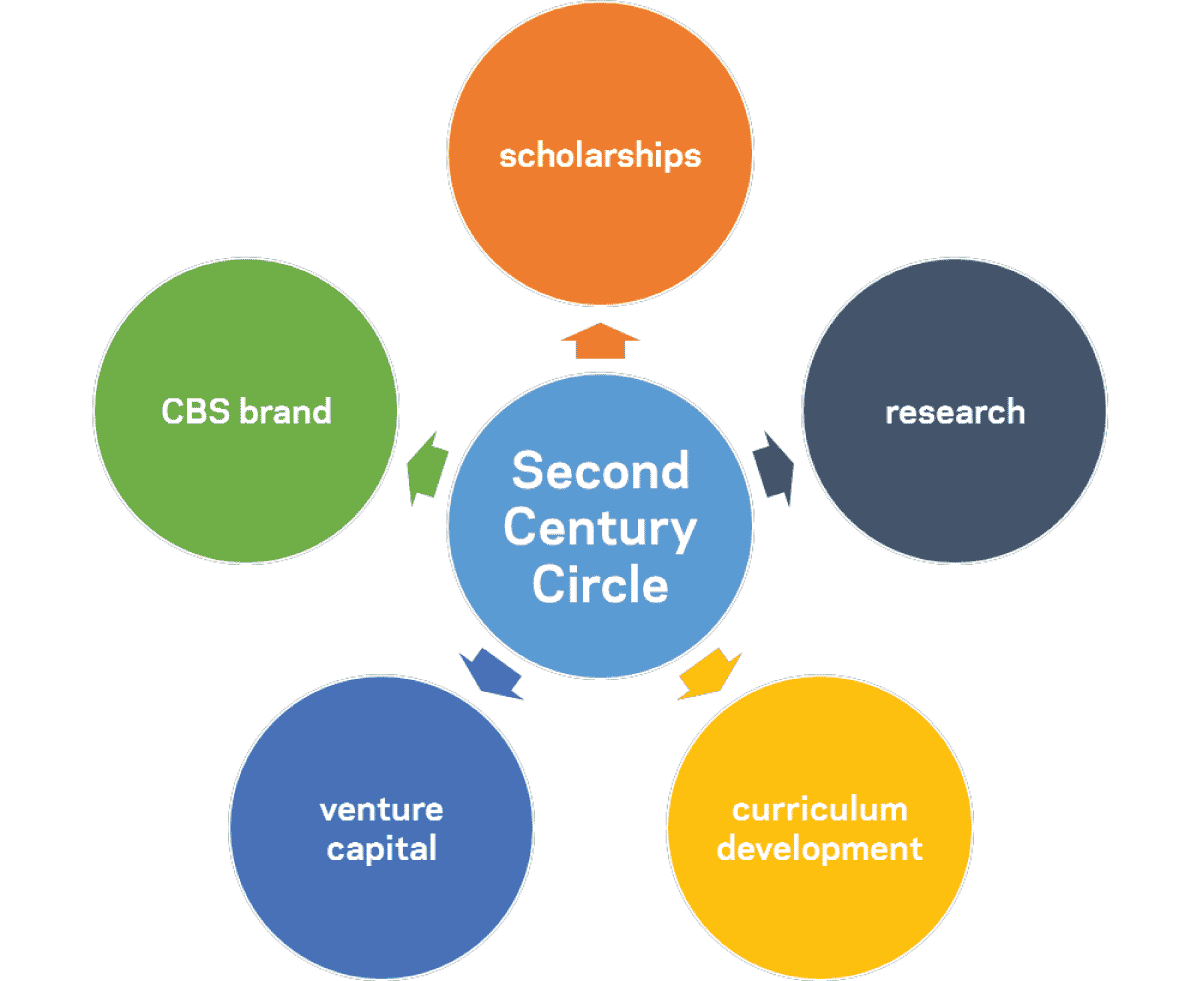 The Second Century Circle is the new premier giving society designed specifically to recognize those individuals whose extraordinarily generous financial support of the Columbia Business School Annual Fund sets them apart. Second Century Circle members understand that the success of the Business School's second century—that is, the School's ability to truly thrive during its next 100 years—absolutely depends on their investment. As such, members pledge at least $100,000 to the Columbia Business School Annual Fund and enjoy a calendar of special events and engagement opportunities.
Contributions have a direct, tangible, transformative impact and support everything that makes Columbia Business School great. In short, the Second Century Circle ensures the School's thought leadership and strengthens the Columbia brand.
Second Century Circle Members
Michael E. Anderson '83
Luca and Leila Bassi '00
Heather Bellini '97
Michael A. Blitzer '04
Russell L. Carson '67
James Y. Chao '74
Tos Chirathivat '88
Kevin Conway '84
Yang Diao '01
Mark Dzialga '90
Scott Douglas Edwardson '00
R. Bradford Evans '70
Robert Michael Falzon '83
Meyer Feldberg '65
Nicholas F. Galluccio '78
James P. Gorman '87
Glenn H. Greenberg '73
Carey Halio '00
William T. Hobbs, II '91 and Elizabeth G. Hobbs
Donald J. Jackson '80
Robert K. Johnson '65
Carl Kawaja '91
John Georges Khabbaz '09
Ricardo Lacerda '96 and Carolina Lacerda '99
Sung Lee '94
Ji H. Min '92
Sarah Min '02 and Matt Pincus '02
Yuzaburo Mogi '61
Colin G. Morris '84
Gail Berry O'Neill '76
Kezhan Qi '00
Jonathan D. Schiller, Esq. '69CC, '73LW
Sheldon M. Stone '78
Chris Stroup '90
Frank Tang '94
Charles W. Tate '72
Craig Taylor '17
Oakleigh Thorne '86
Tracey T. Travis '86
William A. von Mueffling '95
Lihong Wang '99
Alan Wilkinson '84
Jooyun Oh Ybarra '98
For more information, or to join the Second Century Circle, please contact: Lauren Miller, Senior Director, Individual Giving at 212-854-0719 or [email protected].