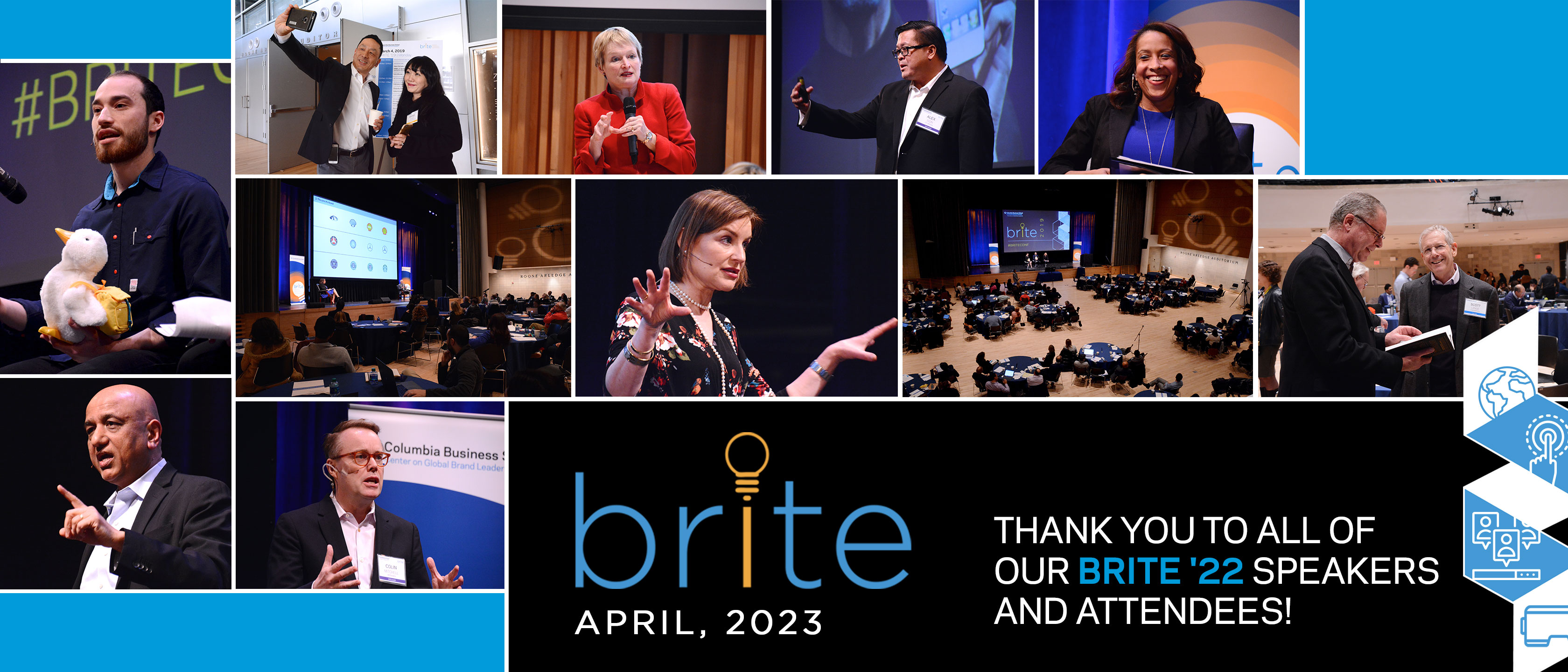 BRITE '23 will bring together bold thinkers and leaders from business, technology, media, and marketing to present future-forward innovations, marketplace strategies, and thought-provoking questions... and answers.
Since 2008, the BRITE conference has brought leaders in branding, innovation, and technology to Columbia University (and online) for curated talks on how technology and innovation are transforming the ways that companies build and sustain great brands.
BRITE offers a different blend of thinkers and doers than you will find at any other event. Participants come to think differently about the changing landscape of media and technology, and to connect with a unique group of innovators, marketers, entrepreneurs, and champions of social enterprise.
Our most recent BRITE '22 speakers included:
Antonio Lucio
Founder, 5S Diversity
Former CMO of Facebook, HP, Visa
Alicia Tillman
Chief Marketing Officer
Capitolis
Radha Agrawal
CEO & Founder, Daybreaker
Author, Belong
Renée Richardson Gosline
Senior Lecturer & Research Scientist
MIT
Keith Grossman
President
TIME
Robert K. Watson '06
Principal, Upland Road
'Founding Father' of LEED Certification
The aim of BRITE is to stimulate interactive conversations; it is not just a series of lectures. Come to the event to talk with fellow big thinkers in marketing and technology, hear stories of what is working and what isn't, and build your personal brand and leadership skills.
Key benefits:
Learn from your peers, ask questions, and share what you know
Hear case studies from the business leaders who are making change happen
See tomorrow's emerging trends and big ideas
Rethink the challenges and opportunities for your business
Meet the innovators who are driving the next wave in technology and branding
Who should attend?
CMOs and heads of marketing, brand managers, new product developers, innovation directors, media buyers, content creators, interactive agencies, online developers, influencers, creators, publishers, multi-platform media companies, and emerging technology investors.
Sponsorship Requests: For sponsorship inquiries, please email [email protected].