About the Marketing Innovation Network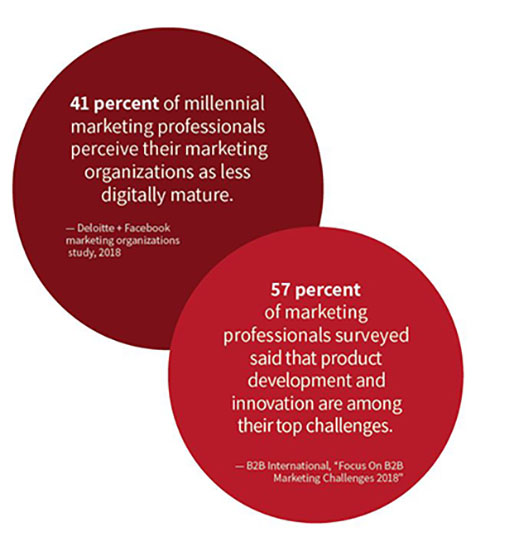 The Center has launched the Marketing Innovation Network (MIN), a dynamic peer-to-peer learning community focused on the changing world of marketing.
The last ten years have seen an extraordinary disruption in marketing, and we expect to see more disruption in the future. Technologies such as AI, the Internet of Things, blockchain, and Virtual Reality will transform marketing and change everything we do: from how we identify and interact with customers to how we identify and retain talent. Senior marketers will be responsible for guiding their organizations, and MIN will help them advance their knowledge and leadership skills to meet the challenge.
View a program from one of our recent summits.
MIN Summits at Columbia University
Members will have the opportunity to attend two Summits at Columbia University each year. The most recent Summit was held on October 28, 2019, and the date for the next Summit will be announced soon. Summit events will be facilitated by Columbia Business School faculty and will focus on a wide range of topics, from the impact of new technologies on marketing, to new tools to uncover customer insights, to articulating organizational purpose. The Summits will feature workshops, case studies and small group discussions. Attendees at the inaugural MIN Summit in February 2019 included senior marketing executives (CMOs, EVPs, SVPs, etc.) from leading companies such as Accenture, Bloomberg, First Republic Bank, GE, HPE, J.P. Morgan, Pearson and Mount Sinai.
Member Benefits
Members will have access to a network of marketing innovators and year-round activities:
Two annual summits, led by Columbia Business School professors, leading practitioners, and other domain experts and thought leaders
Two transferable complimentary passes to the Center on Global Brand Leadership's BRITE Conference (a $1,700 value)
How to Join
Annual membership fees start at $2,500. Discounted rates are available for nonprofits and startups. Please contact us at [email protected] for more information.