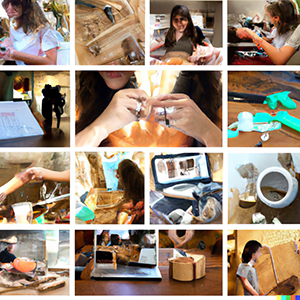 We are pleased to announce the Marketing and the Creator Economy conference at Columbia Business School on November 30-December 1 in partnership with a special issue of the International Journal of Research in Marketing (IJRM).
The creator economy—a shift in power whereby individuals can build their own audiences and revenue through producing and sharing original content, products, or services on digital platforms—is revolutionizing the way we work, consume, and interact with each other. As a result, there are many implications for marketing research and practice.
The conference will focus on influencers, podcasting, video creation, blogging, music production, product development, and more. We will look at the topic broadly; it may also include papers on content created through generative AI (such as text or images created by chatGPT or DALL-E), new content created on the metaverse, new web-enabled services and any form of consumer online business. 
The IJRM special issue aims to publish innovative papers that address various issues related to the theoretical questions, implementation, reshaping of marketing constructs, opportunities, and challenges arising from the interface of the creator economy and marketing.
Researchers will come together at the conference to hear from leading creators and brands and to share their initial findings and provide each other feedback to improve the rigor of their eventual submissions to the special issue.
More details on submission details for the conference will be posted soon.
For further information and questions on the conference please email [email protected].
Image created on DALL·E 2023-05-17 09.28.55 ET - "Craft a collage of individuals working on crafting videos, products, and art in as naturalistic a form as possible"