The Center on Global Brand Leadership has supported the development of a range of practitioner-oriented books highlighting various topics related to brand building that have been authored in whole, or in-part, by directors of the Center.

[Note: in an effort not to prioritize any particular sales channel, we do not share direct purchasing links, so please search for the titles with your favorite book seller!]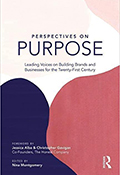 Perspectives on Purpose (2019)
Nina Montgomery (editor)
More info

Center Director Matthew Quint authored the chapter "On Measurement" which examines the varying metrics to consider when examining corporate purpose efforts. Perspectives on Purpose and its sister book, Perspectives on Impact, bring together leading voices from across sectors to discuss how we must adapt our organizations for the twenty-first century world. Perspectives on Purpose looks at the shifting role of the corporation in society through the lens of purpose; Perspectives on Impact focuses on the recalibration of social impact approaches to tackle complex humanitarian, social, and environmental challenges.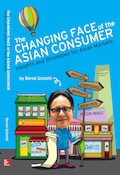 The Changing Face of the Asian Consumer (2013)
Bernd Schmitt
More info

As Asia continues its economic growth, Asian consumers have become the focal point of business and commerce. How do Asian consumers behave in the marketplace? What makes them tick? And how can one grow the business with Asian consumers?

In this book, world-renowned thought leader Bernd Schmitt helps to navigate and maneuver the complex and diverse landscape of Asia. He brings the insights and a deep understanding of the Asian marketplace.

Find out what middle-class consumers want and what they buy when their incomes rise.
Learn why Asians are collectivists who are becoming increasingly individualistic.
Discover that Asian consumers are driven by contradictory desires; they are, at the same time, Value Shopaholics, Functional Hedonists and Traditional Futurists.

Using these insights, Schmitt presents simple and useful methods and strategy tools that one can use to build a successful business with Asian consumers, such as:

A strategy map to plan market entry
A lifestyle tool to analyze consumer motivations and trends
An omni-channel metric to assess the right mix of online and offline media

Schmitt's detailed analyses of specific Asian industries and markets 'including consumer electronics, fashion and lifestyle, food and beverage, airline, hotel, skincare and cosmetics, and e-commerce'serve as benchmarks and best practices for one's business.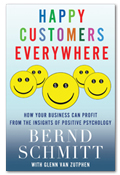 Happy Customers Everywhere (2012)
Bernd Schmitt
More info

Every business knows that the best customer is a happy customer. They return again and again, bring their friends and family, and deliver tons of free advertising via word of mouth and social media. But in order to grow that loyal base, you must be keenly aware of your customers' needs and preferences. Drawing on the latest research in the exploding field of positive psychology, SCHMITT offers three unique approaches any business can use to turning a casual customer into a committed fan:

The Feel-Good Method: Use the experience of pleasure and positive emotion to hook new customers, and watch those feel-good moments transform a casual customer into a committed loyalist
The Values-and-Meaning Method: Attract passionate customers by appealing to their core values, like being socially responsible, protecting the environment, or living a simple life
The Engagement Method: Get customers to notice a unique or limited offer, immerse them in the experience, and have them share it with friends and family.

Schmitt shows marketers, brand managers, and entrepreneurs how to design an authentic and successful campaign that will reach, grow, and sustain a devoted base of customers.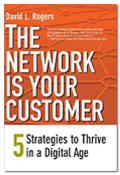 The Network is Your Customer:
Five Strategies to Thrive in a Digital Age (2011)
David Rogers
More info

Executive Director (former) David Rogers examines how digital technologies-from smartphones to social networks-connect us in networks that transform our relationships to businesses and each other. To thrive today, organizations need new strategies-strategies designed for customer networks.
Rogers offers five strategies that any business can use to create new value:

ACCESS-be faster, be easier, be everywhere, be always on
ENGAGE-become a source of valued content
CUSTOMIZE-make your offering adaptable to your customers' needs
CONNECT-become a part of your customers' conversations
COLLABORATE-involve your customers at every stage of your enterprise

Rogers explains these five strategies with over 100 cases from every type and size of business -- from shoes to news, and software to healthcare. In The Network Is Your Customer, he shows

How Apple harnessed a host of collaborators to write apps for its iPhone
How IBM designed a videogame to help sell its enterprise software
How Ford Motors inspired an online community to build brand awareness for its new Fiesta

...and countless other cases from consumer, b2b, and nonprofit categories.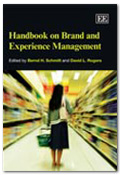 Handbook on Brand and Experience Management (2008)
Bernd Schmitt and David Rogers (editors)
More info

This book explores emerging research and new directions in practice around the concepts of brand equity, brand associations, brand personality, brand extensions, and brand valuation authored by academics and practitioners. The book includes:

1) an overview of basic frameworks and concepts; 2) new concepts such as brand attachment, brand permission, brand meaning, digital convergence, target group multiplicity, and the rise of experience economies; 3) empirical studies on consumer experiences, incidental brand exposure, and brand naming.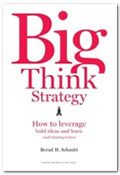 Big Think Strategy: How to Leverage Bold Ideas and
Leave Small Thinking Behind (2007)
Bernd Schmitt
More info

Business leaders need bold strategies to compete. In Big Think Strategy, Center Faculty Director Bernd Schmitt shows you how to bring bold thinking into business by sourcing big ideas and executing them.

Drawing on years of advising corporate leaders on creativity and strategy development, Schmitt explains how to bring fresh thinking into the planning process. With the tools and frameworks in this book, any leader can overcome "small think" - the inertia, risk-aversion, and narrow-mindedness that halt true innovation.

Tested by executives in a diverse range of industries, the ideas and tools presented in this book will help you harness creativity in your strategic planning process and position your firm uniquely for success.
Customer Experience Management: A Revolutionary
Approach to Connecting with Your Customers (2003)
Bernd Schmitt
More info

In Customer Experience Management, Schmitt demonstrates how to put CEM (customer experience management) to work in any organization to spur growth, increase revenues, and transform the image of your company and its brands. This revolutionary marketing guide introduces the five-step CEM process that you can use to connect with your customers at every touch-point.

Gain original insight into the customer's world
Develop an experiential strategy platform
Create a unique and vivid brand experience
Provide dynamic interactions at the customer interface
Innovate continuously to improve customers' lives.

Customer Experience Management provides new insight into perennial marketing and management issues such as segmentation and targeting, positioning, branding, service, and innovation. It also offers a clear and convincing critique of other customer-based paradigms, including traditional marketing, customer satisfaction, and customer relationship management (CRM).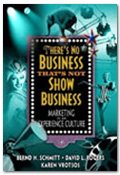 There's No Business That's Not Show Business:
Marketing in an Experience Culture (2003)
Bernd Schmitt, David L. Rogers, and Karen Vrotsos
More info

There's No Business That's Not Show Business shows how smart companies can use creativity, humor, and play to reach out and engage customers through a new kind of experience.

This book provides winning case studies and "show business" techniques that can be used to dazzle customers, launch products, build brands, generate buzz, and build great customer relationships. From road shows to street evangelism to multi-media theater and beyond, it offers a new generation of marketing that can work for every customer in every industry. Most of all, it offers tools to link your "show business" to your brand, to core strategic goals, and to measurable results.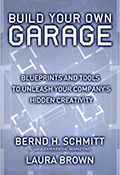 Build Your Own Garage:
Blueprints and Tools to Unleash Your Company's Hidden Creativity (2001)
Bernd Schmitt and Laura Brown
More info

Is your company all bizz -- filled with professional managers, accountants, and financial planners who produce "smooth operations" but offer no customer savvy or soul? Or is it all buzz -- filled with talk, hype, and the brainstorming of half-cooked ideas that often lead nowhere?

To capture the best of these dichotomous worlds, creativity expert Bernd H. Schmitt and accomplished business writer Laura Brown introduce a groundbreaking model of a creative organization they call "The Garage." This powerful new framework demonstrates how any executive can manage the creative tension between the analytic, rational side of business and its dynamic, innovative side.

After laying out the broad mission, or "blueprint," for constructing The Garage, Schmitt and Brown present The Toolbox -- specific instruments for infusing creativity into all aspects of a business -- and show how to use The Blueprint and The Toolbox as essential strategy, recruiting, resource, and communications devices. At the center of this immensely readable book are the "Mastercrafts of The Garage" -- technology, branding, and customer-experience management -- the organizational forces that guarantee creative efforts are coordinated and well implemented to provide competitive advantage.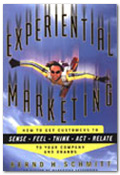 Experiential Marketing: How to Get Companies to
Sense, Feel, Think, Act, and Relate to Your Company and Brands (1999)
Bernd Schmitt
More info

Experience guru Bernd Schmitt explores this revolution in marketing that focuses on the experiences of customers. Moving beyond the traditional "features-and-benefits" marketing that was developed by marketing scientists for the industrial age, Schmitt presents a revolutionary approach for the branding and information age. Schmitt shows how managers can create experiences for their customers through sensory, affective and creative associations as well as lifestyle and social identity campaigns.

In Experiential Marketing, Schmitt presents a battery of business cases to show how cutting-edge companies use "experience providers" such as visual identity, communications, product presence, web sites and service to create different types of customer experiences.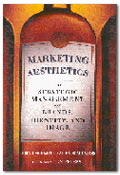 Marketing Aesthetics: The Strategic Management of
Brands, Identity and Image (1997)
Bernd Schmitt and Alex Simonson
More info

Marketing Aesthetics offers clear guidelines for harnessing a company's total aesthetic output — its "look and feel" — to provide a vital competitive advantage. Going beyond standard traditional approaches on branding, this fascinating book is the first to combine branding, identity, and image and to show how aesthetics can be managed through logos, brochures, packages, and advertisements, as well as sounds, scents, and lighting, to sell "the memorable experience." The authors explore what makes a corporate or brand identity irresistible, what styles and themes are crucial for different contexts, and what meanings certain visual symbols convey. Any person in any organization in any industry can benefit from employing the tools of "marketing aesthetics."