About Reuben Mark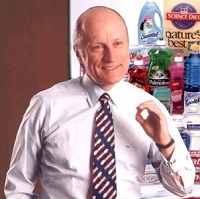 Reuben Mark was the longest serving leader in the history of the Colgate-Palmolive Company. He served as chief executive officer for two and a half decades, leading the company through a period of extraordinary progress and growth, global expansion and ever-increasing worldwide market-share leadership, resulting from a sharply focused business strategy. Mr. Mark was a champion of the distinctive Colgate culture that sustained this success with a deep commitment to managing with respect, developing all Colgate people and instilling them with Colgate values and ethics.
Mr. Mark's wide-ranging career at Colgate gave him experience in all geographic areas of Colgate's worldwide business. He had the opportunity to work in Europe, Latin America, Asia, the United States, and Canada. He joined Colgate in 1963 as a marketing trainee and, in 1984, he was named chief executive officer and then chairman of the board in 1986, a position he held until 2009.
Over his career, Mr. Mark has been a director of a number of major U.S. and overseas companies including Citigroup, Time Warner, Inc., Toys "R" Us, International Can Company, Cabela's, Inc., and Pearson plc.
In 2009, Mr. Mark was named one of the "Twenty Best All Time CEOs" by Portfolio magazine.
Mr. Mark received a master's degree from Harvard Business School and an undergraduate degree from Middlebury College.
Leadership Team
Adam Bryant, Senior Advisor, Reuben Mark Initiative
Todd Jick, Reuben Mark Faculty Director of Organizational Character and Leadership, Columbia Business School
Avery Katz, Reuben Mark Professor of Organizational Character, Columbia Law School
Olivia Haynes, Co-Director, Reuben Mark Initiative, Columbia Business School
Timur Pakay, Co-Director, Reuben Mark Initiative, Columbia Law School