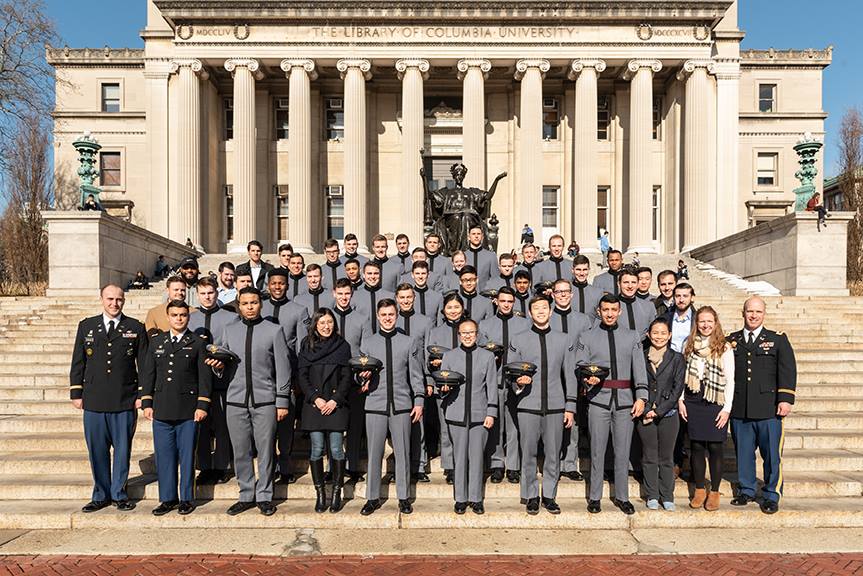 The Bernstein Center is proud to work closely with the Military in Business Association (MiBA) to increase programming and services for the veteran population of Columbia Business School. Additionally, we work with various departments across the school and the greater Columbia University community to help bridge the military-civilian divide, particularly within the realm of leadership and ethics in the professional setting. We seek to fulfill these goals through collaborative programs which engage our students, faculty/staff, alumni, and greater community in knowledge-sharing with our military students and partner schools. These programs are generously sponsored by Robert S. Dow '74 and his wife, Christina S. Dow. 
CBS – West Point Leadership and Ethics Exchange

In coordination with the Military Academy at West Point, NY, The CBS-West Point Leadership and Ethics Exchange brings together two preeminent institutions to discuss leadership and ethics in a theoretical and practical setting, as seen from the vantage points of the military and business world. Engaging CBS students, current cadets, and faculty/staff, the exchange helps develop critical thinking and decision making skills through mock class sessions, ethical leadership case studies, and student facilitated round-table reflection sessions.
Leadership and Ethics: Military in Business Speaker Series

The Leadership and Ethics: Military in Business Speaker Series highlights the intersection of military service and business by hosting distinguished business leaders, who are current or veteran members of our armed forces, to reflect on how their service has impacted their leadership style, the organizations they serve, and society at large. The series is co-sponsored by the Military in Business Association and The Sanford C. Bernstein & Co. Center for Leadership and Ethics as part of a formal affiliation to provide programming which bridges the military-civilian divide at CBS and the greater Columbia Community.

 

Former U.S. Special Forces Commander Marc Thomas '92 
Chief Government Affairs
Wrap Technologies

 

Lt. General (Retired) Thomas P. Bostick '13
Former COO & President
Intrexon Bioengineering

 

Alex Gorsky
Chairman of the Board & CEO
Johnson & Johnson

 

Tim Kopra '13
Partner
Blue Bear Capital