Distinguished Speaker Series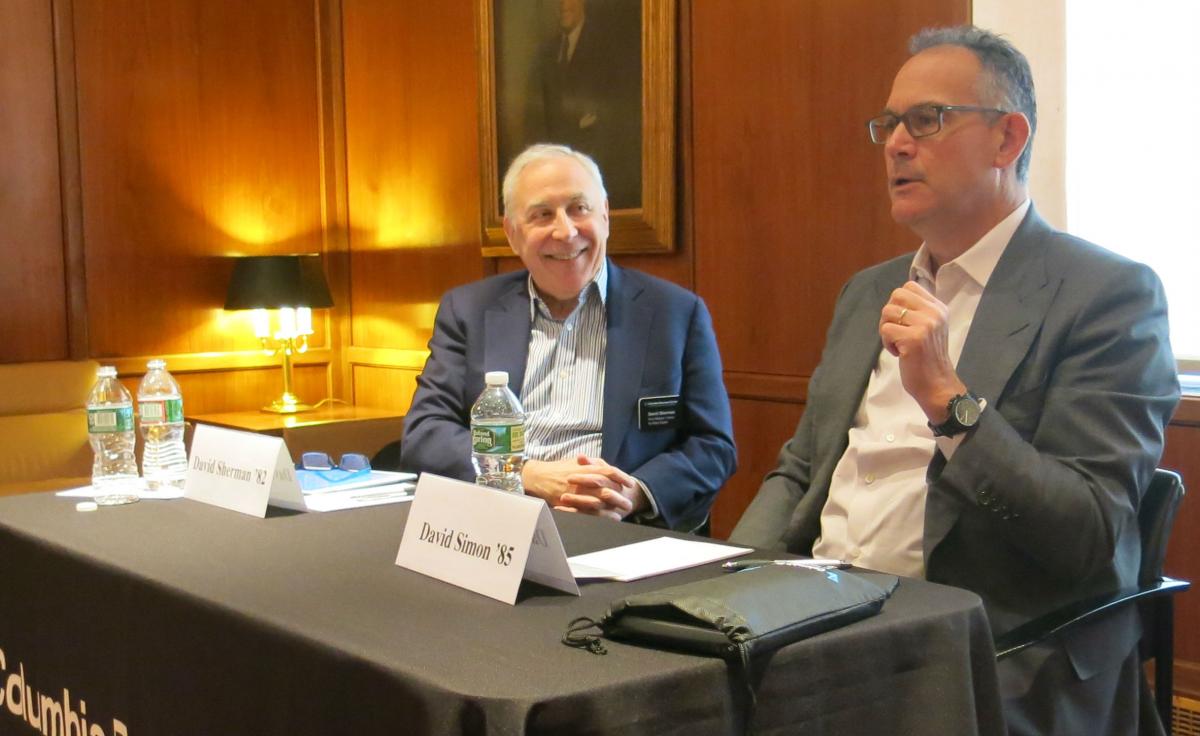 The Paul Milstein Center for Real Estate hosts several Distinguished Speaker Lunches each academic year, providing opportunities for students to hear from distinguished real estate professionals. Students learn about the speaker's career and gain valuable insight on the state of the real estate market. The discussions are often led or moderated by a member of the real estate faculty. 
Spring 2023
Spencer Rascoff, Co-founder & Chair of Pacaso, Recon Food, Queue, dot.LA, 75 & Sunny Ventures
Alfonso Munk, Chief Investment Officer, Americas, Hines
Pamela Thomas, Managing Director, Head of US Real Estate, CPP America, Inc.
Tony Malkin, Chairman, President, and Chief Executive Officer, Empire State Realty Trust
Fall 2022
Kevin Shields, Owner, Griffin Capital
Matthew Lustig, Chairman of Investment Banking, N.America; Head of Real Estate & Lodging, Lazard
Sonny Kalsi, Co-Chief Executive Officer, BentallGreenOak
Onay Payne, Managing Director, Lafayette Square Holding Company
Spring 2021
Ronald Dickerman '87,  President of Madison International Realty (virtual)
Jed Resnick '05, CEO of Douglaston Development (virtual)
Marguerite Nader, CEO of Equity LifeStyle Properties (virtual)
Fall 2020
Rachel Loeb, Chief Operating Officer for the New York City Economic Development Corporation (virtual)
Neville Rhone Jr. '00, Co-Founder and Managing Partner, Arc Capital Partners (virtual)
Blair Smith '00, former CIO of Upper Manhattan Empowerment Zone Development Corporation (UMEZ) (virtual)
Tim Berry '13, Founder, President, and CEO, Pennybacker Capital (virtual)
Shankh Mitra '09, CEO and CIO of Welltower (virtual)
Edward Gormbley '09, Principal and Managing Partner of Workforce Partners (virtual)
Spring 2020
Alicia Glen, Former Deputy Mayor of New York City (virtual)
Richard Mack, CEO, Co-Founder, Mack Real Estate Group (virtual)
Fall 2019
Philippe Visser '04, Related Companies
Hugh Frater '85, Fannie Mae
Rachel Diller '99, Hunt Capital Holdings 
Spring 2019
David Simon '85, Simon Properties
Fall 2018
Amy Rose, Rose Associates
Sabrina Kanner, Brookfield Properties
Spring 2018
Ronald Kravit, Cerberus Real Estate Capital Management
Mark Caplan '84, The Time Group
Fall 2017
Matthew Finkle '99, Related Affordable
MaryAnne Gilmartin, Forest City New York
Spring 2017
David Von Spreckelsen '89, Toll Brothers City Living
Geoffrey Jervis '99, iStar
Wendy Silverstein, New York REIT
Fall 2016
John Vickers '85, Tishman Hotel & Realty
David Sherman '82, Metropolitan Realty & Paul Milstein Center for Real Estate
Spring 2016
Gideon Gil '00, Cushman & Wakefield
Jack Vissicchio '93, Bank of America Merrill Lynch
Fall 2015
Nancy Lashine '81, Park Madison Partners
Thomas DeRosa '88, Welltower
Spring 2015
Andrea Olshan '04, Olshan Properties
Spring 2014
Robert C. Lieber, Island Capital Group
Susan Swanezy, Hodes Weill
Fall 2013
Andrew Levin '96, Boston Properties
Jack Taylor, Prudential Real Estate Investors
Spring 2013
Kenneth W. Hubbard, Hines
Cherrie Nanninga, CBRE
Fall 2012
Olivier de Poulpiquet '94, Morgan Stanley Real Estate Investing
Bill O'Connor '96, O'Connor Capital Partners
Summer 2012
Jeffrey Barclay '83, Goldman Sachs Real Estate Investment Group
Spring 2012
Pedro Aspe and Augusto Arellano, Evercore Partners
Lance West, Centerbridge Partners
Fall 2011
Michael Berman '86, Equity Lifestyle Properties
Lee Neibart and Andrew Holm, AREA Property Partners
Spring 2011
David Henry, Kimco Realty Corporation
Richard Richman '73, The Richman Group
Fall 2010
Ivan Kaufman, Arbor Realty Trust
Ron L. Moelis, L+M Development Partners
Spring 2010
Ric Clark, Brookfield Properties
Richard LeFrak, LeFrak Organization
Fall 2009
Mark Green, UBS
Dr. Seek Ngee Huat, GIC Real Estate
Student Voices
"The diverse backgrounds, candor, and quality of the C-suite speakers in this series enable students to leverage their shared knowledge in the classroom and beyond." — Jacob Feingold  '14
"I have found all the speakers I attended very interesting, with practical and open advice on career issues." — Peter Bowley '14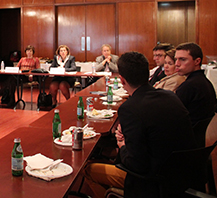 Cherrie Nanninga (second from left), COO of CBRE and formerly of the Port Authority, shared management, communication, and networking advice while discussing her career path and fielding student questions.