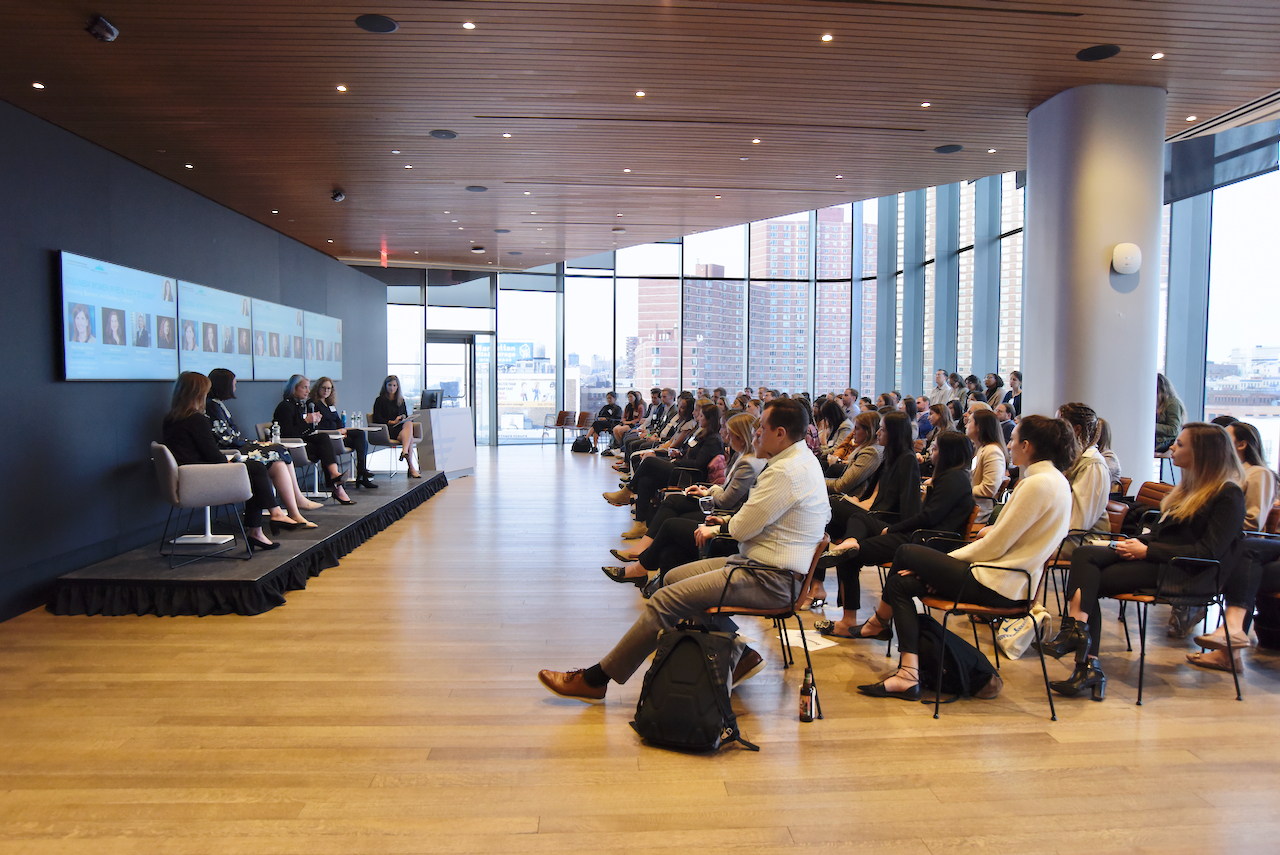 The MSRED Women in Real Estate Development (WIRED) and the Columbia Business School Real Estate Association joined together to present the inaugural Women in Real Estate Summit on Tuesday, April 11th. The event consisted of two panels followed by a networking reception. The first panel, Leveraging the Columbia Network to Advance Together brought together Columbia alumni from the MBA RE Program at the Business School and the MS in Real Estate Development Program at GSAPP to discuss the advancement of their real estate careers post-graduate school, and how lessons learned in the classroom (and beyond) have translated to success in their careers. The second panel, Breaking Barriers and Building Careers brought together industry leaders in real estate to discuss their career paths, triumphs and opportunities, as well has the challenges they may have faced as women at different times in their careers in the real estate industry. The panelists shared their experiences navigating an industry which has traditionally been male-dominated, from entry-level positions to leadership roles, and provided insights on how to succeed and thrive as a woman in real estate. The panelists also shared insights on current market trends and offered their expert perspectives on the broader market environment in 2023.
"I thought the event was unique in the way it deviated from typical womens' panels, where the narrative tends to lean heavily on careers and experiences as women in the industry, by shifting the focus to the business-side and giving panelists the opportunity to share their invaluable insights on the market. The candidness of the speakers was so refreshing and the event was truly a highlight of the year. The two programs worked so seamlessly together, and I think I speak for all of us when I say a collaboration was long overdue!" - Katrina Que Lee '23 MSRED
Leveraging the Columbia Network to Advance Together Panelists
Cecily King '15 MSRED, Founder, Kipling Development
Joycerine Lee '19 BUS, Associate Portfolio Manager, Invesco Real Estate
Hillary Widlitz '17 BUS, Senior Director, Investments, Greystar Real Estate Partners
Women in Real Estate Summit: Breaking Barriers and Building Careers Panelists
Mary Hogan Preusse, Senior Advisor, Fifth Wall & Independent Board Member, Kimco Realty Corporation, Digital Realty, Host Hotels & Resorts, and Realty Income
Sara Queen, Managing Director and Head of Real Estate Equity, MetLife Investment Management
Susan Swanezy, Partner, Hodes Weill & Associates
Beth Wolfowitz '09 BUS, Director, Head of Commercial Asset Management and Development, The Olayan Group 
Thank you Christina Bicks '23 MSRED, Katrina Que Lee '23 MSRED, Sonia Leung '23 MSRED, Kennedy Shields '23 BUS, Deirdre Steel '23 BUS for your time and dedication to organizing the inaugural Women in Real Estate Summit!