On November 2nd, 2011, the W. Edwards Deming Center for Quality, Productivity and Competitiveness at Columbia Business School awarded the 2011 Deming Cup to Brent James, Chief Quality Officer of Intermountain Healthcare, and Sergio Marchionne, Chairman and CEO of Chrysler Group and CEO of Fiat.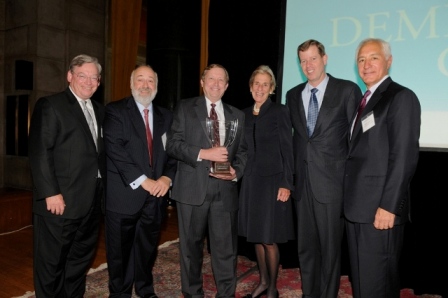 Brent James is known internationally for his work in clinical quality improvement, patient safety, and the infrastructure that underlies successful improvement efforts, such as culture change, data systems, payment methods, and management roles.
He is a member of the National Academy of Science's Institute of Medicine. He holds faculty appointments at the University of Utah School of Medicine, Harvard School of Public Health, and the University of Sydney, Australia, School of Public Health.
He is the Chief Quality Officer, and Executive Director, Institute for Health Care Delivery Research at Intermountain Healthcare, based in Salt Lake City, Utah.
Through the Intermountain Advanced Training Program in Clinical Practice Improvement (ATP), he has trained more than 3500 senior physician, nursing, and administrative executives, drawn from around the world, in clinical management methods, with proven improvement results.
Before coming to Intermountain, he was an Assistant Professor in the Department of Biostatistics at the Harvard School of Public Health, providing statistical support for the Eastern Cooperative Oncology Group; and staffed the American College of Surgeons' Commission on Cancer.
He holds a Bachelor of Science degrees in Computer Science (Electrical Engineering) and Medical Biology; an MD degree with residency training in general surgery and oncology; and a Master of Statistics degree.
He serves on several non-profit boards of trustees, dedicated to clinical improvement.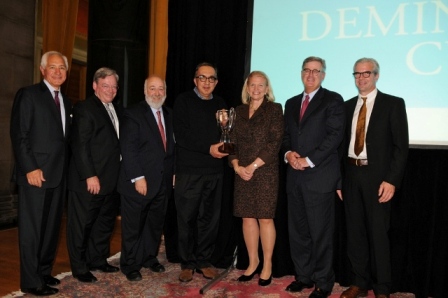 Sergio Marchionne is CEO of Fiat Chrysler Automobiles N.V. and chairman of Ferrari S.p.A. He is also Chairman and CEO of Chrysler Group LLC, Chairman of CNH Industrial NV, and serves as Chairman of SGS Group of Geneva
Marchionne began his career in 1983, at Deloitte & Touche. From there, he served at the Lawson Mardon Group of Toronto, as Executive Vice President of Glenex Industries, as Chief Financial Officer at Acklands Ltd, and then again at the Lawson Group as Vice President of Legal and Corporate Development and as Chief Financial Officer.
Before his current board and executive roles with Fiat and Chrysler, Marchionne covered various positions of increasing responsibility, serving as CEO at Algroup, CEO and Chariman of Lonza Group Ltd, and CEO and Chairman of SGS Group of Geneva. He also served as the non-executive Vice Chairman and Senior Independent Director of UBS from 2008 until 2010.
He holds a Bachelor of Arts with a major in Philosophy from the University of Toronto, a Bachelor of Laws from Osgoode Hall Law School at York University in Toronto, as well as a Master of Business Administration and a Bachelor of Commerce from the University of Windsor. Marchionne is a barrister, solicitor and chartered accountant. Marchionne was a 2011 winner of the Deming Cup.

To learn more about the Deming Cup, please email [email protected].