This year we honor two outstanding individuals who have made remarkable contributions in the area of operations: Terry J. Lundgren, Chairman, President and Chief Executive Officer of Macy's, Inc., and Ratan N. Tata, Chairman Tata Sons Limited.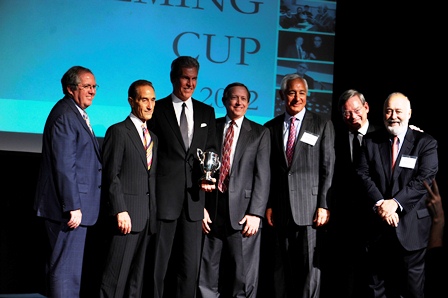 Terry Lundgren has been Chairman, President, and Chief Executive Officer of Macy's, Inc. since January 2004. Prior to this, he served as President and CEO, a title he assumed in February 2003 after having served as president and Chief Operating Officer as well as President and Chief Merchandising Officer.
Lundgren began his retailing career in 1975 as a trainee with Bullock's, a Los Angeles-based division of Federated Department Stores, Inc. He held positions of increasing responsibility over the next decade in buying, store management, human resources and senior-level store management, as well as serving as the division's director of stores. Lundgren was named senior vice president and general merchandising manager of Bullock's in 1984. In 1987, he was named President and CEO of Bullocks Wilshire, then an upscale chain of specialty department stores owned by Federated.
Terry Lundgren left Federated in 1988 to join Neiman Marcus, where he served as Executive Vice President and shortly thereafter was named Chairman and CEO. He returned to Federated in April 1994 as chairman and chief executive officer of the Federated Merchandising Group.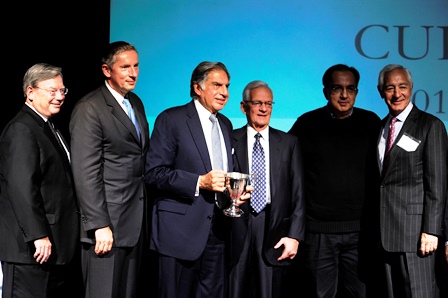 Ratan Tata has been the chairman of Tata Sons, the promoter holding company of the Tata group, since 1991. He is also the chairman of the major Tata companies, including Tata Motors, Tata Steel, Tata Consultancy Services, Tata Power, Tata Global Beverages, Tata Chemicals, Indian Hotels and Tata Teleservices. During his tenure, the group's revenues have grown manifold, totaling in excess of  $100 billion in 2011-12.
Mr. Tata also serves on the board of directors of Alcoa. He is also on the international advisory boards of Mitsubishi Corporation, the American International Group, JP Morgan Chase, Rolls Royce, Temasek Holdings and the Monetary Authority of Singapore.
Mr. Tata joined the Tata group in 1962. After serving in various companies, he was appointed director-in-charge of the National Radio and Electronics Company in 1971. In 1981, he was named chairman of Tata Industries, the group's other promoter holding company, where he was responsible for transforming it into a group strategy think-tank, and a promoter of new ventures in high technology businesses.
Mr. Tata received a BS degree in architecture from Cornell in 1962. He worked briefly with Jones and Emmons in Los Angeles before returning to India in late 1962. He completed the Advanced Management Program at Harvard Business School in 1975.
The Government of India honored Mr. Tata with its second-highest civilian award, the Padma Vibhushan, in 2008. He has also received honorary doctorates from several universities in India and overseas.
To learn more about the Deming Cup, please email [email protected].