Columbia Business School's W. Edwards Deming Center for Quality, Productivity, and Competitiveness honored Jeffrey R. Immelt, former Chairman and CEO at GE, and Arne M. Sorenson, President and CEO at Marriott International, with the 2017 Deming Cup for Operational Excellence.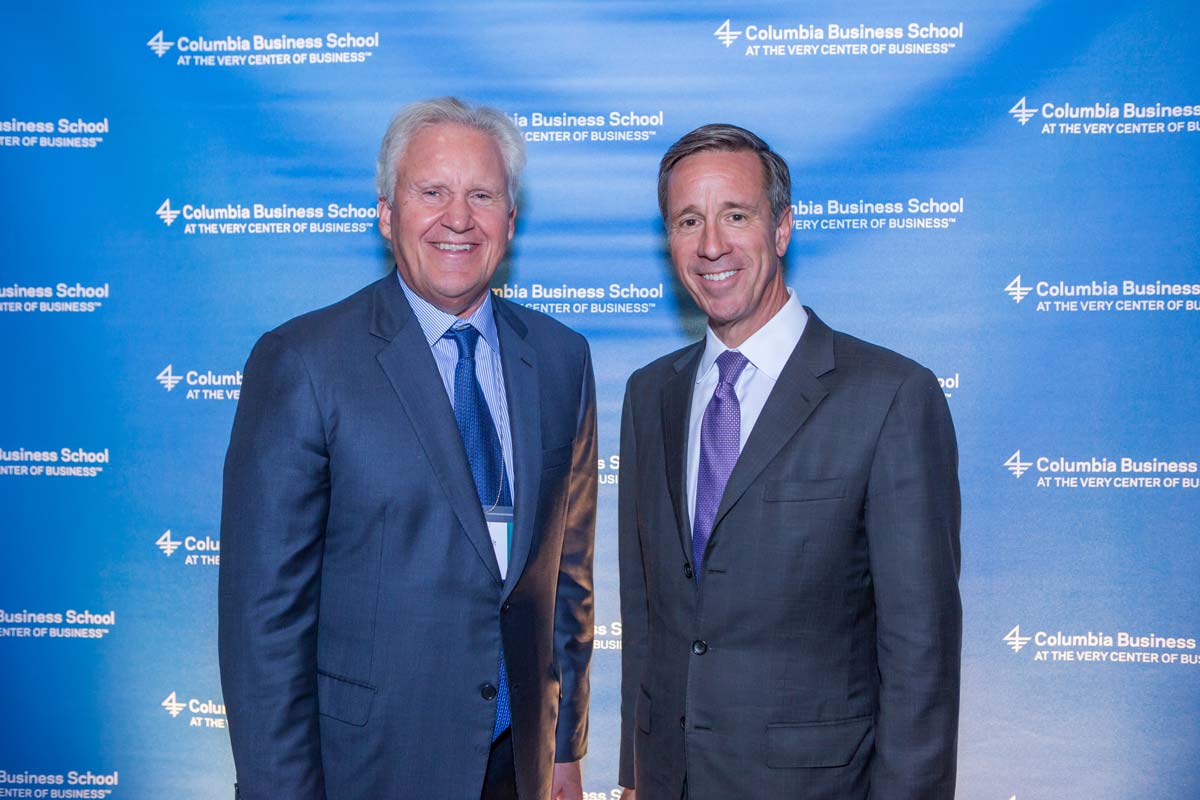 Presented annually since 2010, the Deming Cup recognizes individuals who have made outstanding contributions in the area of operations and have fostered a culture of continuous improvement within their organizations. The evening's proceedings were opened by 2011 Deming Cup awardee, Sergio Marchionne, Chief Executive Officer, Fiat Chrysler Automobiles, and closed with remarks by Terry Lundgren, Executive Chairman, Macy's, Inc., winner of the 2012 Deming Cup. Both serve as Co-Chairs of the Deming Cup Judging Committee, along with Paul H. O'Neill, 72nd Secretary of the US Treasury, who was also in attendance.
Immelt was honored for transforming GE and positioning it as the global digital industrial leader of the future through his strategic vision of relentless innovation, focus, discipline, and a culture of simplification. Through his 16-year tenure as CEO, he led the 125-year old company with one cohesive mission: to build, power, cure, move, and connect the world, fostering a culture that embraced simplicity, diversity, and innovation.
Kenneth Chenault, Chairman and CEO at American Express, highlighted Immelt's integrity, passion, and commitment to quality and service that have become integral to the GE brand. Calling him a "fierce, but fair, competitor," Chenault noted that "Jeff is an optimist. He is a visionary. He always looks beyond the 'here and now' and his vision helped transform GE from a far-flung conglomerate into a digital industrial powerhouse."
As he cordially accepted the award on behalf of GE, Immelt said, "Small opportunities are often the beginning of great enterprises. But once you've built a great enterprise, it is the small details that will keep it great. Precision. Efficiency. Commitment. The particulars that define operational excellence. They determine our ability to compete—especially in this volatile era."
Sorenson, who led the historic acquisition of Starwood Hotels & Resorts in 2016 making Marriott the largest hotel company in the world, was recognized for guiding the company on the path of continuous improvement to create opportunities for employees, growth for owners and franchisees, and results for the company's shareholders. Marriott now includes more than 6,200 properties across 30 hotel brands spanning 125 countries and territories.
Following a warm video tribute by Indra Nooyi, Chairman and CEO of PepsiCo, affirming Sorenson's inspiring and employee-empowering leadership, Bruno Di Leo, Senior Vice President for IBM Global Markets, reflected on his results as CEO, concluding, "We have satisfied Dr. Deming's quest for metrics... It is a privilege to bring to the stage not only a fine human being, but a truly exceptional businessman, Arne Sorenson."
Sorenson graciously accepted the honor on behalf of his employees. "I am incredibly humbled to receive the Deming Cup…and I share this honor with the over 675,000 people in our managed and franchised properties who make Marriott International what it is. This recognition is a reflection of their dedication to helping our company be an operational excellence leader."
The Deming Cup for Operational Excellence represents Columbia Business School's drive to honor practitioners who promote excellence in operations. Nelson M. Fraiman, Faculty Director of the W. Edwards Deming Center and Professor of Professional Practice in the Decision, Risk, and Operations Division, noted that the cohort of high-caliber Deming Cup awardees, "only reinforces my strong belief that operational excellence is a key cornerstone of success. As we honor the achievements of Jeff and Arne, we also celebrate the spirit of W. Edwards Deming and pass his legacy on to our students, the next generation of practitioners, who will be tomorrow's leaders… and future Deming Cup winners."
The Deming Cup's 37-member judging committee is comprised of eminent figures in industry and academia. Past honorees include: David Cote, Chairman and CEO, Honeywell; Indra Nooyi, Chairman and CEO, PepsiCo; Kenneth Chenault, Chairman and CEO, American Express Company; Toby Cosgrove, MD, President and CEO, Cleveland Clinic; Ellen Kullman, former Chairman and CEO, DuPont; Stef Wertheimer, Founder and Honorary Chairman of ISCAR, Ltd.; H. Fisk Johnson, Chairman and CEO, S.C. Johnson & Son, Inc.; Paolo Rocca, Chairman and CEO, Tenaris S.A.; Ratan Tata, Chairman, Tata Trusts; Brent James, MD, Executive Director, Healthcare Leadership Institute, Intermountain Healthcare; Samuel Palmisano, former Chairman, President, and Chief Executive Officer, IBM; and current committee Co-Chairs Terry Lundgren and Sergio Marchionne.

To learn more about the Deming Cup, please email [email protected].