Lafayette 148
On July 18th, 2022, faculty, staff, and current and former students of CBS visited Lafayette 148's vertical operation at the Brooklyn Navy Yard in New York City. Organized by the W. Edwards Deming Center and facilitated by the Lafayette 148 team, the visit was hosted by the fashion label's co-founder and CEO, Deirdre Quinn—member of the Deming Center's Advisory Board—and gave insight into the fashion label's manufacturing and production methods.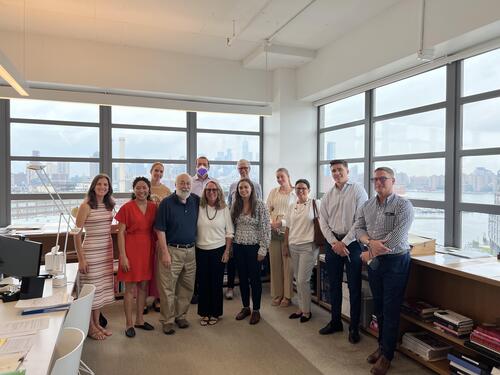 With the objective of bridging theory and practice, the visit provided an inside look at Lafayette 148's operations around design, pattern-making, sewing, photoshoots, showroom, sales, marketing, store design and store planning, as well as insights into its over 40 retail stores located around the world and 250,000 square-foot manufacturing facility in Shantou, China. Additionally, Quinn and her team gave valuable input as to how the company has re-imagined its business model post-COVID and explained the vision behind its branding strategy to capture the designer market.
For a full recap of the trip, please view the study tour booklet.