In the 2013 Deming Cup Award Ceremony, we honor two individuals who exemplify the best in innovative leadership and operational excellence: Paolo Rocca, Chairman and CEO of Tennaris SA, and H. Fisk Johnson, Chairman and CEO of SC Johnson & Son, Inc.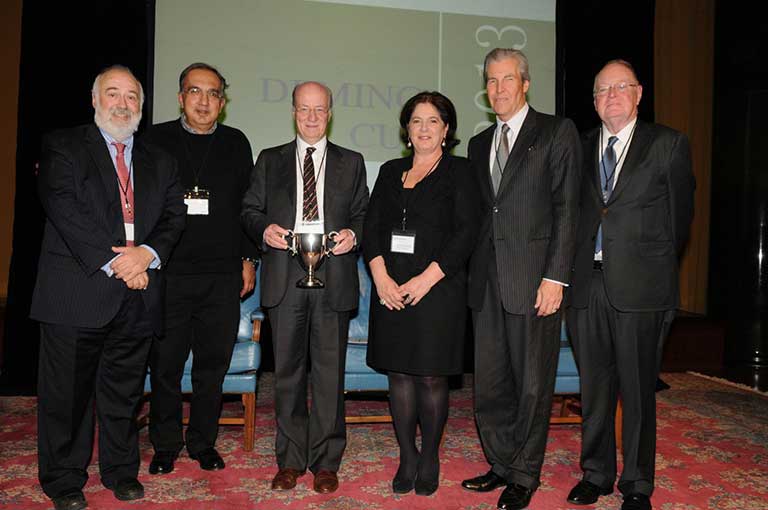 After having served as an assistant to a World Bank Executive Director, in 1985 Mr. Rocca began his career at Techint, a group of companies specializing in steel manufacturing, engineering and construction and activities for the energy industry. In 1990, he was appointed CEO of Siderca, an Argentine seamless steel producer. Following a series of acquisitions, in 2002 the Techint Group's steel tubes companies were consolidated under Tenaris SA, the world's leading global manufacturer and supplier of steel tubes and related services for the world's energy industry as well as other industrial applications. Listed on the New York, Milan, Buenos Aires and Mexican stock exchanges it has an integrated worldwide network of steel pipe manufacturing, research, finishing and service facilities with industrial operations in Africa, Asia, Europe and North and South America and a direct presence in most major oil and gas markets. Today, Mr. Rocca is the Chairman and CEO of Tenaris and of the Techint Group. The Techint Group includes Tenaris, Ternium – a leading steel producer in Latin America – and other companies operating in the engineering and construction and energy sectors.
Tenaris is a company with a clear mission statement and a well defined set of values focused on the pursuit of excellence, ethical behavior, transparent and rational decision-making, and managing with a long-term perspective. As a leader, Mr. Rocca demonstrates that these principles are best communicated by example, inspiring employees to give their best and to trust in the long-term industrial project that together they create. He makes constant efforts to meet and engage with employees at all levels in the organization encouraging their participation and stimulating their efforts.
H. Fisk Johnson is Chairman and CEO, and Chairman of the Board of S. C. Johnson & Son, Inc. Mr. Johnson joined SC Johnson in 1987 and he has served in a variety of senior level management and marketing positions, both domestically and internationally. He is the fifth generation Johnson family leader of the 127-year-old company. He serves on The Consumer Goods Forum Board of Directors. Mr. Johnson served on the Cornell University Board of Trustees from 1993 to 2001 and now is a Trustee Emeritus.
He was honored to be the 2009 Robert S. Hatfield Fellow in Economic Education, delivering Cornell University's annual Hatfield Lecture, and to receive an Honorary Doctor of Laws degree from Wilfrid Laurier University in June of 2011. He recently was named Florida Southern College's 77th Honorary Chancellor at the college's annual Founder's Day and received an Honorary Doctorate. In 2013, he was honored by the Samuel Curtis Johnson Graduate School of Management at Cornell University with the Dean L. Joseph Thomas Leadership Award, the highest honor bestowed on its most accomplished alumni leaders.
Mr. Johnson served as a member of the President's Advisory Committee for Trade Policy and Negotiation (ACTPN) from 2002-10, and was appointed to ACTPN again in 2011. From 2002 to 2011, he served on the Board of Directors of Conservation International. Previously, he served as Director of Energizer Holdings, Inc. and Johnson Outdoors Inc. He also was a member of the World Business Council for Sustainable Development from 2004 to 2008.
Mr. Johnson holds a BA in Chemistry and Physics; Master of Engineering; MS in Physics; MBA in Marketing and Finance; and PhD in Physics, all from Cornell University.
He is a devoted father who enjoys spending a great deal of time with his daughter. He enjoys flying as a pilot, scuba diving, racquet sports and skiing.
To learn more about the Deming Cup, please email [email protected].