On October 27th, 2015, The W. Edwards Deming Center at Columbia Business School awarded the 6th Deming Cup for Operational Excellence to Kenneth I. Chenault, Chairman and CEO of American Express Company and Toby Cosgrove, MD, President and CEO of Cleveland Clinic.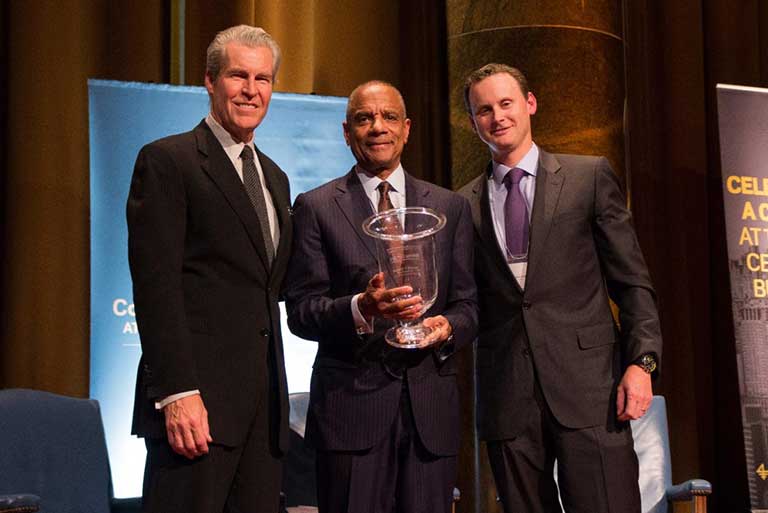 In his 14 years as Chairman and CEO, Chenault re-shaped American Express's business model, making its products the gold standard of the industry. The company's strong financial performance, reputation for integrity, and commitment to social responsibility remain the benchmarks of his leadership.
Chenault has driven innovation and reinvention at American Express so that it can effectively meet the—often dramatically—evolving needs of its customers. During the economic recession of 2008, his seemingly simple mantra—stay profitable, stay liquid and selectively invest for growth—helped steer the 165 year-old company through difficult transitions and remain profitable through the downturn. 
Chenault made a priority of developing a strong corporate culture that attracts top talent and enables people of diverse backgrounds to thrive. Under his leadership, American Express has been recognized around the world by more than 25 organizations as an employer of choice. His expansive approach to diversity, championing of an entrepreneurial mindset within the company, and commitment to supporting innovation in financial inclusion have earned him the respect of his employees, colleagues, and peers in the industry.
Chenault's leadership extends beyond American Express to the business community at large. Fortune ranked him at #18 in its inaugural list of the World's Greatest Leaders in 2014. He is a member of the Business Council and serves on the Executive Committee of the Business Roundtable.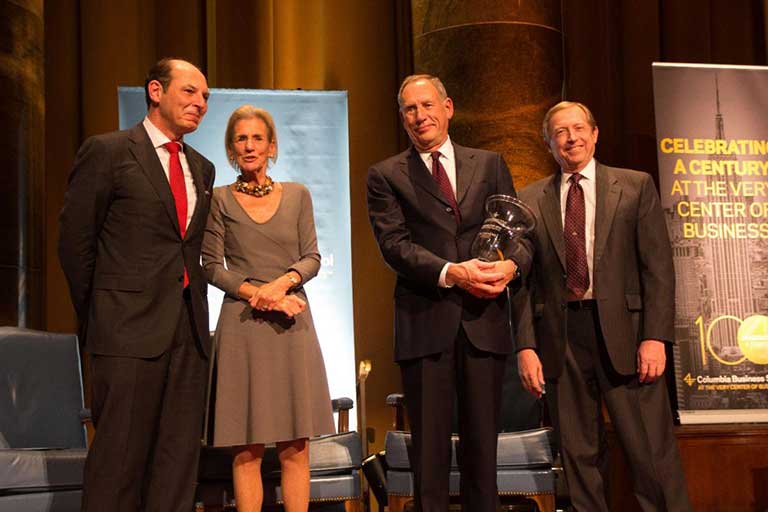 From left to right: Bruno Di Leo, Senior VP for Sales and Distribution, IBM, Shelly Lazarus, Chairman Emeritus, Ogilvy & Mather, Toby Cosgrove, MD, President and CEO, Cleveland Clinic, and Brent James, Executive Director, Institute for Healthcare Leadership, Intermountain Healthcare

In 2004, Dr. Toby Cosgrove was named CEO of Cleveland Clinic and inherited the stewardship of a national and global treasure, the Cleveland Clinic Foundation. As a decorated veteran who served in Vietnam as a surgeon in the US Air Force, he continues to serve his patients, the community and the health care industry and preserve the legacy and future of the Clinic. Cosgrove's interest and expertise in improving the practice of medicine and care delivery is driven through constant curiosity and everyday innovation. This is reflected in numerous ways: his ability to overcome an undiagnosed learning disability to become a world renowned cardio thoracic surgeon with 30 patent filings, performing over 22,000 operations, and pioneering new paradigms in patient experience and empathy.
Cosgrove's tenure at the Clinic has been dedicated to the values of continuous improvement, employee empowerment, and medical care that is predicated on competence and compassion. He's doubled the capacity of the Clinic to see patients, expanding regionally, nationally and globally since 2004. Operating revenue has doubled, there are more physician scientists being groomed and new innovative approaches to care delivery are encouraged. In 2014, while seeing the sickest patients in the nation (acuity measure, Centers for Medicare and Medicaid Services (CMS), the Clinic set a new annual record for outpatient visits—almost 6 million across all facilities. US News & World Report ranked Cleveland Clinic No. 1 in heart care (20 years running) and urology, and ranked it in the national top ten for 11 other specialties. 
In the high-wire, high-stakes healthcare industry—where CEOs increasingly do not have the staying power, vision, or capacity to foster sustainable impact—Cosgrove is a creative, pragmatic, and visionary leader who inspires by example and effective action. 
To learn more about the Deming Cup, please email [email protected].