On October 28th, 2014, the W. Edwards Deming Center for Quality, Productivity and Competitiveness at Columbia Business School awarded the 5th Deming Cup to Ellen Kullman, Chairman and CEO of DuPont, and Stef Wertheimer, Founder and Honorary Chairman of ISCAR, Ltd.
Past winner, H. Fisk Johnson, Chairman and CEO of S.C. Johnson & Son, Inc., returned to Columbia and passed the cup to the new recipients.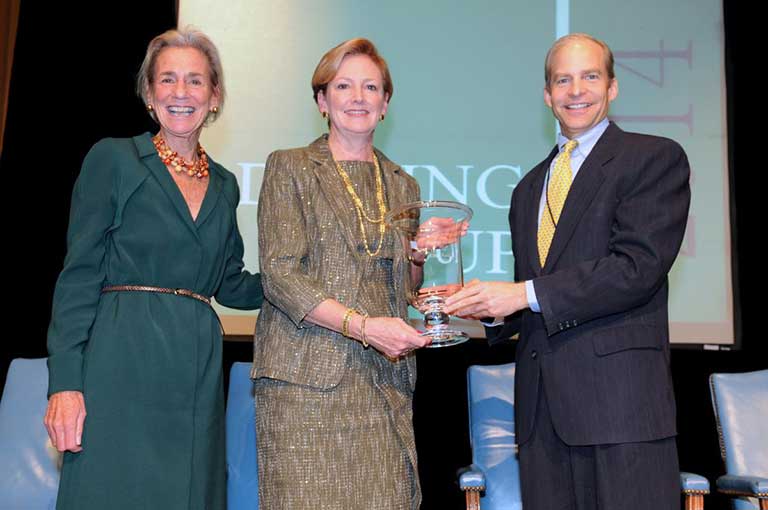 Ellen Kullman has been Chair of the Board of Directors and Chief Executive Officer of DuPont since 2009. Kullman began her career at DuPont in 1988, serving as a Marketing Manager for the medical imaging business, and as President, Executive Vice President and a member of the company's Office of the Chief Executive prior to this role.
Kullman has championed the power of DuPont science and global market knowledge to transform industries, and has decisively positioned the company for its next generation of growth. Additionally, she has led the company's focus on growth in emerging international markets, led double-digit growth of the company's Safety & Protection business portfolio, started-up two successful high-growth businesses known today as DuPont Industrial Biosciences and DuPont Sustainable Solutions and run several industrial businesses.
She serves as an active member on many boards and councils and is the recipient of awards for her leadership and dedication. Kullman holds a BS in Mechanical Engineering from Tufts University and a MS in Management from Kellogg School of Management at Northwestern University. In 2013 she received an honorary Doctor of Science from the University of Edinburgh.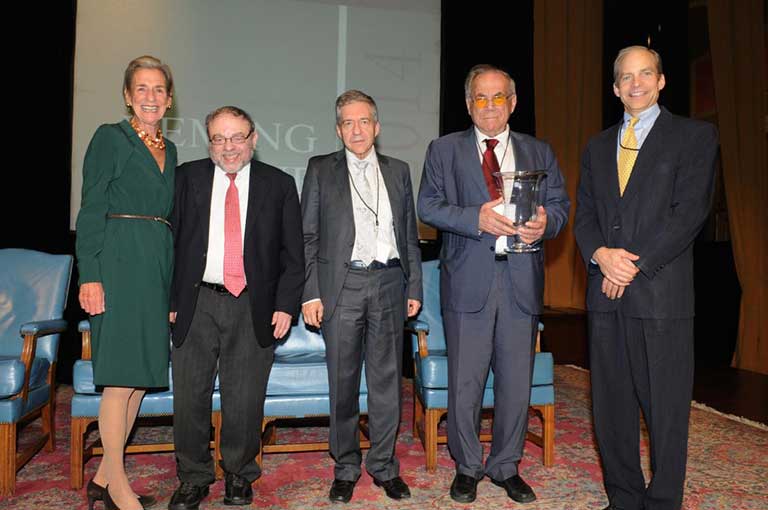 Stef Wertheimer has spent his life fostering the economic independence of Israel and promoting peaceful coexistence with its neighbors. Export manufacturing and educational initiatives have been the vehicles to achieve these goals.
The firm he founded in 1952, ISCAR, Ltd., is today one of the world's top two manufacturers of precision carbide cutting tools for the automotive, aerospace, and electronics industries, and since 2013, has been owned and operated by Berkshire Hathaway.
In addition to ISCAR, Wertheimer created a jet blade manufacturing business in 1967, which brought strategic independence to the Israeli Air Force, and led him into a partnership venture with Pratt and Whitney and Rolls Royce: Blades Technologies International, Inc. and TechJet. He has also recently created a third international blades industry in Xian, China. Since 1982, Wertheimer has also built seven industrial parks, designed to promote export and ensure a better quality of life.
Wertheimer's contributions have been honored in a variety of ways. From 1977-1981, he served in the Ninth Israeli Knesset as a member of the DASH party. Of his many awards, none is more meaningful to him than his nation's highest honor, the Israel Prize, bestowed in 1991. In 2010, he received the Business for Peace Award in Oslo, Norway, and in 2011 the Technion honored him for his outstanding achievements. A year later, President Joachim Gauck of Germany – the nation from which he was forced to flee – bestowed on him that country's highest honor, the Federal Cross of Merit.

To learn more about the Deming Cup, please email [email protected].