The W. Edwards Deming Center for Quality, Productivity, and Competitiveness at Columbia Business School honored David M. Cote, Chairman and CEO at Honeywell, and Indra K. Nooyi, Chairman and CEO at PepsiCo, with the 2016 Deming Cup for Operational Excellence on October 25th. In addition, the center bestowed the inaugural Lifetime Achievement Award to Paul H. O'Neill, 72nd Secretary of the US Treasury and former Director and Chairman at Alcoa, for his legacy of leadership across the public and private sectors over five decades.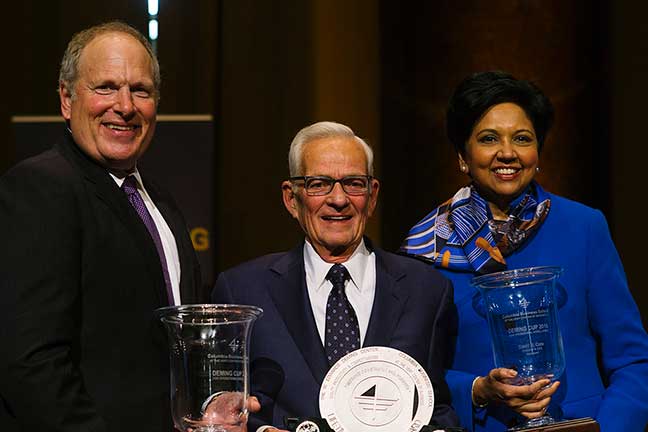 David Cote was recognized for successfully deploying a business model for Honeywell focusing on three pillars: portfolio, process, and culture. Under his leadership, Honeywell has grown to have an impressive portfolio, solid positions in different industries, differentiated technologies, and a constant process focus, combined with a unified, performance-driven culture. "This honor celebrates Honeywell's commitment to operational excellence that has helped to propel our growth and has made our company a place where customers want to do business, employees want to work, and investors want to invest," said Cote.
Indra Nooyi was honored for demonstrating success in creating a consistently high level of returns to investors while following her guiding principles of "Performance with Purpose," making PepsiCo a high-performing global enterprise. "Our work at PepsiCo is driven by a sense of responsibility towards our stakeholders and our planet," said Nooyi. "I am truly honored to accept this award on behalf of all my colleagues at PepsiCo, whose dedication and commitment to continuous improvement inspire me each day."
Paul O'Neill's leadership has embodied the essence of Deming's principles, proving time and again that business success can be driven by a values-based, employee-oriented culture. The Lifetime Achievement Award recognized O'Neill's significant achievements as a leader, saluting the unflinching integrity and data-driven approach that guided the practice of his leadership. "This is something embedded in the Deming Principles—organizations are either habitually excellent or they are not. I'm not done yet. … I'm still out there pushing every day to get people to adopt what I know—ideas that in so many ways can liberate the people in our society," said O'Neill.

The Deming Cup for Operational Excellence and Lifetime Achievement Award represent Columbia Business School's drive to honor practitioners who promote excellence in operations and create lasting impact through the practice of their leadership. Nelson M. Fraiman, director of the W. Edwards Deming Center for Quality, Productivity, and Competitiveness and professor of professional practice in the Decision, Risk, and Operations Division, commented on the importance of the awards. "By honoring outstanding leaders for their achievements and legacy, we have created a group of exemplary leaders who can inspire Columbia Business School's students — the next generation of business practitioners—to embrace excellence in leadership as a core guiding principle of their practice."
To learn more about the Deming Cup, please email [email protected].