Economic Stimulus Through Refinancing
How the federal government could stimulate the economy while helping middle-class households without a cost to taxpayers—and possibly benefiting them.
Now Is the Time to Consider Widespread Refinancing
By Alan Boyce, R. Glenn Hubbard, Christopher Mayer, and James Witkin
With the 10-year Treasury rate near its lowest point since the Great Depression, there is a new opportunity for the federal government to implement a new economic stimulus program . . . helping over 12 million borrowers with government guaranteed mortgages at today's record-low rates. Under our plan, homeowners could save more than $25 billion per year in interest payments at no cost to the US Treasury. More than one-half of the savings would go to middle-class households whose mortgages started at less than $200,000.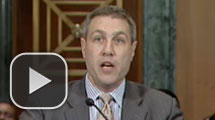 Senate Testimony: State of the Housing Market (February 9, 2012)