Real Estate Private Equity Course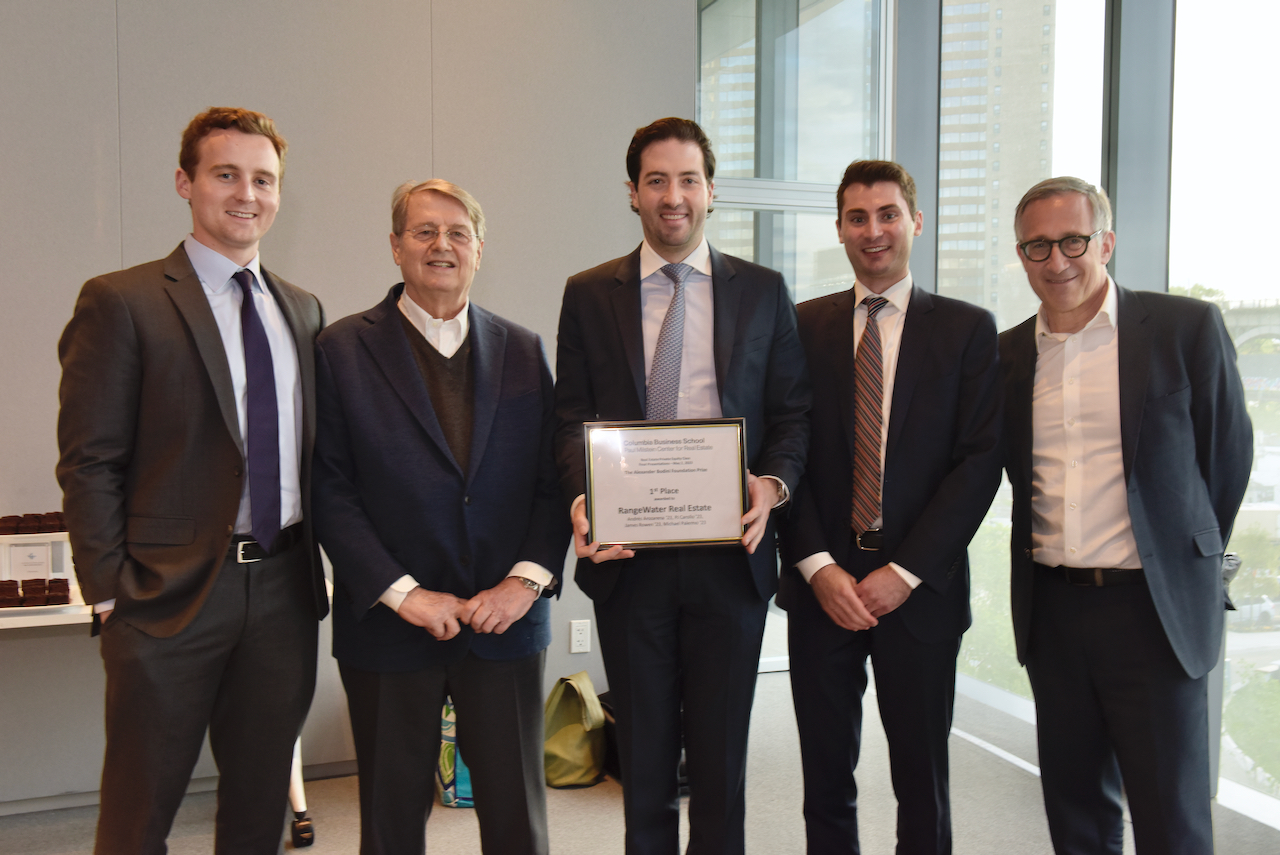 Real Estate Private Equity provides students who intend on pursuing careers in real estate the opportunity to learn how to design and execute projects of professional scope and quality under the guidance of an experienced professor and a specific company sponsor. The course includes instruction in project design, scoping, strategy, research, and execution. Presentation skills both oral and written are integral to the course and project.
Student groups, usually consisting of three to four students, work with an outside project sponsor to create a project presentation based on a current, real-world sponsor need.
Course Prerequisites
Students wishing to enroll in Private Equity must have taken Corporate Finance (B6300) and Real Estate Finance (B8331), and either Real Estate Transactions (B8332) or have at least 1-year experience of real estate/transactions experience with instructor's permission.
Private Equity Final Presentations
Students explore entrepreneurial real estate opportunities through Real Estate Private Equity. In the class, students work on group projects with industry sponsors. Under the founding idea of the competition, students working in groups are given an opportunity to take the kernel of an idea, develop it into a comprehensive business plan, and make an oral presentation of the plan to their class. Through their participation, students enhance their research, problem-solving, team work, and presentation skills.
Class participants present their plans to a group of senior professionals, faculty members, members of the Real Estate Circle, alumni, mentors, and peers. The Real Estate Private Equity Final Presentation event is followed by a reception and awards ceremony. Cash prizes are awarded to top-scoring plans as judged by a panel of Columbia Business School alumni and real estate practitioners. Some winners take their plans on to further success, additional funding, or mentoring. Students may also explore the annual Columbia Shark Tank Competition through the The Eugene Lang Entrepreneurship Center at Columbia Business School.
Special thanks to Ambassador Daniele D. Bodini '72 who generously sponsors the annual business plan competition, and to Sheldon Seevak, for initiating the program.  
Get Involved as a Project Sponsor
If your company is interested in sponsoring a project for this course, please contact:
Angela E. Lee 
Senior Associate Director
[email protected] 
Alexander Bodini Competition Participants
Testimonials

The Real Estate Private Equity course gives students a real-world look at how investors approach complex real estate investment opportunities. Through class lectures on different aspects of investment due diligence and in-depth working sessions with project Sponsors, students gain a realistic sense of how what is required to successfully create and execute on a real estate investment thesis. The class has sharpened my real estate fundamentals and entrepreneurial outlook more than any other class at CBS! —Kenny Thompson '19

The Real Estate Private Equity Class proved to be one of the most rewarding academic experiences of my MBA experience .  The course provided an opportunity to apply the theory I learned throughout the MBA to a real world opportunity – an exercise that deepened my understanding of fundamental real estate principles and built confidence for my post MBA career.  A world-class instructor and a dedicated project sponsor also provided a level of insight into Real Estate Private Equity to which I never previously had access." — Kevin Cullen '19