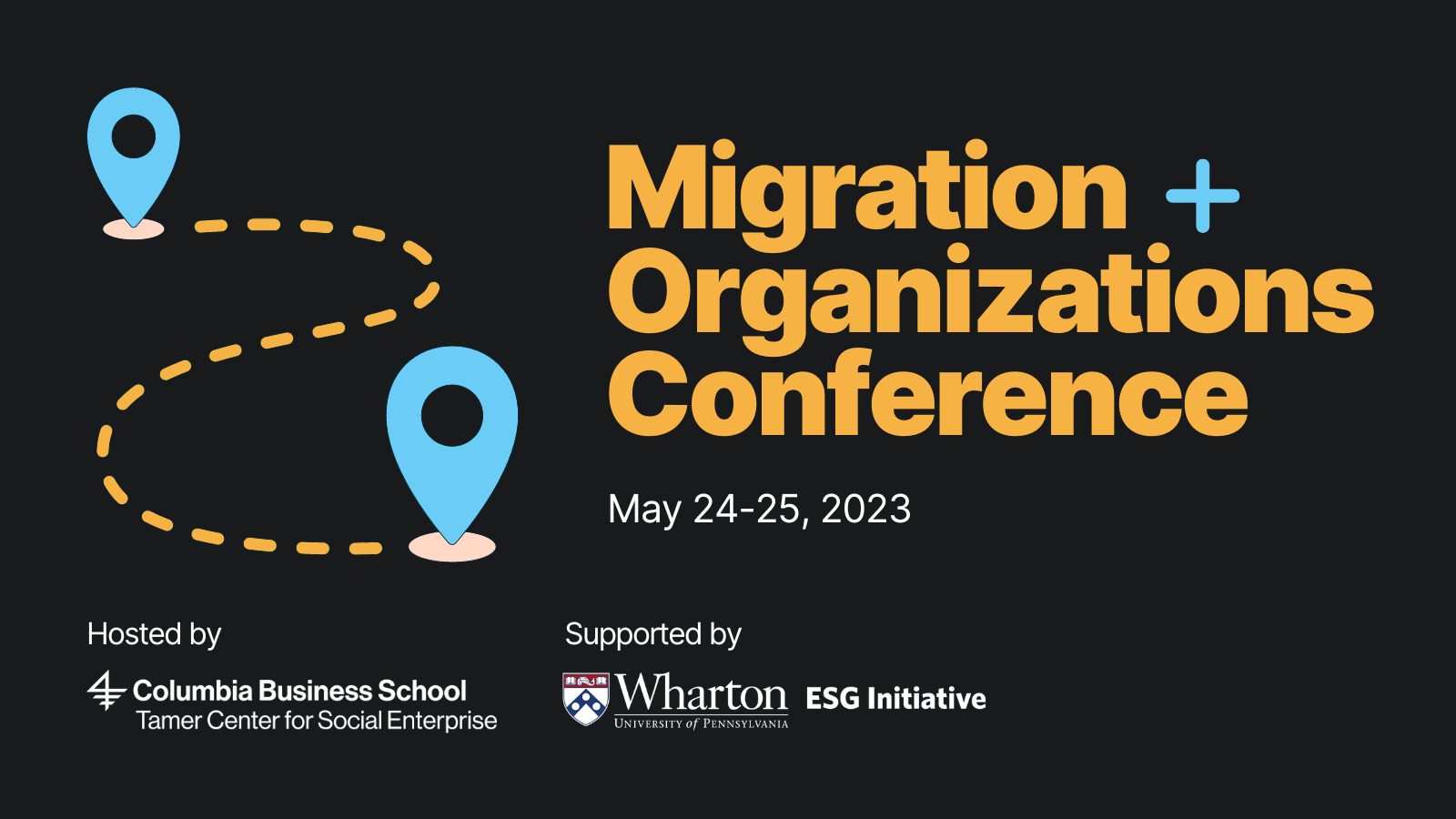 Migration and Organizations Conference
May 24–25, 2023
The premier gathering of scholars at the intersection of migration and organizations. Now in its fifth edition, this conference is designed to advance rigorous research and strengthen our community of scholars. We are a welcoming group open to all disciplinary and methodological approaches.
This year's conference is hosted by the Tamer Center for Social Enterprise at Columbia Business School and supported by the ESG Initiative at the Wharton School.
This event is by invitation only. If you are interested in being added to the invitation list, please contact

[email protected]

.
KEYNOTE SPEAKER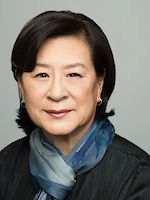 Mae Ngai
Lung Family Professor of Asian American Studies and Professor of History and Co-director of the Center for the Study of Ethnicity and Race, Columbia University
AGENDA
This agenda is in formation and is subject to change.
Wednesday, May 24
8:30 AM
BREAKFAST
9:00 AM
PHD WORKSHOP INTRODUCTORY REMARKS
9:15 AM
PHD WORKSHOP
11:00 AM
BREAK
11:15 AM
CONFERENCE OPENING REMARKS
11:30 AM
JOURNAL EDITORS PANEL
Sinziana Dorobantu, Associate Editor, Academy of Management Journal
JP Eggers, Associate Editor, Administrative Science Quarterly
Lamar Pierce, Editor-in-Chief, Organization Science
Sameer Srivastava, Organizations Department Editor, Management Science
Moderated by Exequiel Hernandez, Associate Editor, Strategic Management Journal, and Dan Wang, Associate Editor, Strategic Management Journal
12:30 PM
LUNCH + POSTER SESSION
Building a Bridge to Beneficiaries: A Bourdieusian Analysis of Amateur Aid Altruists'
Derek Richardson, Indiana University
Migration and Organizational Culture: Implications of (Un)ethical Culture on the Quality Management of Gulf-Based Construction Multinational Corporations
Froilan Malit Jr, University of Glasgow
An Exploratory Study of the Socio-cultural Challenges of Diaspora Entrepreneurs in Their Country of Origin
Ravaka Randrianarimanana, Université Laval
The Dilemma of Migration and Entrepreneurship Policies; Blessing or Curse?
Samuel Umoh, University of KwaZulu-Natal Durban
1:30 PM
RESEARCH PANEL 1: MIGRATION AND ENTREPRENEURSHIP
Intersectional Perspective on Geographical Mobility Intentions of Entrepreneurs
Liudmila Ivvonen, École de Management Léonard de Vinci (EMLV)
My Business or My Country: The Role of Concurrent Embeddedness in Host Country and Home Country on The Performance of Immigrant Entrepreneurs' Business
Qiong Wu, IE Business School
A Confluence of Tech and Talent: Return Migration and Rural Online Entrepreneurship
Chuck Eesley, Stanford University
2:45 PM
RESEARCH PANEL 2: POLITICS AND POLICY
Legal Chameleons: Managing Foreignness in Response to Varying Political Ideologies
Yong Kim, Texas A&M University
When Trump Said Jump: Political Directors and The Recruitment of Foreign Workers
Peter Norlander, Loyola University Chicago, Quinlan School of Business, Department of Management
The Effect of Low-skill Immigration Restrictions on US Firms and Workers: Evidence From a Randomized Lottery
Michael Clemens, George Mason University
4:00 PM
RESEARCH PANEL 3: BORDERS AND BOUNDARIES OF IMMIGRATION
When Does a Migrant Cease Being a Migrant?
Ram Mudambi, Temple University; Agnieszka Nowinska, Aalborg University
Immigration Induced Labor Mobility and Firm Skill Downgrading Evidence From DACA
Yuxi Cheng, George Washington University
Organizing Refugees: Ontological Politics in International Border Crossings
Yashar Mahmud, Jönköping University
6:30 PM
DINNER
Catering by Eat Offbeat with remarks from Manal Kahi, '15SIPA, Founder
Thursday, May 25
8:30 AM
BREAKFAST
9:00 AM
RESEARCH PANEL 4: EFFECTS LAW AND POLICY ON IMMIGRANT ENTREPRENEURSHIP AND INNOVATION
The Effect of Immigration Policy on Founding Location Choice: Evidence from Canada's Startup Visa Program
Britta Glennon, The Wharton School
Skilled Immigration Restrictions as a Growth Barrier for Young Firms
Mishita Mehra, Grinnell College
Quid Pro Quota: A Cross-Country Study on the Differential Impacts of Immigration Quotas on Early-Stage and Established Entrepreneurship
Joshua Bedi, Copenhagen Business School
Restrictive Immigration Policies and MNE Innovation
Deepak Nayak, Temple University
10:30 AM
RESEARCH PANEL 5: TECHNOLOGY, SCIENCE, AND PLATFORMS
TMT International Experience, Platform Firms, and Internationalization of Chinese Digital Firms
Tianhao Liu, Rutgers University
The Effects of Digital Resources on Firms' Export-financial Performance Under Immigrant OwnershiP
Horatio Morgan, University of Waterloo
Where Do Immigrant Scientists Work? Evidence From Artificial Intelligence PhDs
Caroline Fry, University of Hawaii
A Platform Rating System And Worker Mistreatment: Evidence From Lab-in-the-Field Experiments in Singapore
Wesley Koo, INSEAD; Vanessa Burbano, Columbia Business School
12:00 PM
KEYNOTE PRESENTATION
Mae Ngai, Lung Family Professor of Asian American Studies and Professor of History and Co-director of the Center for the Study of Ethnicity and Race, Columbia University
1:15 PM
RESEARCH PANEL 6: ASSIMILATION & WORKPLACES
Perceived Impact of Cultural Difference on Work Relations in Chinese Companies Operating in Ghana: A Cross Cultural Study of Migrated Chinese and Local Ghanaian Workers
Victoria Ankrah, Lingnan University
Bound by Origins: Second-generation Immigrant Founder's Cultural Heritage and Corporate Sustainability Performance
Zhaoyi Yan, IE Business School
Paying Off the Intergenerational Debt: Why and When Children of Immigrants Status-strive at Work
Herrison Chicas, University Of North Carolina At Chapel Hill
2:30 PM
RESEARCH PANEL 7: IMMIGRANT FOUNDING AND OWNERSHIP TEAMS
The Ethnic Composition of Immigrant Teams in Start-ups on Funding and Innovation Capabilities
Honghua Li, Morgan State University
Mixed Ethnic Teams and Firm Innovation: The Role of Organizational Choices
Francesco Di Lorenzo, Copenhagen Business School
Immigrant International New Ventures: Impact of Mixed Co-Ownership on their Export-Financial Dynamics
Horatio Morgan, University of Waterloo
3:30 PM
CLOSING REMARKS