From technology to finance, consulting to social enterprise and sustainability, our students are making an impact across sectors and industries. Through on-campus recruiting, skillful networking, and job postings, Columbia MBA graduates find full-time positions in a wide variety of businesses and functions across the globe. The top three reasons Class of 2022 gave for accepting an offer were firm culture and people (15.1%), company reputation (14.6%) and advancement opportunities (13.0%). As always, our active network of nearly 50,000 alumni plays a central role.
Class of 2022 Graduate Employment
Class of 2022 Job Offers and Acceptances

Three months after graduation (August 18):
95% with Offers received
92% having Accepted Offers
Median Base Salary $175,000
Internship Employment
For our 614 August-entry students in the class of 2023, the summer provided an opportunity to explore a new function or industry. Internships are also valuable to companies in assessing a student's fit for full-time employment after graduation. Many of our 215 January-entry students sought in-semester internships during their summer term.
Download the 2022 Employment Report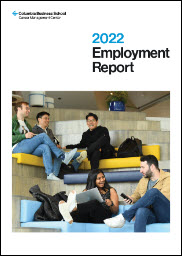 View Previous Employment Reports