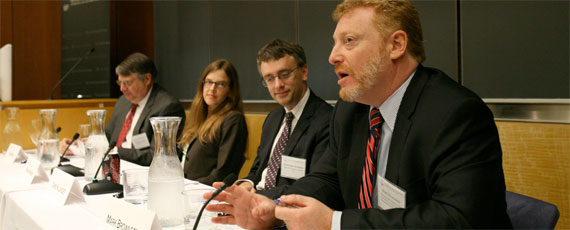 The Richman Center sponsors invitation-only conferences and symposia that address emerging issues at the intersection of business and law. Invited participants include academics, policymakers, attorneys, industry members and journalists. Columbia faculty present research that analyzes issues and explores alternative public and private responses, and participants are invited to actively discuss the research and explore its implications for core policy issues.
2019-2020 Conferences

2020 Global Business Forum: People, Politics, and Profits—What is the Future of Economic Growth?
2018-2019 Conferences

2019 Global Business Forum—Resource Sustainability: Challenges and Opportunities for Global Business
Corporate Governance Counter-narratives: On Corporate Purpose and Shareholder Value(s)
Symposium on Central Banking and Delegated Power
2017-2018 Conferences

2018 Global Business Forum: Changing Demographics and Global Business
Engaged Investor Project
2016–2017 Conferences
2015-2016 Conferences

Financial Regulation Roundtable and Book Launch
2014–2015 Conferences

The Oil Price Crash and the Shifting Energy Landscape
Inversions: Implications for Tax Planning, Tax Policy, and Corporate Governance Conference
Have We Tamed the Too-Big-To-Fail Financial Institution?
2013-2014 Conferences
2012-2013 Conferences
2011-2012 Conferences