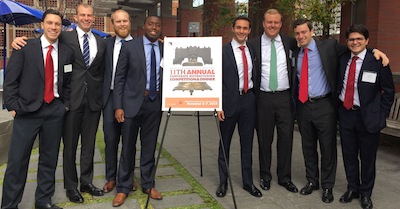 ABI Competition
The 11th Annual Restructuring Case Competition was held on November 6–7, 2014, at the Wharton School of Business in Philadelphia, PA. Columbia Business School placed first and second in the competition. Wariz Anifowoshe, JD '16, MBA '16, and Adam Yoran JD '16, MBA '16, competed on the winning teams.
The ABI Corporate Restructuring Competition provides students from leading business schools an opportunity to solve a hypothetical realistic business case of a distressed company before an audience of experts in the turnaround/crisis management/restructuring industries.
The Richard Paul Richman Center for Business, Law, and Public Policy and the Private Equity Program hosted the Restructuring Case Competition in 2011 at Columbia Business School.
Historically, only MBA students competed in the competition. With the support of the Richman Center, Business School students formed teams with Law School students to participate. Law students have enriched the competition by bringing their valuable perspective on corporate structure and creditor rights, which are crucial considerations in restructuring.
Featured Speakers
Industry practitioners—including JD/MBA alumni—often visit campus as event participants, speakers, and panelists to provide students with exceptional opportunities to gain in-depth insight into the areas of business, law, and public policy.