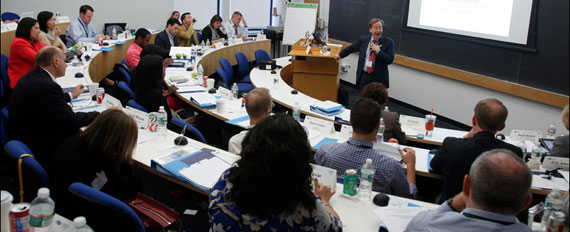 The Richard Paul Richman Center for Business, Law, and Public Policy at Columbia University in cooperation with Columbia Business School Executive Education organized an executive education program on "Facilitating Economic Growth in the United States" on July 29–30, 2013, at Columbia Business School.
Over the two day program, faculty from Columbia Business School, Columbia Law School and Columbia University address underlying economic factors that lead to growth and consider evidence on policies that have demonstrated success and discuss their distributional consequences. The program kicks off with a leading expert on North American energy policy followed by discussion of a case that examines international evidence from Europe and Asia. Next, we consider the future of work in a world of technology and the role of the financial sector in contributing to growth and economic stability.
The first day's program concludes with a discussion on whether home ownership is really relevant in today's economy. The second day features three experts on taxation who suggest a variety of perspectives on the policy tools available to lead our economy out of its current doldrums.
Speaker Presentations