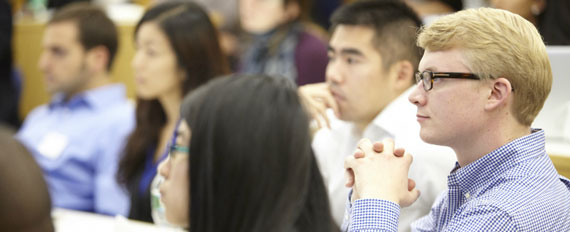 The Best of Columbia Business School and Columbia Law School
Highly motivated students wishing to pursue a master's level program in both business and law are invited to consider Columbia's traditional four-year JD/MBA program or the accelerated three-year JD/MBA program.
Offered jointly by the Business School and Law School, the curriculum gives students the opportunity to complete the combined course of study a year earlier than traditional dual-degree programs. The program benefits from the involvement of the Richman Center, which sponsors the creation of new, accelerated courses to be jointly taught by business and law faculty members, as well as co-curricular programming to complement coursework.
Graduates of the program enter the job market with a solid base of legal and business knowledge, as well as specific expertise in areas of interest gained through electives. They also join a powerful, global alumni community from both the Business School and Law School.
Download the JD/MBA Program Brochure
JD/MBA Class Profile
The JD/MBA program attracts students from diverse backgrounds who share a record of achievement, leadership, and excellence. Learn more about the profile of the entering JD class and the MBA class.
JD/MBA Admissions
Applications for admission to the Columbia JD/MBA program must be filed separately to Columbia Business School and Columbia Law School. Admission decisions are based solely on each school's specific selection criteria, with limited consultation between the schools during the admissions process.
If you are ready to take the next step, visit the admissions pages at Columbia Law School and Columbia Business School for more information.